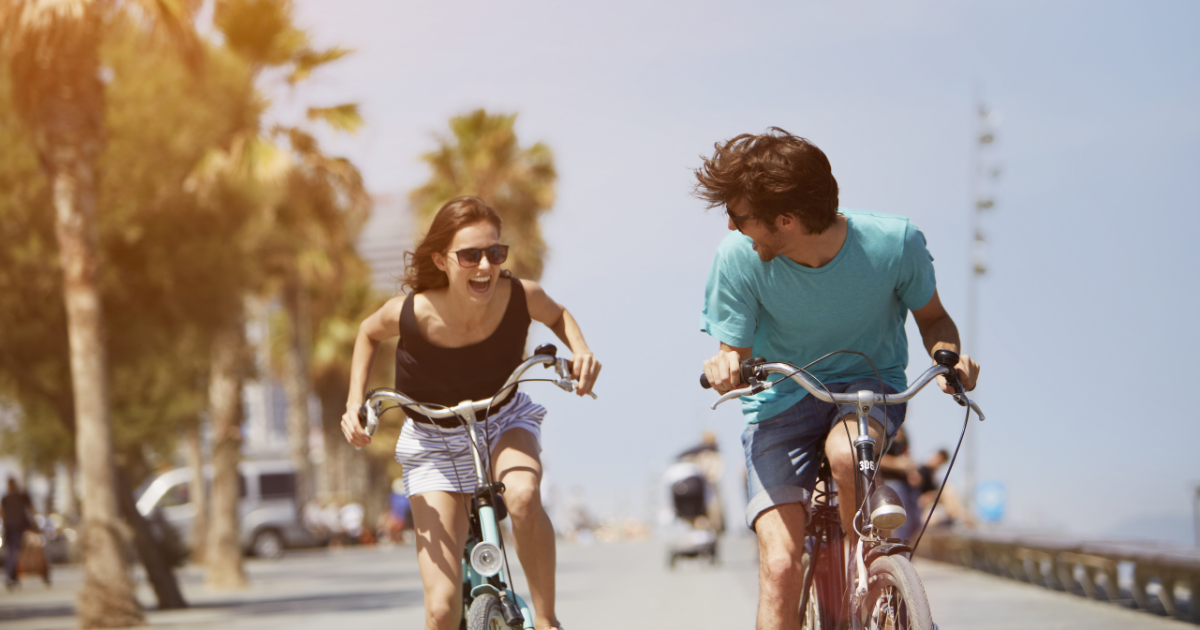 Saving Money Tips
Creating a Summer Budget
Summertime living can be made easy, even if you're on a budget. Finding activities for yourself, kiddos if you have them, and the whole family can be a challenge when you need to stick to your budget to meet your financial goals. We've put together a few fantastic tips for living your best summer life while sticking to your budget. The smallest actions can help keep your summer budget on track from opting for crafts and DIY projects, to family vacation ideas on a budget, to looking into discounted rates at local attractions,1 you can find ways to trim down and save big.
Budgeting Prevents Summer Bummers
Having a summer budget and curbing spending looks like a bummer at first glance. Trust me, though, the feeling of depleting savings to splurge on summer fun is worse than any sunburn you can imagine. Keeping a tight summer budget throughout the season can help you set yourself up for success during the fall and winter, and you don't have to be bored or miss out to save money. Start by assessing your goals, if you have not already, before putting pen to paper. Next, take a look at your historic summer spending. Understanding your spending habits2 can help you set up for success but creating a workable budget for the summer months that includes funds for activities, family friendly budget vacations, and treats along the way. Make the process more fun by involving the whole family. Check in to see which summer treats your kiddos can't go without this year. Open the floor for a conversation about everyone's favorite things to do, places to visit, activities to try, and snacks to eat. A plan in place can help save your budget from going on the back burner, which can have a negative impact on your goals for the year.
If you're planning to travel this summer, budgeting is essential. Travel + Leisure put together a list in 2022 of family summer vacation ideas on a budget that rings true today about summer destinations that won't break the bank.3 My favorite options from the list are:
Winter Park Colorado—Growing up in a desert meant trips to the mountains in the winter for skiing and summertime for cool mountain breezes and fresh air to escape the heat. Colorado is a wonderful place to visit year-round, so add this to your list of possibilities for travel this year!
Gatlinburg Tennessee—Tennessee is beautiful! There are amazing outdoor activities available all over the state and many attractions that should please everyone.
Washington DC—Dual opportunities for fun and learning are always a great option when you have kids at home. Dive into the history of the United States with a trip to DC.
Budget Friendly Activities for Kids
Looking for fun, kid centric activities to try this summer? Depending on your geographic location, you may have access to loads of free or low-cost outdoor options. If the summer brings unbearable heat waves that require indoor activities, your summer plans may look a little different. We've broken down our favorite options into two categories: Outdoor Fun and Indoor Fun!
Outdoor Fun
Visit a Park—Pick your favorite spot or make a point to explore all of the parks in your area and vote on your favorite at the end of the season.
Ride Bikes—Explore new areas of your neighborhood or city as a family! End the ride with a pit stop for ice cream or snow cones.
Skating or Skateboarding – Practice your skills. Safety first, don't forget all of your protective gear!
Sports: Basketball, Baseball, Volleyball, Soccer, etc.—Join a league if that is within your budget or just play as a family to practice those skills for a future team membership.
Fishing – Make sure you get the necessary permits or license. Check out your local secondhand store to stock up on the needed gear.
Nature Walks or Hikes—There is no better way to connect with nature than on a long walk or hike. Explore a new area or revisit a family favorite. Make sure to pack water and sunscreen!
Sidewalk Chalk Painting—If you have little ones, a fan favorite is always creating artistic masterpieces in the driveway or on the sidewalk. Budget friendly hack: Make sidewalk chalk ice5 with the chalk scraps so none of it goes to waste!
Indoor Fun
Boardgames—Make a day of it with snacks and your favorite beverages like homemade lemonade. Create a tournament and declare the ultimate champion!
Mid-Day Movie Marathon—Pick your favorite movie series and binge them all in the middle of the day. Save this for a day when you need to catch up on a little work while the kids are watching movies or a day when it's too hot to spend time outside.
Reading—Make sure everyone in the family has their card and head to the public library. There are always activities at the library during the summer that are free and fun. Create a reading chart and set goals with the kids centered around great reading habits.
Arts and Crafts—Let Pinterest be your guide. Find fun, cheap, easy to pull off crafts any day of the week that isn't filled with other activities. One of the keys to a happy home during the summer months is to keep everyone busy!
Plan Playdates—It's a great time to nurture friendships new and old during the summer. Spend some time organizing play dates for your kids with neighbors and friends. Friendships forged during the summer months often last a lifetime.
Visit Museums and Art Galleries—Experiencing art and culture are great ways to ensure your child will grow up to be a well-rounded and engaged adult. My mom always took me to the museum when I was a kid, and I believe that my appreciation for learning was born during those outings.
Bonus Tip: Pack lunches for the family before heading out for a day of fun and stock a small cooler with drinks in the back of your vehicle for easy thirst quenching on a budget. Likewise, a reusable water bottle for each member of the family can save you money and save the planet at the same time.
Budget Friendly Activities for Adults
Fun in the sun isn't reserved just for the kiddos. Make plans for fun, low-cost activities with your adult friends, too! One great way to set the stage for a fantastic summer is to set a few goals. Perhaps you've been meaning to read a little more, or maybe you want to learn a new skill or trade. You could even start a side hustle and earn a little extra cash. There is no better time than during the summer to set that goal and create a timeline for completion. You can focus on self-improvement6 throughout the year. However, setting those goals for the summer means you not only intend to create a new habit or learn a new skill, but you intend to do so very soon! In addition to any summer activities from our lists above, consider adding something that is self-improvement or self-care centric to your summer to-do list.
Sign up for a class.
Recommit to a workout routine.
Practice self-care on a regular basis.
Spend time reading a great book.
Learn to cook a new favorite meal.
Spend some time with family.
Deep clean your space.
Most Importantly, Have FUN!
A summer budget can help you meet your financial goals, but more importantly it can create a stress-free summer which will mean more fun. Speedy Cash is always in your corner. So, if you face any financial hurdles during the summer that are unexpected emergencies that won't fit into your budget, we'll be here to help. Summer is just around the corner, so start planning your budget friendly summer. Your future self (and your future finances) will thank you!
Sources:
1Snider, Susannah (2019, Jun 11). 25 Summer Budgeting Tips Retrieved from: https://money.usnews.com/money/personal-finance/family-finance/slideshows/summer-budgeting-tips
2Morton, Aysia (2021, Jul 14). Afford the Summer of Your Dreams by Building a Budget Retrieved from: https://www.nerdwallet.com/article/finance/afford-the-summer-of-your-dreams-by-building-a-budget
3Evie Carrick and Talia Avakian (20220, Mar 23). 16 Affordable Family Vacations to Take This Summer Retrieved from: https://www.travelandleisure.com/trip-ideas/summer-vacations/affordable-family-vacations
4Cepeda, Marlisse (2022, Apr 25). 42 Fun Things to Do This Summer to Make It the Best One Ever Retrieved from: https://www.countryliving.com/life/g3537/end-of-summer-activities/?utm_source=google&utm_medium=cpc&utm_campaign=arb_ga_clv_md_pmx_us_urlx_18711629947&gclid=EAIaIQobChMI1LimyrrN_gIVTA6zAB0MOg8vEAMYASAAEgIEP_D_BwE
5Amanda Garrity and Marisa Lascala (2020, Apr 9). 30 Easy Summer Activities for Kids to Keep Your Crew Entertained All Season Long Retrieved from: https://www.goodhousekeeping.com/life/entertainment/g4339/summer-activities/?utm_source=google&utm_medium=cpc&utm_campaign=arb_ga_ghk_d_bm_prog_org_us_g4339&gclid=EAIaIQobChMI56jNwrnN_gIV6ObjBx0DGwBEEAMYASAAEgJ0ZvD_BwE
6Dieker, Nicole (2022, Nov 11). 100 Free Summer Activities for Kids, Adults and Everyone In Between Retrieved from: https://www.thepennyhoarder.com/save-money/free-summer-activities/
Related Articles