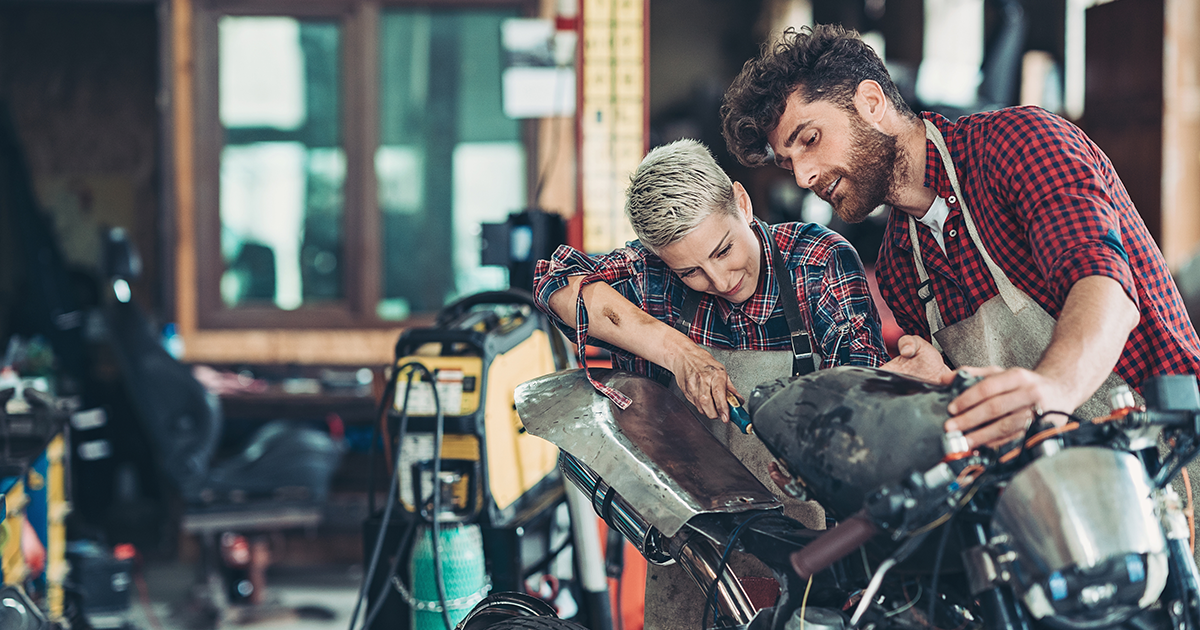 Saving Money Tips
5 Money Saving Vehicle Maintenance Ideas
We love our vehicles. In March 2021 alone, Americans traveled 263 billion vehicle miles, reports the U.S. Department of Transportation.1 Yeah. Wild, I know! That kind of mileage can only rack up if you keep your ride in check. Whether you're driving a car, motorcycle, truck, or moped, vehicle maintenance is important so your mode of transportation lasts the long haul. It could even help your vehicle retain a higher resale value. And in the end, not cost you loads in avoidable repair bills. Here are some auto care ideas to help save you money.
Read the manual
Your automobile likely came with a Vehicle Owner's Manual. But even if it didn't, you can do a quick Google search of your car make, model, and year to find it. Or see if your auto owner's manual is listed at Just Give Me the Damn Manual. Mine was!
While you're at it, look up any warranties or recalls you'll want to take advantage of. Don't let the massive amount of info overwhelm you. Knowing you have a how-to in your glove box or a computer file to reference is already an asset.
Maintenance schedule
The manual lists what and when you should service your vehicle. By using the truck or car maintenance manual, instead of a shop or dealership, you'll likely save money by not paying for unnecessary check-ups, repairs, or replacements.
How-to knowledge
Within your owner's manual you'll find awesome info like the optimal type of gasoline to use, what kind of oil and filter to change out, how to check and refill your vehicle fluids, and more! When you have this information you'll be more empowered to handle your business.
Budgeting
By using the guidelines stated in your manual, you can organize regular maintenance to help fit your finances or payday schedule. Of course, accidents and finicky problems can happen anytime. But when you have a hold on what you can control, it might help keep the peace.
Battery life
If your car battery is dead, you're obvi going nowhere. A typical car battery lasts between two to five years. Did you know that hot weather and super warm climates can cause fluid evaporation which will damage your battery?[2] And extremely cold weather can affect its performance. So proactively checking your battery could help it last for years.
Keep your battery happy
It's easier than you think to keep your vehicle battery in good condition. Make sure your battery is properly secured and free from corrosion. Go easy on it by only using the indoor lights and headlights when you need them. And try to keep the AC and stereo-use to when your engine is running, so you don't drain that battery.
Test your battery
If your battery seems low on power or you want to develop a routine, stop in to any of these shops for a FREE battery test!
Time to replace your battery
I've been there. After I was told at a local dealership that I needed to replace my battery, I was skeptical. But I made my way to AutoZone for a free test, and I indeed needed a new battery. If you're so inclined, you could roll up to AutoZone, Advance Auto Parts, O'Reilly Auto Parts, Walmart, or other auto shops and purchase a new battery. You could take on the replacement yourself or take advantage of the free installation. Here are a few things to consider when replacing your vehicle battery.
Come prepared - Consult the manual or take a look at your battery to get the right type and size.
Types of batteries - Gas-powered vehicles typically take a lead-acid battery or an absorbed glass mat (AGM) battery.
Lead-acid batteries - These are less expensive and maintenance-free, but don't last as long as AGMs.
AGM batteries - These are more expensive, but are equipped to handle frequent draining and recharging.
Check the oil, wiper fluid, and coolant
Don't let these important, yet forgettable, items fall off your checklist. Back in the day, I didn't worry about these issues and let my older brothers handle them. And so did my Mom. I get flashbacks of her 1990 Ford Tempo constantly leaking oil. We'd just pour a quart of oil in every so often like the car was drinking it. Yeah…don't do that. Lol. It's a good idea to check these things out monthly.
Engine oil
Check the oil level of the dipstick and add more if it's low. When it's time for an oil change, consult your owner's manual. It'll tell you the grade and weight of the oil you need and what the proper filter is for your vehicle. Many people chose to change their oil and filters themselves. Practice caution since that heavy vehicle will be raised to perform the change. Here is the general process of an oil change.[3]
Raise the auto with two jacks or ramps. And brace the back wheels.
Find the oil and oil filter.
Place a container under the automobile where it'll catch the old oil, then drain it. As the oil drains, you may remove the filter. You'll probably need a wrench.
Replace the filter and pour in the new oil.
Responsibly dispose of your old oil. Check out your local recycling spots or auto stores like AutoZone or Firestone.
Windshield wiper fluid
As a teen, I was a little stunned that I had to refill this stuff. Yikes. But it's a pretty easy job.
Never use just plain water as wiper fluid.
Check the reservoir level.
Consult your windshield wiper fluid bottle for instruction.
Carefully pour in.
Coolant/antifreeze
Keep your car or truck cool and out of the danger zone with antifreeze. This coolant keeps the radiator and engine water from freezing in the cold and boiling over in the heat. It also acts as a lubricant.
Never open a hot radiator cap! The coolant could be at a boiling point and cause severe burns. Take proper precautions and wear gloves and protective eyewear. Because it's dangerous to freely handle auto-related chemicals.
Observe the reservoir level.
Drain old coolant into an appropriate receptacle, like a screw-cap plastic container, and take it to a recycling center. Remember this is toxic waste and poisonous. So proper clean-up is super important.
If using a pre-mixed coolant you can pour it in as is.
If using a concentrated coolant you'll need to mix 50/50 with distilled water, then pour in.
Tired tires
Tire pressure and tread depths make a difference regarding safety and how much fuel you use. In some cases, your gas mileage may improve up to 3% if your tires are inflated to their recommended pressure.4
Tire pressure and quality
No one wants a flat or a tire flying off while they're driving. Believe me, I've had both happen. Uneven treads, bald tires, and other tire concerns can mean big trouble. In 2017, 738 motor vehicle fatalities were tire-related, according to the National Highway Traffic Safety Administration.5
Check your pressure each month.
Check your manual, the car door, or the tire itself for the proper tire pressure.
Use a tire gauge to test the pounds per inch of pressure (PSI). A simple tire gauge only costs a couple bucks.
If the tire is low, fill it with air to the proper pressure. Overfilling your tire can be very dangerous, so be careful.
Check out your tire quality, rubber breakdown, tread depth, and possible tire rotations annually. And don't forget to check your spare tire, too.
Ease-up on the gas pedal
Hey, we can't all put the pedal to the metal like they do in NASCAR. But we should be mindful of how we use our vehicle's fuel. Again, taking care of the rest of your vehicle, like proper tire pressure, will help save you gas.
Pay for what you need - The highest priced gas isn't always the best. Check your manual for the recommended fuel type.
Keep cool and don't drive aggressively - Doing so can lower highway gas mileage by up to 33% and city mileage by 5%.6
Pack light – Heavy items in your car, like an extra 100 pounds, could raise your gas costs up to $0.3 per gallon.
Don't idle - If you're parked for more than 10 seconds, just turn off your car. When you keep the car running, you could use ¼ to ½ gallon of gas per hour, and up to $0.3 of wasted fuel per minute.
Keep your motor running
Car maintenance can be both a blessing and a chore. It's nice to have a vehicle that runs, and if you're keen on mechanical skills it might be fun. But sometimes keeping up on maintenance can be a little daunting. So use the assets near you like the Vehicle Owner's Manual, free auto testing, keep a watchful eye on fluids, and just be kind to your car. Using these tips could keep repair costs at bay and lead to more budget-friendly travel adventures!
Related Articles