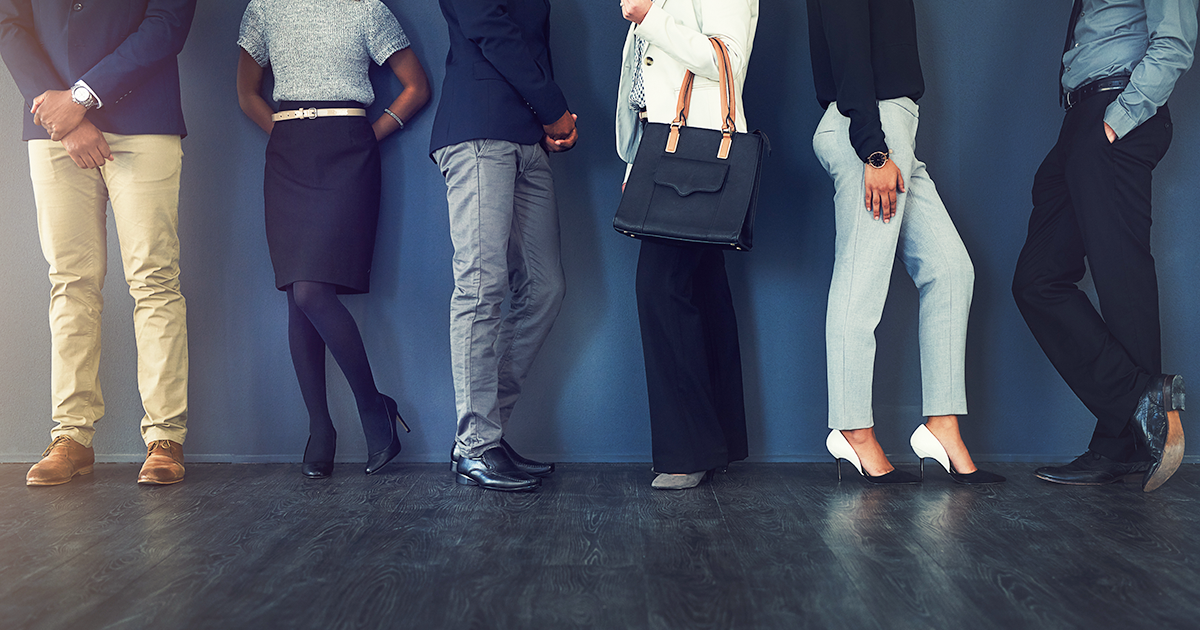 Saving Money Tips
How to Dress for an Interview on a Budget
It's no secret that lots of places are hiring these days. The number of jobs posted online now is over 50% higher than February 2020. And there's no sign that hiring is slowing down anytime soon.1 Some employers are getting so desperate that they're offering huge sign-on bonuses and extra perks like paid gym memberships, lunch stipends, or college tuition reimbursement. So it seems that workers have all the power these days. That's great news if you're looking for a job!
With that said, you still want the best job possible, and if you've found one you really want, you'll want to make a great impression during your interview. Experts say that those first five minutes in an interview are crucial to getting a job offer—or not. The real trick is how to make that first impression golden, without actually spending, you know…gold.
Below we'll explore how to dress for an interview on a budget. We'll cover what to wear, where to shop, and tricks for making it all cheaper without looking cheap.
What's the proper attire for an interview?
Hold my latte please, I'd like to try on those Jimmy Choos! (Ha, in my dreams.) In all seriousness, you really don't need to go all out and wear brand name fashion to an interview. In fact, looking TOO done up could actually distract from your work skills—and it could seriously dent your savings. Instead, wear something classic and keep it simple.
Here's what to wear to an interview:
1. Neutral colors2
Beige
Black
Brown
Gray
Navy
White
2. Classic fits
Blazer
Leather dress shoes
Long sleeve, buttoned dress shirt
Pants that flatter you
Here's what NOT to wear to an interview:
1. Too much…
Accessories
Jewelry (no more than one ring on each hand)[3]
Makeup
Perfume or cologne
Skin showing
Words or logos
2. Too little…
Deodorant
Clothing
Tooth brushing (okay, that's not something you can wear, but you get my point!)
🏢 If you can stop by or check the profiles of people who work where you're interviewing, that might give you some ideas of how traditional or trendy to dress.
Where should I shop for interview clothes?
It's easy to assume that good interview clothes can only be found at expensive shops or department stores. But guess what? Nowadays you can buy, rent, or get interview clothes for FREE. Some of the best items I've found came from cheap places! My favorite pencil skirt? From a friend. White blouse? Sale rack. Best black shoes? Okay, you caught me. I paid full price for those…10 years ago!
Here's where to look for FREE interview clothes:
Your own closet, or a friend!
Career Gear
Dress for Success
Goodwill Job Connection
H&M
YWCA
Here's where to buy affordable interview clothes:
Amazon
Consignment shops
eBay
Target
thredUP (online thrift store)
Walmart
Here's where to rent interview clothes:
Express Style Trial
Infinite Style by Ann Taylor
Le Tote
New York & Company Closet
Rent the Runway
The Mr. & Ms. Collection
👞 Some items may be worth spending more on, if you plan to keep them for years. Shoes, belts, bags, and coats are more splurge-worthy, especially if you can get a good deal with a coupon or sale.
Tricks of the trade
You don't always have to buy or rent something new to look good for an interview. One trick that blew my mind was re-styling existing pieces into something that looks professional.
Here's how to style your existing wardrobe for an interview:
Get it altered (pandemic bods, anyone?)
Clean and polish your old black or brown shoes
Tuck it in
Wear a belt
Roll up sleeves a tad if they're too short or long (Think: Ryan Gosling in the movie "La La Land.")
✂️ Don't forget to get a haircut and keep facial hair groomed—40% of all applicants create a negative first impression due to poor grooming.4
How much should I spend on interview clothes?
I've never been a big fan of breaking the bank for an interview, even if the job is going to pay way more. Because at the end of the day, with or without that next raise, clothes are still just clothes…they're not permanent.
That said, if you need to buy, rent, borrow, or restyle some clothes to make your very best first impression, you might be interested in my own personal spending guide. Or you could make your own (before shopping of course!).
Here are some spending guidelines for interview clothes:
Only buy what you'll wear again
For shirts, don't spend more than $30-40
For pants or skirts, keep it close to $50
For shoes, pay $50-100…but only if they're walk- and weather-proof!
Put your best foot (and shoe) forward!
This year's crazy roller coaster of employment might have us all slightly askew. But don't let the ups and downs derail your clothing budget, even if those clothes could get you a new job. With a few tricks up your sleeve, like shopping smart, renting, or altering, you can still look sharp while keeping your bank balance intact.
Related Articles