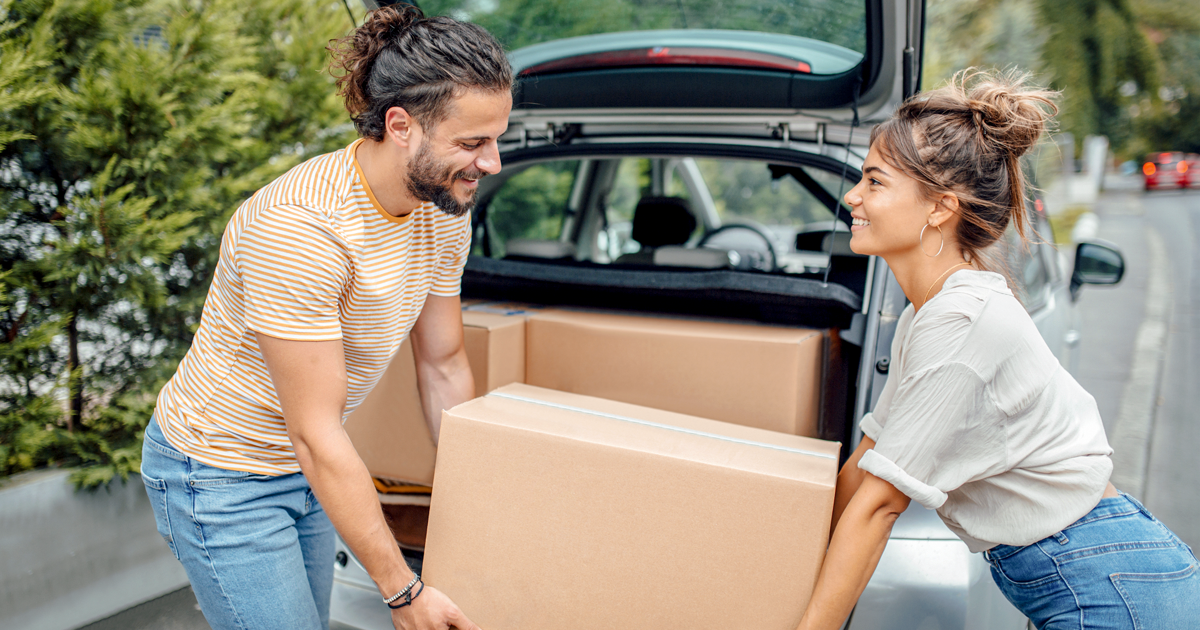 Saving Money Tips
What's the Cheapest Way to Move?
It's moving time! YASSS!
...
Annnd, wait for it - reality check. The novelty of moving has started to fizzle and you're now realizing you have to pack boxes, cover all the moving costs, transfer utilities, etc. - and the list goes on. Cue the stress! To ease the adulting overload, here are some pro tips to help you save money during your move.
Sort through your stuff
This may sound obvious, but seriously...Sort. Through. Your. Stuff. If you're like most of us the amount of "things" you accumulated at your current place is out of control. Well my friend, it's time to purge - thanks, Marie Kondo. The less you have to move, the cheaper and quicker your move will be. Plus, you can help others who may be in need by donating, selling, or recycling unneeded or unwanted items.
Second-hand stores like the Goodwill or local charities, children's homes and churches are great places to donate lovingly used items. Donationtown.org makes it super simple to find organizations to donate to in your area. And don't forget about donations and tax benefits.
Utilize those social marketplace opportunities on Facebook, Craigslist, eBay, Poshmark and other virtual garage sales, just to name a few! Take a quick pic, throw in some keywords, add a price, and hit "post". You can pull in a few bucks with little effort.
If you have a little more time on your hands, you could try selling your items in an actual garage sale or consignment shop.1
If you just don't think you can get any money out of an item, check out Earth911. It allows you to search for recycling options in your zip code or by what you need to recycle.
Get crafty with packing materials
It's easy to overlook, but packing materials are expensive! Before you purchase these materials, ask around or get creative with what you already have at your disposal.
Do you have a Prime or online shopping addiction like I do? Don't toss those cardboard boxes in the recycling just yet! Stow them away for packing (ask your friends and family, too).
Did you know grocery stores, big box stores, and liquor stores usually give their boxes away for free? All you have to do is ask.
If you don't have enough boxes, use heavy-duty, large plastic bags for clothing and other non-breakable items.
You can even leave clothes in the drawers. Remove the drawers from the dresser and stack them on top of each other in a vehicle to transport. If you have suitcases, don't move them empty! Load them up with some clothes, shoes, toiletries or even pots & pans.
When it comes to packing those breakable items, hold off on buying bubble wrap or packing peanuts. Use items you already own like towels, blankets, sheets, comforters, old newspapers and even grocery bags.
Using a moving company? Do your homework!
Carefully select your moving date
Did you know that moving prices may vary based on the time of year and the day of the week? This is the supply and demand model in action.
If you have a little leeway in the timing of your move, try to move during late fall through early spring (October-ish through April). Moving isn't as popular during this time, so rates may be lower. During late spring through early fall the moving prices are more because of higher demand and - of course - nicer weather.
Move mid-week when demand is at its lowest. Most people try to move during the weekends because, convenience. But if you can move mid-week you might be able to get lower rates.2
Only pay for the services you need
Hire loaders & unloaders only - Did you know that you can hire labor-only services? What a convenience! If you're willing to do the packing and organizing yourself you can hire simply for the heavy lifting, loading and/or unloading. HireAHelper allows you to search by city and availability, compare prices and read reviews.
Go à la carte - If you decide to use a full-service moving company, you're not obligated to sign onto the full shebang. You can still pick and choose which services you want. You can pay for the whole moving process including packing, lifting, driving and storage; or you can piecemeal the service(s) you need in order to save money such as: just paying for the company to move the big items like your washer and dryer, fridge and large furniture.
Get the truck only - If you can lift and move everything yourself, only pay for the rental truck and driver - or drive yourself and only rent a moving truck. You can mix and match the services that will work for you.3
Get multiple quotes
You probably already feel stretched thin, but it can be worth it (for your pocketbook and for the safety of the items you're moving) to take the time to research multiple moving companies. Ask around for recommendations (both for companies they do recommend and do not recommend), and check out companies online. Look into reviews and ratings, and get proposals or quotes from several reputable companies before making your final decision.
According to Moving.com, the moving company needs to know what you'll be moving to make an informed estimate of your moving costs. The cost of your move is based on the weight and the amount of space your stuff takes up. If the moving company doesn't ask or take a look at what they'll be moving for you, then it's really a shot in the dark how much they are quoting you for their services. That's bad news bears, because you want to know a good estimate of what you're going to be spending and not have a huge surprise at the end of your move. Here's what you can expect:
Your movers should walk through your house with you to fully assess what they will and will not be moving. They should ask questions and you should be prepared to answer. It's good for all parties if you're as prepared as possible. Know what is and is not moving with you, and have as much packed as you can (this can save time and possibly money).
Creditable moving companies aren't going to ask for cash or large deposits straight off. If you give the full payment in advance, you've lost the control of when they get paid and when you'll get your stuff. Some companies will ask for a down payment to lock in your reservation (that is normal), and those funds should go toward the total of your final bill.
Don't be afraid to ask questions. Things to think about: Will stairs, narrow streets, mileage, etc. cost you more? Are there any additional fees that you need to prepare for? Will the movers take breaks; if so, how many and at what time?
Get everything in writing. Estimates, fees, moving date, and the list of your belongings. This could save you a major headache if there are disagreements.
Read the contract and make sure you understand what you're reading before you sign. Make sure your items are listed, you're comfortable with the given estimate and possible fees, and all of your questions have been fully answered.4
To be clued into what your final moving cost will be, it's important to understand the kind of estimate you receive from the moving company. There are generally three types of estimates. Just as if you were shopping in a store, it's best to know what you're paying for and what you'll get for your money.

A binding estimate: the agreed upon quoted estimate price to move you, with the information you provided. The final cost will not vary.5
A binding to exceed estimate: the agreed upon estimate for your move, but if the actual weight and services are less than what was estimated, you pay the lower price.
A non-binding estimate: the price quoted is not set in stone. It's an educated approximation based on the information you provided. The movers anticipate that this will be the cost to move you. It is not guaranteed, it could be more or less.

According to Moving.com, you have nine months to report any problems from your move to the moving company and file an insurance claim. The moving company must acknowledge they received your claim within 30 days. They must deny or offer payment for your claim within 120 days of receipt.
Ask for help
Ask your employer, family, or friends - If you're moving for business, inquire to your employer if they'll help with or reimburse moving expenses. Also, you can ask friends and fam to pitch in with the move and, in return, you can promise to help out when they move!
Hire an amateur - Inquire to a friend's college-age kid, hire people from church or other social communities, or even friends. By doing this, you'll save money because you'll be paying them a fraction of the amount a moving company would charge you. They can help lift the heavy items that take 2 or more people or things you don't feel comfortable lifting yourself. The more helpers there are, the faster the work goes!
Do most of the work yourself - If you pack and move as much as you can yourself, ask for help from friends and fam, your moving expenses will be low key. Only pay for heavy lifting and transporting large items to prevent them from being broken.
When moving, it's also important to save your sanity. It can be a hectic time and if hiring someone to pack and move your household is going to save you emotional distress, it can absolutely be worth the extra cash. Do a little research to find a balance of monetary and emotional savings.
The information provided on our blog is for general informational purposes only. All information is provided in good faith, however we make no representation of any kind, express or implied, and should not be considered professional financial investment advice. The ideas and strategies should never be used without first assessing your own personal and financial situation, or without consulting a financial professional.
Related Articles