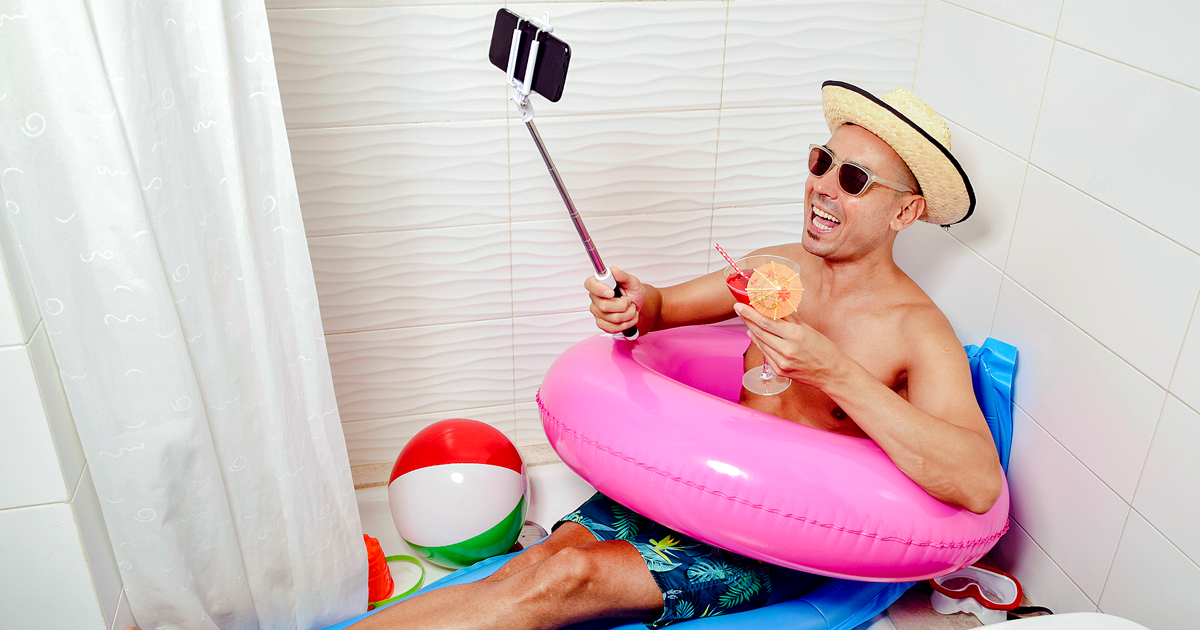 Saving Money Tips
Summer Staycationing Done Right
I LOVE to travel. I love lounging on a beach with a drink in my hand, experiencing different cultures abroad, and getting to see all the wonders across the U.S. Even though I would love to take a trip every year, it doesn't always happen. Something always seems to come up that takes priority over dipping my toes in the sand. In 2019 we decided to forgo a vacation due to the fact that we got married on the beach and bought a new car in 2018. It's always something. But apparently, I'm not alone. According to CNBC, 1 in 4 Americans skipped a summer vacation in 2019. And almost half said the reason was day-to-day bills.1 I get it, we all have money probs. But I still need a break from the everyday grind. So what now? Staycation, that's what.
The average vacation cost is $1,145 per person
A staycation is a vacation spent at home or nearby. While it may not be as glamorous as visiting a new state or country, a staycation can still give you a chance for some R&R and a chance to try new things while you're on a tight budget. Recently, I was able to give this staycation thing a shot. Surprisingly, it satisfied my desire to vacation.
My staycation experience
A staycation can be as long as you want. If you have the PTO and would normally take a week-long vacation, then take a week-long staycation. Because of schedules, my hubby and I only had one day to staycation - but it was just what the doctor ordered! We hit up several places in Kansas City that we had always wanted to try, but have never had time.
Our day started with lunch (because sleeping in would also be on our vacation agenda 😊). We hit up a Kansas City BBQ restaurant that everyone we knew had been to, but us. The burnt ends were legit! And let me tell you, I'm a bit of a burnt ends snob.
Despite wanting a nap after lunch, we forced ourselves to do some walking to burn off that BBQ. We visited a couple museums. I'm still in disbelief that the Arabia steamboat sank in the 1800's and had food that was preserved when it was uncovered in 1988.
We finished off the day with dinner at a KC favorite that is known for its gigantic chicken wings and cold brews. All in all - a great day!
Planning a staycation
Let me guess; my staycation experience sounds so amazing that you're ready to try one yourself. Do it! Here's my main piece of advice: Tailor your staycation to you. If you're after an adult-only resort kind of feel, don't go places where there will be kids. If you're after a fun-filled, action-packed adventure with your kids, load up on activities and junk food. After some bestie bonding time? Find some activities that share your common interests. Need ideas to get your creative juices flowing? Tag me in...
Staycation ideas for families with young kids
Build a DIY water park: If hot temps have you wishing for summertime fun, get out the sprinklers, kiddie pools or tarps. Set them up and create a water park made just for you and the family. Have fun with it - think of ways to make an obstacle course or even challenges, like who can go the farthest on the slip and slide. The best part? No lines!
Explore the great...Backyard: Dust off that old tent and pull out the sleeping bags, because it's time to camp with all the comforts of your home just steps away. Have s'mores and cookout on the grill, go stargazing at night, catch fireflies, tell scary stories, or anything else that might bring those outdoorsy feels to the camp. Check out these fun ideas to make your backyard the best campsite yet. I don't know about you, but I like the idea of having indoor plumbing just a few feet away!
Game day at the park: Take a day to create/build your own games, and a day to play them at home or at the park with the fam (pack a picnic to make a day of it!) There are so many creative DIY backyard games out there - trust me, I'm a Pinterest expert. If you or your SO is good with a saw, one of my favorites is yard Jenga.
Go on a scavenger hunt: There are scavenger hunt ideas for ALL ages, so this could be a good option no matter how old your kids are. And based on how complex you make the clues, this could last HOURS. This doesn't seem to be THAT new of a concept, but I recently read about selfie scavenger hunts - sounds fun! Don't forget the most important piece of a scavenger hunt...a prize!
Arts & crafts: If you're like most parents, you have a stash of messy gifts stowed away in a cabinet or closet way up high where the kids can't reach. You know the types of gifts I'm talking about...finger paints, play dough/slime, etc. Well it IS staycation time, so why not let the kids get a little messy? Plan out crafts or just let them go wild.
Staycation ideas for couples
Staycation ideas for you and your bestie(s)
Go to a festival: Summertime is high time for carnivals or festivals in many cities. This includes music festivals, farm and art shows, county fairs, and other city-specific events. Do some digging online or check with your local Chamber of Commerce and newspapers to see what's happening in your neck of the woods.
Ride scooters: Do you live in one of the lucky cities that has scooters for rent? Honestly, I didn't think I would enjoy them, but they are a blast - plus, they're super cheap (the first time I rode it cost me less than $10, and most of them have a referral offer so you can get a discount on your first ride). Ride around town stopping in local shops, breweries, coffee shops or restaurants. This is a great way to support local businesses, too.
Volunteer: Giving back to the community is good for the soul. But when was the last time you had an opportunity to work this into your busy schedule? And what better way to spend time with your bestie! Not sure which organizations have volunteer opportunities? Check out VolunteerMatch. The site breaks down opportunities by category and date so you can find the best fit for your interests.
Get active: Many cities have reasonably priced or free sports facilities that are open to the public. Map out some of the local tennis courts, baseball or soccer fields, and city or county parks. Have fun either picking up a new sport or remembering how to play an old one (I've never really believed the saying "it's like riding a bike"). If you're looking for indoor activities, many local recreation centers offer day passes that include use of the facilities and any equipment rentals.
Try to escape: Escape rooms are all the rage. Have you tried one yet? They can be pretty tricky, but full of fun! Check out the themes available in your area and put your problem solving hats on. This option will be best if you have 4 - 6 people in your group, so bring all the pals along.
Staycation dos and don'ts
DO set ground rules. Living Well Spending Less recommends no screens and no chores - both sound like bliss to me!
DO take pictures, videos, etc. just like you would if you were out of town. After all, the entire point of social media is for everyone to see how much fun you're having without them, right? 😊
DON'T let anything interfere. Take PTO and only make yourself available for your planned staycation activities - no interruptions and no excuses.
DON'T wing it. If you were heading out of town you would have to plan transit times, book hotels, buy tickets, etc. Plan your staycation agenda/ activities out just like you would have to plan an out-of-town trip.
Related Articles