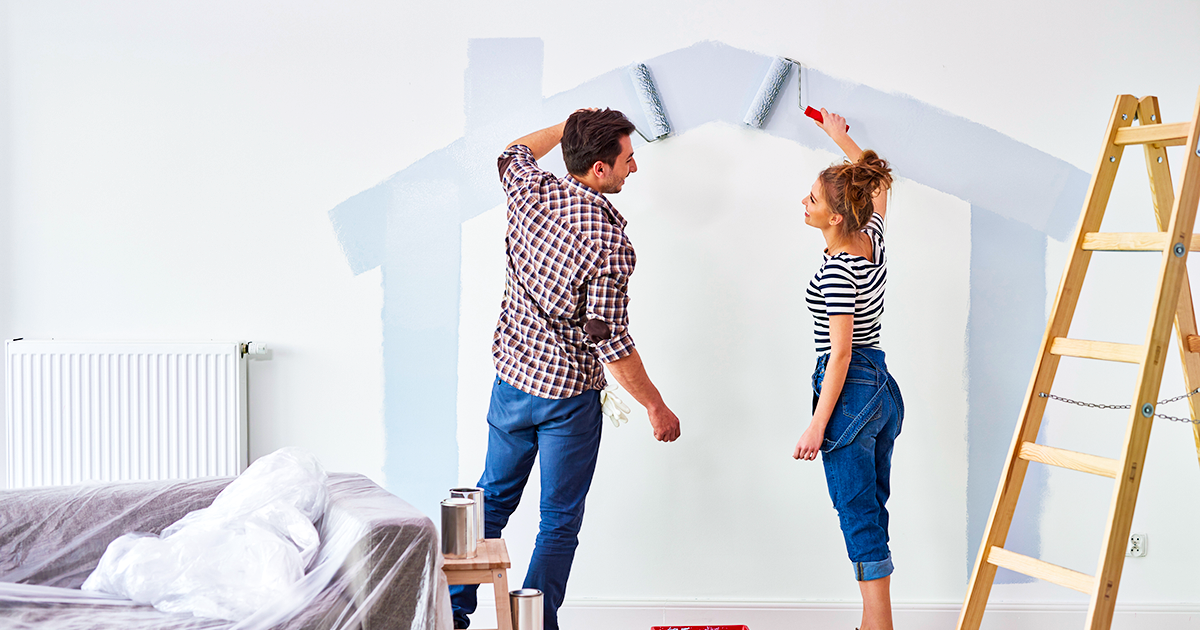 Saving Money Tips
Master 8 DIY Home Projects for Under $100
Relaxing on the couch, catching up on some shows, and then BAM! You're reminded of a home improvement project you somehow STILL need to do. Sound familiar? Most Americans have about nine DIY home projects lurking around the corner, waiting for them to complete.1 You can confront your DIY fears with manageable, budget-friendly projects like a homemade rug or headboard, removable wallpaper, or just a good coat of paint. And the best part? You can do it for under $100!
Make your own rug
Rugs add warmth and texture to a living space. But fancy Persian rugs can cost a fortune! Sure, for about $5-8 per square foot, you can buy a good quality rug.2 But for the same effect without the high cost, consider making one yourself.
Construct some shelves
Books, trinkets, and plants—Oh, my! Built-in, free standing, or floating shelves can add a lot of functionality to a space while also offering some cheap wall décor. Buying quality shelves often costs a pretty penny, and hiring it out could cost about $15-23 per linear foot.3 But luckily you can achieve a cool vibe for much less in your free time.
Invest in your beauty rest
A headboard on your bed may seem like a big fat extravagance. But keep in mind that a headboard supports your bed AND protects your wall, as well as giving your room style. Good quality headboards can cost more than $200, but you can also build your own on the cheap!
Glam it up with removable wallpaper
Wallpaper is making a comeback! And renters everywhere can thank the designer gods that someone invented removable wallpaper for cheap wall décor. This stuff is basically peel-and-stick so you can install yourself, remove and—sometimes—reuse. Here's to not losing your renter's deposit! Trendy, classic, glam and whimsical patterns abound for an accent wall, backsplash, entryway, or even your closet-turned-home-office.
Turn on the lights…literally!
Nothing freshens up a house more than good lighting. It also makes a living space more usable because all corners are well-lit. Since incandescent light bulbs waste 90% of their energy, consider replacing them with LEDs.4 They last longer, save energy, and are surprisingly affordable. Look for 4000K daylight white and the equivalent of 60 or 75 watts for bright, even lighting.
Pour on the paint
Paint is a DIY favorite to transform walls, doors, floors, and furniture. Not only does it provide high impact for a relatively low cost, but in some cases new paint can actually help resolve a big health risk: lead poisoning. In fact, homes built before 1940 have a 98% probability of containing some lead, which could lead to permanent brain and nerve damage.5 Here are some tips for your next paint project.
De-creepify a basement floor with epoxy
De-gunk your gutters
Ugh. The heights. The rickety ladders. The gunk. No one likes to clean out gutters, but it is a relatively easy task to do yourself. Plus, you could save $100-250 on hiring a pro.6 Cleaning out your gutters twice a year extends their life, keeps water out of your basement and mold out of your foundation. Borrow or use supplies on-hand to complete this task for FREE!
Ladder
Hose
Trowel or scoop
Gloves to protect your hands (optional)
Bucket to collect the gunk (optional)
Build a raised garden bed
Fresh tomatoes anyone? Count me in! Building a raised garden bed to grow fresh vegetables is surprisingly easy and extremely rewarding. In fact, raised beds can give back in spades with more productive plants, more organized space, and easier tending.7 By making your own you can avoid spending about $100 or more, plus you'll save on fresh produce all summer long! You just need a few supplies to construct a 4x4' raised bed for about $15.
2 – 2x8-inch wooden boards (pressure-treated lumber, cedar, or untreated pine), cut into 4-foot lengths
4 – scrap 2x4-inch wood to support corners
20 – 2.5-3 inch galvanized nails or screws to attach stakes to boards
1 – 16 square feet of cardboard, tarp, or landscaping fabric to kill grass and weeds beforehand (optional)
Topsoil and/or compost (optional)
Straw or mulch to keep soil moist during hot summer months (optional)
You can do this!
No one wants to spend buko bucks on a gigantic home improvement project. That's why we're happy to share ideas on projects you can do yourself. So choose your own adventure and tackle that project today, whether it's replacing some lightbulbs, repainting a wall, or weaving a rug. Knock your to-do list down a few pegs without overspending. Then, get back to watching Baby Yoda. And remember, DO or DO NOT. There is no try!
Related Articles