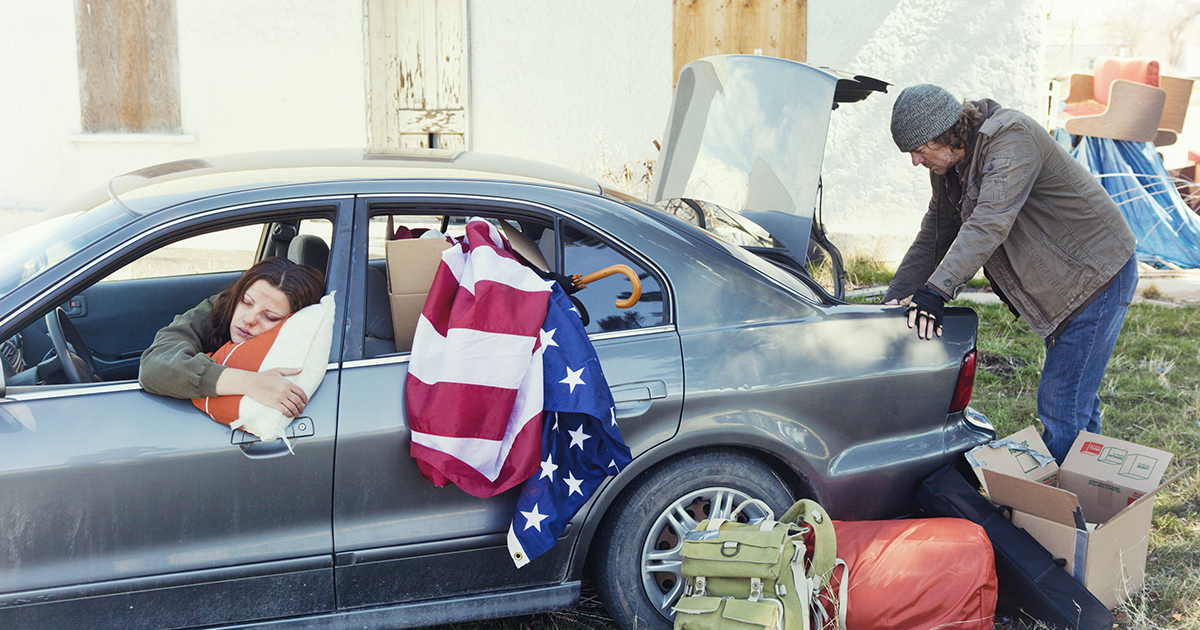 Loans
California Housing Crisis - Inflation Driving Many to Homelessness
If you've driven through downtown Los Angeles recently, you may have noticed an uptick in the homeless population, even beyond Skid Row. With encampments along Venice Beach and near several large overpasses throughout the city, the housing crisis is hard to miss. It may come as no surprise, since LA was reported as having the largest number of unhoused people in the country in 2020, but recent inflation conditions have begun pushing those with steady paychecks to the streets.1
From six figures to sleeping in your car
Inflation has affected all aspects of everyday life - from groceries to gas to the general cost of living - and California residents say they're struggling to keep up. Josanne English of Sacramento lost her job as a project manager and could no longer pay for monthly necessities like rent, gas, and utilities.2 She was evicted from her home and, unable to afford the average asking rent of $2,800, was forced to live in a hotel and finally her car. "I made good money - last year I made almost $100,000 - and I can't believe this happened to me," she said. "But with prices the way they are, it can literally happen to anybody."
Even well-established homeless shelters are finding it more difficult to care for their regular dependents, much less the new influx population. Union Station Homeless Services' Chef Marisa says that with rising food costs and meat shortages, she's having to get creative to feed roughly 60 people three times per day.3 "Before I would spend $100, now the $100 has to last twice as long." Governor Newsom hopes that the $18 billion in state funds earmarked for relief efforts will help keep some households above water, but advocates are skeptical that these efforts will effectively target people experiencing homelessness.
Change on the horizon?
Housing agencies across Los Angeles and in the greater California area have made several attempts to provide options for those struggling in the housing crisis, including rent relief programs, Project Roomkey that provides hotel rooms for unhoused individuals, and Breathe, a pilot program that grants 1,000 randomly selected participants with monthly payments of $1,000.4 But with many of these programs set to expire or just gaining momentum, advocates are looking for fresh ideas and renewed hope in the upcoming November elections.
Los Angeles voters interested in housing initiatives should pay special attention to the following ballot measures:
Proposition LH, which would authorize development of 5,000 additional units of low-income rental housing by public entities.
Proposition SP authorizing a new parcel tax to improve recreational venues and programs in the city.
Initiative Ordinance ULA, which would use at least 92% of a new property tax for affordable housing and tenant assistance programs.5
Visit your city clerk's office website to find out more details about these and other ballot measures.
Speedy Cash cares
Since we opened our first store 25 years ago in Riverside, we've felt a special connection to the state and feel it's our duty and responsibility to be there for our communities in times of need. We're in this together! If you're worried about basic necessities or not sure how far that next paycheck will stretch, payday loans could give you a temporary boost. For other options, check out our online loans or stop by a store. Our representatives value connection, comfort, and understanding when finding solutions for our Customers.
Want the full story of how we got our start? Check out Happy Anniversary Speedy Cash! In Business for 25 Years.
Related Articles