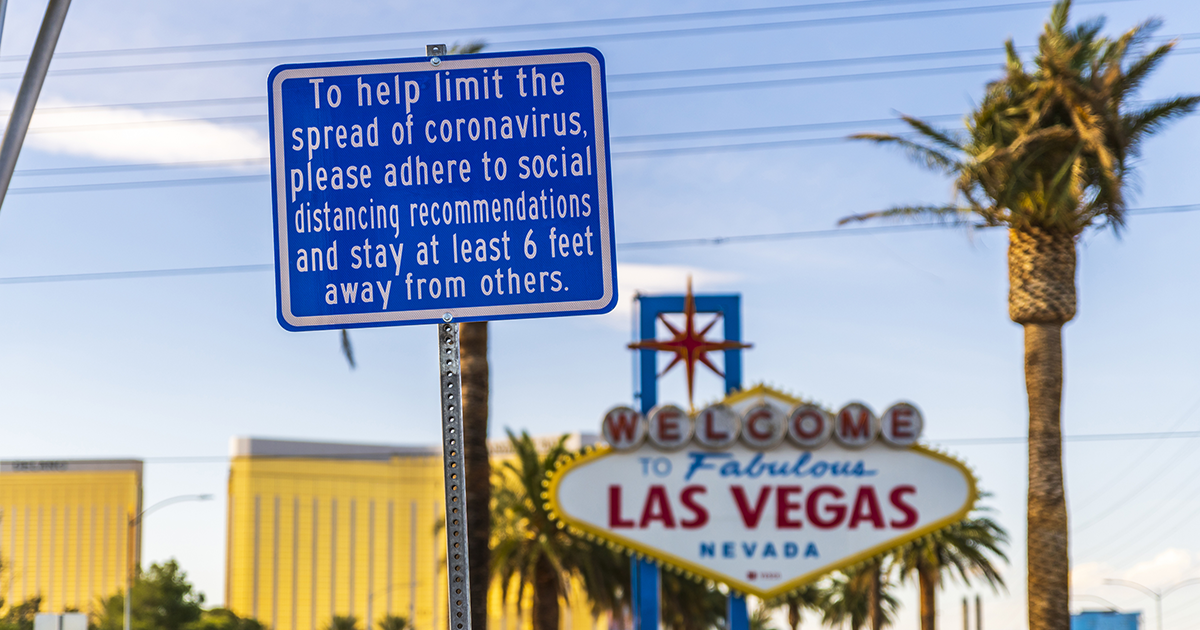 Loans
Las Vegas Tourism Post-Pandemic
Sin City in March of 2020, normally a thriving hub of tourism and entertainment, had become a ghost town. Nevada Governor Steve Sisolak made the decision to close all casinos, bars, and dine-in restaurants as a precaution against spread of the COVID-19 virus.1 In short, the Strip had been stripped. In 2022, however, Las Vegas began its journey toward recovery and has made unprecedented progress since then.
Flood of demand follows the loosening of COVID restrictions
As travel restrictions were lifted in the United States in November of 2021 and mask mandates were waning in Nevada in February of 2022, Las Vegas began seeing an influx of what Amanda Belarmino, an assistant professor of UNLV's Harrah College of Hospitality, coined "revenge" tourists - those trying to make up for the vacations they had to cancel during the shutdown.2 In 2019, Las Vegas saw more than 42 million visitors, and in the first four months of 2022, that number was already back up to more than 12 million. "Initially, we all thought tourism would take a long time to rebound. We thought there would be lingering fears. […S]o many people had to cancel those 2020 vacations, but they still had the money and the desire to travel. There ended up being a huge pent-up demand that we didn't expect."
H. Fletch Brunelle, Vice President of Marketing and Sales for the Las Vegas Convention and Visitors Authority wants to especially assure international tourists who may still be asking, "Is it safe to travel to Las Vegas right now?"[3] Everything is "fully open and ready to welcome visitors. […I]t might actually be even more fun to visit now because there are so many new, only-in-Vegas experiences for our guests to enjoy." This includes the first newly built casino along the Strip in a decade, new contactless systems, high-quality air filtration, and "exhilarating growth of sports and sports special events" through the Greatest Arena on Earth campaign to give the Sin City experience a whole new flair.4
The journey is far from over
Despite Las Vegas' epic comeback story, residents are not immune to some residual effects from COVID-19, as well as, the conditions brought on by the recent economic inflation. The increase of tourism has led to an increase in hotel rates, with an average room costing about $148.09 per night.5 With an overall decrease in tourism of 10.5 percent from August of 2019 and decrease in convention attendance of 38.2 percent, it may prove difficult for Las Vegas to keep up their winning tourism streak if hotel prices remain so high.
Sin City is also keeping an eye on changes in business travel post-pandemic, as smaller businesses and fewer workers from those businesses are filling the face-to-face needs of their companies.6 "It's two people on the road, not eight, but there might be six groups of them going to compete for that business and get in front of their potential new clients," says Michael Ritz, senior vice president of investments at Peachtree Hotel Group. It's unclear whether these numbers will balance out in the long run.
Finally, local residents are feeling the sting of inflation even as tourists are flocking to the Strip. While many new jobs in Nevada are offering a higher wage rate, it may not be enough to cover increased prices in gas, food, and housing.7 "For the average family of four right now, depending on what their employment is, they are, in theory, having less purchasing power and actually losing money - not gaining it - as a result of inflation," commented Andrew Woods, the director of the Center of Business and Economic Research at UNLV. As of September, lower gas prices could provide relief for some aspects of the inflation, but experts say "core" inflation could remain at peak rates for the foreseeable future.8
More hope than luck
While the future of Las Vegas might seem a little uncertain, we at Speedy Cash know first-hand how strong Nevadans can be. If the resilience of our Customers is any indication, we can celebrate this COVID-19 comeback and look forward with hope - no roll of the dice needed!
Are you struggling with your day-to-day needs and looking for your way forward? Speedy Cash could help! Stop by one of our stores or check out our loan options online. Our Nevada locations specialize in installment loans, payday loans, and title loans to fit your specific needs.
Related Articles