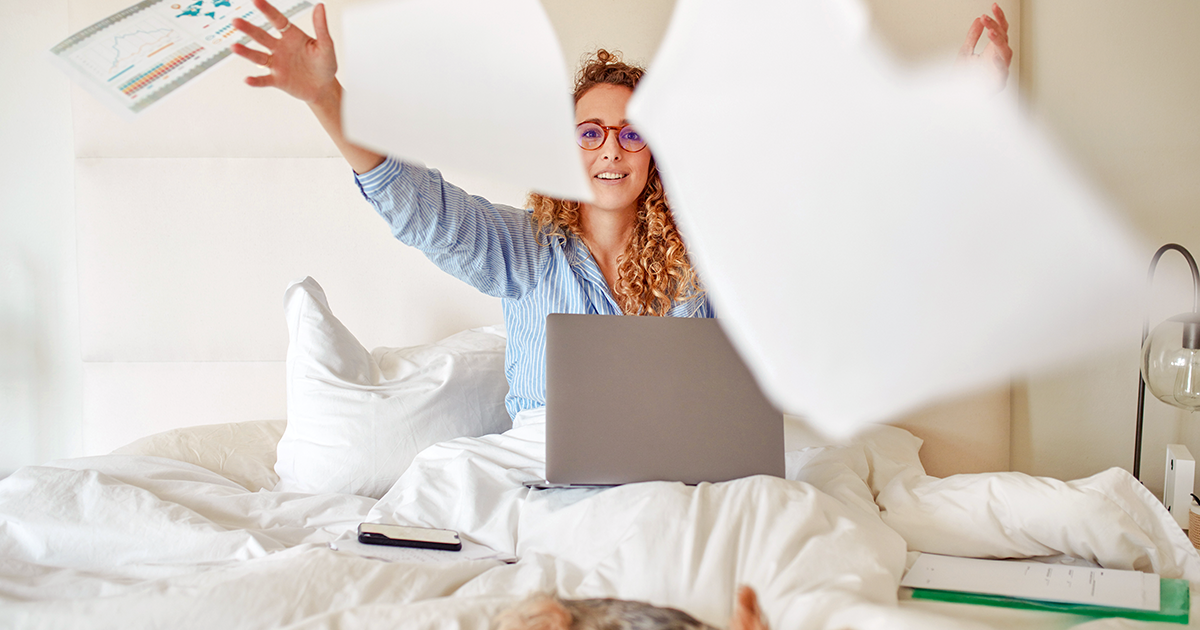 Financial Fitness
10 Ways Women Can Save Money and Find a Job During the COVID-19 Recession (Guide)
Women are tough, amirite? And that's why when women lose or quit their jobs by the millions, it's a BIG. DEAL. So big in fact that experts are calling this economic recession a 'she-cession,' because it has mostly impacted women. Here are the stats:
Almost 20% of parents, mostly moms, left their jobs in the fall 2020 to manage kids' remote learning.1
All the jobs lost in December 2020 were—you guessed it—lost by women.2
The average woman (sigh) still earns 80¢ for every $1 the average man earns.3
Time for some help? You betcha. Here are the 10 best ideas we could find to help women navigate this s— storm.
1. Get help paying the bills.
With that gloomy intro, you might be thinking there's nothing to be done. You're getting a raw deal. It's not your fault. Now, the first thing on your to-do list is probably how to pay for all the necessities.
Here's our roundup on how to pay for stuff here and now:
Negotiate payment plans or relief on monthly bills from credit cards, utilities, landlords and loan companies.
File for unemployment benefits if you not working or working less hours.
For non-severe doctor's visits, look into a telehealth appointment (typically $50) like Teladoc rather than an urgent care facility ($130) or emergency room ($740).4
If you haven't already received your stimulus $$, check its status and even file a recovery claim.
2. Falling unemployment rate! Time to find an in-demand job.
The U.S. unemployment rate actually fell to 6.3% in January 2021![5] 🎉 Still seems like a lot, but it's a huge improvement over where we were in April. And that falling number could mean there are more jobs to be had now. If you've recently left the workforce, now might be a good time to get back in.
Top industries looking for workers right now are related to:
Healthcare
Transportation and warehousing
Construction
Manufacturing
Don't be scared away from construction. Instead, you could look to related jobs like cashiering at The Home Depot or Sherwin-Williams. Not your style? Becoming an optician or pharmacy technician could be a good gig for high school graduates (median pay is in the mid-$30K range), and employment is projected to keep growing.[6] Or consider getting trained as an LPN (Licensed Practical Nurse) to earn a bit more ($40K median wage).
3. Choose a supportive employer.
Whether you're job-hunting or just casually looking for better working conditions, it pays (sometimes literally) to find the right employer for the long-term. Ideally, choose an employer that celebrates women. If you're able to, go after a position that offers support like flexible schedules, internships, tuition assistance, and/or advancement opportunities.
Top companies that hire and support women workers include:7
4. Keep up your skills.
Many of the best jobs in high demand require some sort of training. If you don't already have it, now's a good time to start that training. It could be as simple as taking an assessment on LinkedIn. You might even get some free training funds from a local American Job Center.
To upskill for tomorrow, consider learning these tech-y skills now from Coursera (Bonus! they often double as a freelance gig):8
5. Manage the remote learning situation.
Remote learning is no joke. And unfortunately, we all know that (at least traditionally) the burden of managing kids and school usually falls on women. So what can we do? Moms might not be able to teach the subjects, but we can sure as heck manage the at-home learning environment!
Here are some ideas to make remote learning less awful:
Get free expert help from Khan Academy videos or Learn to Be tutors.
Set a schedule and stick to it (give M&M's as prizes for the "stick to it" part??).
Close doors—this helps tune out distractions like TV or pets.
Plan ahead for lunchtime and snacks.
Be patient—Zoom and the internet in general sometimes create their own challenges. And, most importantly, those challenges are not your fault.
6. Find child care.
When it comes to finding (and funding) childcare, the struggle is REEEAAL. But if you're a working mom, chances are you seriously need a breather from your kids. Like, now please.
Here are some tips on getting affordable childcare:
Ask for scholarships, fee assistance, and/or sibling discounts at childcare centers.
Visit Child Care Aware to find resources and care options in your state.
Go to Care.com to find babysitters and school support.
Make a backup plan in case your primary plan fails due to illness, vacations, etc.
Ask your employer if they offer any time off (paid or unpaid) or flexible schedules to care for children. (See examples of supportive employers above!)
7. Hack the Pink Tax.
Does that pink shaving cream cost more than the blue or black men's variety? You're not imagining things. That extra cost is called gender-specific pricing, otherwise known as the "Pink Tax." It's how manufacturers charge more for things that are marketed specifically for women. Un-shockingly, the average woman pays about $1,351 more per year compared to what a man pays for the same stuff.9
Here's how to reduce or avoid the Pink Tax:
Buy unscented or gender-neutral things.
Shop for men's shampoo, soap, shaving cream and/or deodorant.
Gift "boy" toys to children instead of "girl" toys. (Hey, Legos are STEM-friendly, right?)
Study up on pricing before calling for quotes. (Uninformed female callers are quoted almost $23 more than men at car repair shops.)10
8. Protect yourself on the front lines.
One third of jobs held by women are considered 'essential'—aka, on the front lines of the pandemic.11 Whether you're working in a health care setting, a grocery store, or something else, it's important to continue protecting yourself as much as possible. If you can't find supplies nearby, you can always make your own disinfectants.
Affordable(ish) DIY cleaning ingredients and other protective essentials might include:
3-layer reusable face masks
Full face shield
Non-sterile gloves
Rubbing alcohol
Hydrogen peroxide
Liquid castile soap
Almond oil
Vegetable glycerin
Tea Tree essential oil
White distilled vinegar
Aloe Vera gel
9. Start a small business.
Whether you're side-hustling to achieve your dreams, or hustling to get by, starting a small business could be a good option to make some extra money. Weirdly, now might be a better time than most to start a business,12 and you'll be in good company! Women own 40% of US businesses, and 62% of female entrepreneurs say their business is their main source of income.13
Thinking of becoming an entrepreneur? Here are some tips to consider:
10. Actively manage your stress.
Stress impacts woman differently than it affects men, which can make matters worse. Woman may experience more depression and anxiety, not to mention headaches and problems with heart, stomach, weight, pregnancy and menstrual cycle.15 So if you haven't already, be sure to read up on how to cope with stress and refill your bucket during the pandemic.
Some recommendations to manage stress (from the Office on Women's Health) include:
Deep breathing
Stretching and exercise
Journaling
Alone time
Food rich in vitamin B (think: bananas, fish, chicken)
Organizing your home and to-do lists
Talking with friends or family
Keep going, girls!
Is it just us, or is it weird that we're looking at the one-year pandemic anniversary? Yet when people say "the end is in sight" it just doesn't seem genuine. Many are still struggling. If that's you, and you need more resources, we've got your back with a complete guide to financial help during coronavirus. Or if you just want to curl into a ball with cookies and a TV remote, we're right there with ya.
Related Articles