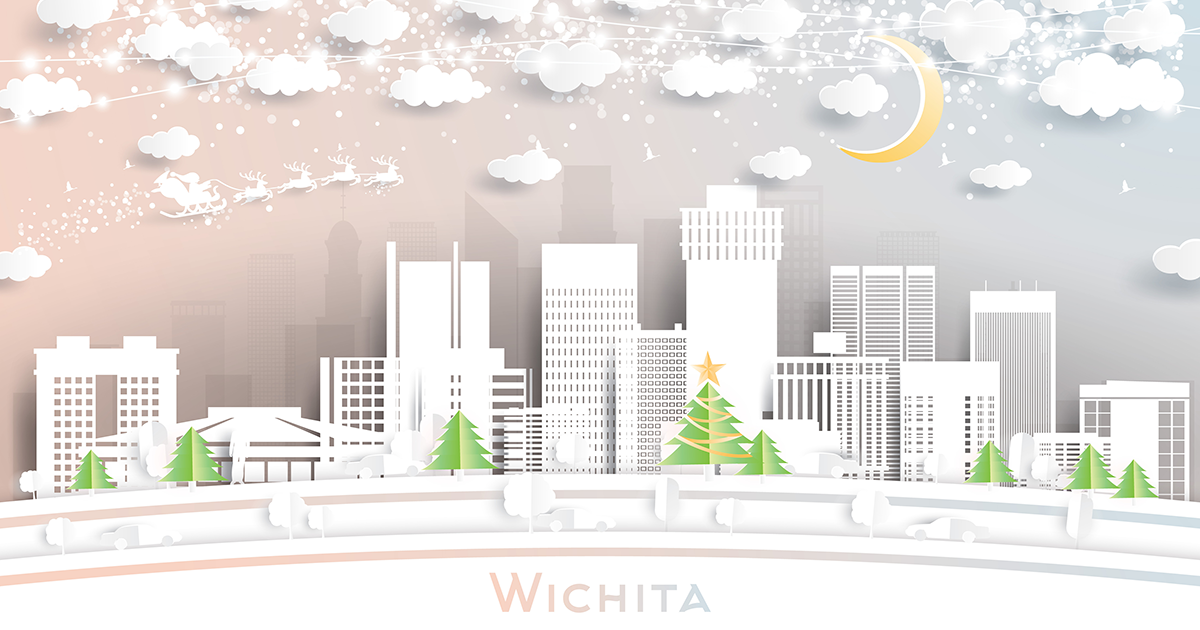 Loans
Speedy Cash in Kansas - Home for the Holidays
Although the Speedy Cash journey began in the great state of California, we also share some deep ties with the Wichita, Kansas area. In fact, it's where all three of our founders hail from and where our base of operations is located. In honor of that history, our 25th anniversary, and maybe of bit of self-indulgence in the magic of the season (we're PSL fans - no shame), we decided to go "home for the holidays" for this special-edition post.
Want the full story? Check out Happy Anniversary Speedy Cash! In Business for 25 Years and our about us page
We contacted several of our senior Kansas team members to get their perspective on what living in Kansas is really like (there are surprisingly few twisters), how times have changed since the birth of Speedy Cash in the 90's, and what they're most looking forward to this holiday season. So, click your heels together (okay that's the last Wizard of Oz reference - promise!) and get ready for a deep-dive into Kansas culture.
Kansas living - then and now
It's not uncommon for the typical person moving to Kansas to say that the low cost of living is what drew them there. And indeed, the cost of living index in Kansas is second-lowest in the nation at 86.5.1 But for Matthew A., Director of Software Engineering and a Speedy Cash employee since 2007, it is the "wealth of local businesses and community events" that makes Wichita unique. "The cost of living here is great, making it easier for people in different economic conditions to get involved" and since the 90's (when Speedy Cash first opened), the city "has become more in touch with the community. There are events such as Second Saturday, farmer's markets, and cultural festivals."
For one of our IT Quality Assurance Analysts, Juanita B., who has been with Speedy Cash since 2010 and within a year assisted in the creation of our Customer Service Quality Assurance department, it was the job growth and increase in opportunities that kept her in Kansas. "I was a single mother in my early 20's [in the 90's] and jobs and housing [were] limited. But when more businesses started opening there was a little more job opportunities for me to choose. Then I was able to get into a low-income home." Juanita was born and raised in Wichita and feels "you can raise your family here. […C]rime isn't as big [as] other cities and cost of living isn't as high as most."
Home grown traditions
While Wichita continues to expand economically and developmentally, residents also appreciate the wealth of community-centered and family-friendly activities, especially around the holidays. When asked what they're most looking forward to, Matthew M. Director of Field Integration and our top senior member with a start date in 1998(!), says that he and his daughter "have a tradition of cutting down a Christmas tree each year at Prairie Pines Tree Farm." He doesn't let the cold of the season deter him from getting some fresh air either. "I love the outdoor space Wichita provides. I love running/hiking/walking the Redbud Trail which can take you from Andover to Augusta."
Julia C., on the other hand, "love[s] to see the Christmas lights at the Botanical Garden." Julia is one of our Assistant Store Managers and has been with Speedy Cash since 2010. She joins thousands of other attendees at Botanica's annual holiday light show that features over two million lights, some of which are choreographed to music. Illuminations has been voted Top 10 Best Light Show in the country, making it a definite must-see.
If you've got a sweet tooth and want to support a local business, our Director of Marketing Services, John W. says he'll be spending a lot of his time at The Farris Wheel Candy Co., located at 21st and Webb. It comes highly recommended from this 2010 senior Speedy Cash employee, though he may be a little biased - his wife is the owner!
Holiday reality check
As magical as the holiday season can be, we at Speedy Cash understand that it can also be a time of higher financial stress, budget stretching, and unexpected expenses (hello frozen pipes). If you're home for the holidays in Kansas and needing some additional support, check out our line of credit options online. Or stop by a store and ask about our payday loans or title loans to see if we have a solution for you.
Related Articles