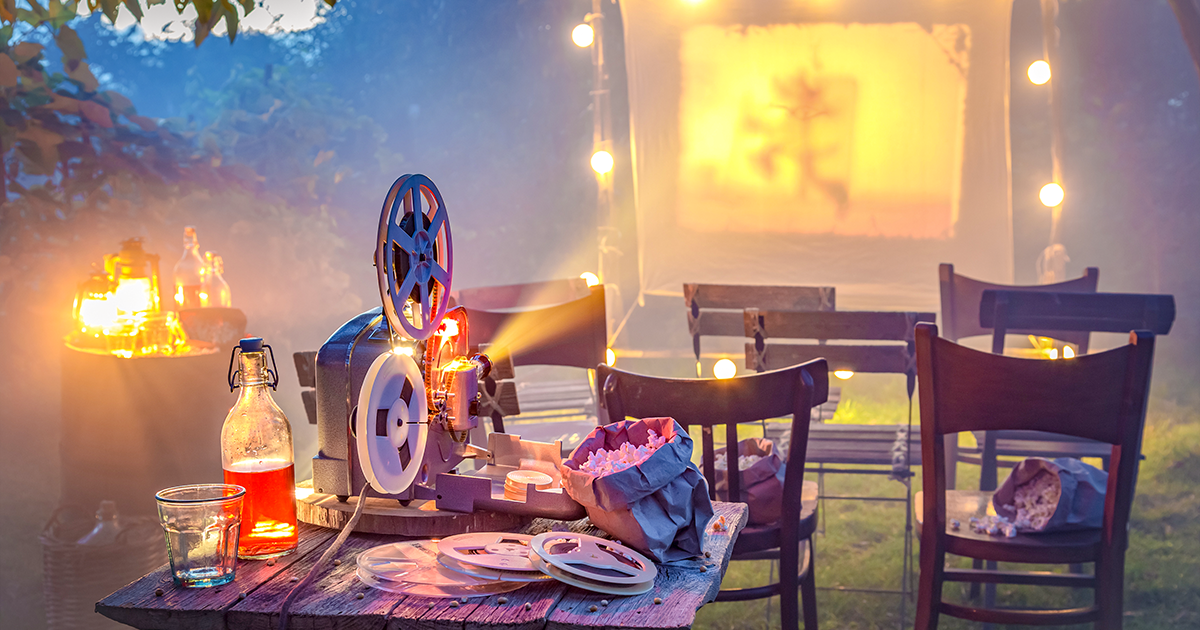 Financial Fitness
5 Movies with Major Financial Lessons
Hey, we all love a good movie. And how the past year has been … I'm sure we've all watched our fair share. According to a 2019 survey, the typical person views more than 78,000 hours of television.1 And that was pre-pandemic. So obvi, there are tons of opportunities to learn from what our eyes are glued to, and personal finance could be at the top of our lists!
In fact, a survey discovered 59% of Americans believe they don't know enough about their monetary situations.2 So most of us can relate. Let's fire up our streaming devices for some entertainment and financial education!
The Money Pit (1986)
"The train is coming right when we decided to buy the house. This has got to be an omen!" – Walter Fielding
This classic '80s comedy is bursting with exaggerated conflicts and humorous hurdles. But it still focuses on relatable catches that could happen when buying a home. In a 2019 Bankrate survey, 63% of millennial homebuyers voiced regret over their present home purchase. And 44% of overall homeowners feel remorse about their home purchase.3
Synopsis:
The plot in this movie focuses on a young couple, Walter and Anna. They get booted from her ex-husband's fancy apartment and need a place to live ASAP. They get word that a million dollar mansion is on the market for a mere $200,000. They're conned into a hurried decision to buy the home which is barely standing and in need of tons of work. Hilarity, money troubles, and home disasters ensue.
Lessons:
1. If a deal seems too good to be true, you can bet your booty it is. Try being the devil's advocate and question yourself.
"Why would anyone want to sell something for such a good deal?"
"What's wrong with it?"
"If it's so great, why isn't anyone else interested?"
2. Don't trust someone who is trying to rush or play on your emotions to make a deal.
That person is just looking out for Number 1, and you're a means to an end.
That goes for reading fine print, too. You have the right to take as much time as you need to read and understand contracts and paperwork.
Do not pay large sums of money before work is done. If you've already paid the business, why would they come back to finish the work?
3. Do your research! Whether you're buying a home, renovating, or repairing.
Find a realtor who is experienced and listens to what you want and need in a home. Ask for recommendations or search on realtor.com.
Ask your realtor to set up a home inspection or write an inspection contingency clause into the offer letter. Consider specific electrical or HVAC inspections, too.
Look for trustworthy contractors and repair professionals on sites like Angie's List or HomeAdvisor. Dig deeper and check their Better Business Bureau rating.
Ask those businesses if they have insurance and what would happen if a worker were to get injured at your home.
Bridesmaids (2011)
"Well, I'm the genius that opened a bakery during the recession." - Annie
If you've ever been a bridesmaid, you know the honor does not come cheaply. A WeddingWire study found that a bridesmaid spends, on average, around $1,200.4 This may seem hard to believe, but the little things like hair, makeup, bridesmaid dress, and travel add up quickly.
Synopsis:
In this female-led comedy, Annie and Lillian are childhood besties. When Lillian gets engaged, she of course asks Annie to be her maid-of-honor. Annie is happy for her friend, though she's trying to monetarily recover from opening a failed business with her then-boyfriend. She's struggling to keep a job, an apartment, and her hooptie car running. And then her jealousy and competitive side starts to roar.
Lessons:
1. Unfortunately Annie started a small business with all she had, and it tanked. A recession isn't the best time to start a bakery, but that's what she did. The U.S. Small Business Administration explains some ideas that could help.
Do market research and competitive analysis to find out if your business idea is a possible success.
Write a business plan that will pave the path for structure, how you'll run your business, and growth! And it'll help with finding investors for your company.
Once your business plan is set, you'll need to fund it. Figure out if raising capital or taking out a loan is best for you.
2. Don't put all your eggs in one basket, like a new business.
Remember to start or contribute to your emergency fund.
Get priority problems (car, house) fixed as soon as possible, before accidents or police tickets become a sad cherry atop your misery sundae.
Make sure you can take care of things like rent, groceries, and utilities.
3. If you can't afford to be a bridesmaid, or something else that will cost you a good amount of money, let your friends know. It's okay to say, "No thanks!"
In this way, you won't run yourself into a money pit (Did you see what I did there?) trying to keep up and not disappoint others.
Doling out money you don't have to spend can cause not only monetary stress, but also physical and emotional duress.
Guess what? You matter, too! It's a good thing to take care of yourself.
Office Space (1999)
"I don't like my job, and, uh, I don't think I'm gonna go anymore." – Peter Gibbons
Hating your job and deciding not to go anymore isn't the most adulting way to vibe. In 2020, SurveyMonkey found that 38% of the U.S. workforce were happier with their current jobs than they were before Covid-19.5 Which may make it more comical to relax and watch this cinematic gem.
Synopsis:
This movie is about Peter and his co-workers. Peter lives an unfulfilling life working at a sad, stale software company. He despises the VP of the company, along with his many mangers. One evening he and his girlfriend, Anne, go to a hypnotherapy session. Mid-session the therapist dies while hypnotizing Peter. From then on, Peter feels peaceful and strangely self-confident.
As Peter expresses disregard for company rules and regulations, he is promoted. And his friends are fired. (Now hold up, IRL rarely do people get promoted for breaking work rules and not performing their jobs.) They decide to hit back by infecting the accounting system with a virus that will deposit money into a separate account for them. But a "mundane" mistake causes the virus to be very detectable.
Lessons:
1. If you're unsatisfied with your current job, not showing up or not paying bills aren't good options. This could mess up credit, leave you without a place to live, or unable to afford essential items like food and clothing.
It may take time, but look for a new job opportunity via CareerOneStop or your city, county, or state job websites.
Have a sit-down with your manager. Keep communication open and try not to just assume things. Get clarification.
Keep your resume up to date. You could hire a company to write a resume for you like, The Muse. But that can get pricey. So look for free templates and examples on Google, LinkedIn, or my Perfect resume.
2. Once you get an interview for a job, bring your A-game.
Dress appropriately for the work profession.
Arrive on time with a good attitude.
Be honest and upbeat.
3. Job satisfaction is important. If you don't like your job, you may want to explore other options.
Find a job that will help you pay for what you need and want. But it can be more than that!
A job that helps you feel accomplished, like you're helping people or you enjoy, are big winners for job contentment.
You may not always have the job of your dreams, but you can embrace the good or look to move on.
Bridget Jones's Diary (2001)
"It's a truth universally acknowledged that the moment one area of your life starts going okay, another part of it falls spectacularly to pieces." – Bridget Jones
This quote ranks high on the dramatic scale, but then again, 2020. Bridget is a 30-something, single professional trying to balance work, social life, personal life, and family life. And it's not easy. Sound familiar? Per the Deloitte Global Millennial Survey 2020, 44% of Millennials and 48% of Gen Z answered they're stressed out all or the majority of the time.6
Synopsis:
In this rom-com, Bridget has an entry-level job that she doesn't enjoy. She starts a casual relationship with her boss which ends in disaster. She then has to quit the job because of their break-up, and desperately search for a new one. Meanwhile, her mother is doing her best to fix Bridget up with a childhood playmate. The rest of Bridget's time is spent with her friends, partying, and trying, failing, and trying to improve herself.
Lessons:
1. Make work-appropriate decisions.
From work clothing to having one too many at Happy Hour, think about how your decisions will affect your job life.
If possible before you quit or lose your current job, have another one lined up.
Give the proper resignation notice time. Standard is two weeks, but some jobs maybe one month or more. Leaving your current job on good terms can help with the next one.
2. Keep a diary and make lists!
Maintain a diary to help relieve stress, sort out problems, and make good general, even financial, decisions.
List out to-do's and finances. You could even morph your list into a budget.
Write out your goals to keep yourself on track.
3. It's okay to make mistakes.
You can heal from broken relationships and minor set-backs.
Look to free or inexpensive aids to help begin anew.
If you have a monetary hiccup, you can find help to restart your financial journey.
Confessions of a Shopaholic (2009)
"When I shop, the world gets better, and the world is better, but then it's not and I need to do it again." – Becky Bloomwood
Credit card debit. Boo. I mean, it happens to most of us. It's much easier to swipe a card and worry about the bill later. As of November 2020, Experian reported the U.S. had a credit card debt of $756 billion.7
Synopsis:
In this film, Rebecca (Becky) Bloomwood has had a taste for the good things in life since she was a kid. As an adult, she has broken free of her parents' frugal spending lifestyle. She buys what she wants when she wants it – on credit! She is a writer for a gardening magazine, but really wants to be a fashion journalist for Alette. When the gardening magazine goes under, she applies for Alette. But gets hired as a financial advice columnist at sister publication Successful Savings.
Becky is drowning deeper into debt all while giving monetary advice with a fabulous twist. But she needs to curb her spending habits and pay off bills as a debit collector is hell-bent on reaching her. Even if he ruins her professional and personal life.
Lessons:
1. Don't overspend!
Only buy what you can afford, and what won't send you into a tailspin of financial destruction. Essentials, yes. The newest iPhone, no.
If you can't afford something you really want like a vacation, fancy accessory, or even a new set of dishes, start a savings account. Ally offers completely online banking accounts for convenience.
If you need help, Debtors Anonymous might be a place to offer you support and solutions.
2. Using credit is a good thing! If you do it responsibly.
When you sensibly use and pay off your credit card, you have the opportunity to build a good credit score and a positive credit history.
Doing these things can benefit you later with better applications for loans and lower interest rates.
Some credit cards offer perks like cash back or percentages off at stores.
3. If you feel the need to spend, think about it. Ask yourself,
"Why do I want this item?"
"Do I really need it?"
"Can I afford it?"
Chill, with an open mind
It's great to kick back and relax while watching a film, but subtle advice that can actually help us in our lives may just be a movie away. And there are more economically-focused films than just the above to choose from. So feel free to pick a movie that gives you home-owners advice, business tips, job strategies, budget ideas, and credit lessons to increase your personal finance know-how and get a good laugh. And, don't forget the popcorn!
Related Articles