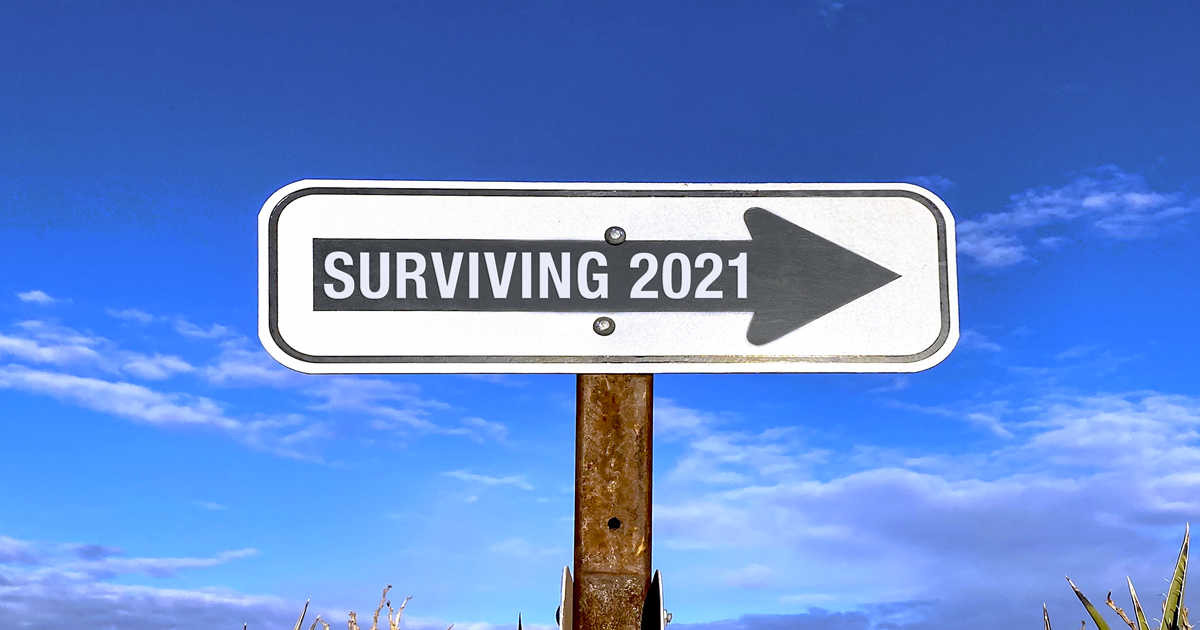 Saving Money Tips
Is Your World on Fire? Here's How to Cope in the Age of COVID-19
Let's pause for a minute. More than a year in to the pandemic now, we are finally…maybe…in some places…getting back to 'in-person' stuff. But with all the unknowns and the constant scary newsfeed, it's a bit like living in my own personal version of the movie Groundhog Day, plus The Hunger Games with a dash of Inception.
From shuteye to stress, no cash or even no job, and now summer vacay to top it all off? Just. Too. Much. The silver lining is that we're ALL trying to cope, so let's cringe… and carry on. In that spirit, here's a roundup of resources for your COVID-19 (back to normal???) survival kit. Best of luck.
Tap into free help
First things first: if you need help managing mental health, filing for unemployment, or figuring out where to live, you need some free resources. STAT! Here are some of the top websites:
Count your sheep and get some sleep
Are you getting at least 7 hours of sleep per night? Me neither. We can thank the kiddos and Netflix for that. But seriously, not getting enough rest could leave us at higher risk of chronic health problems, like obesity, diabetes, or high blood pressure, which could cause major expenses later on.
Unfortunately over one third of American adults are not reaching that nightly 7 hour goal.1 To change course, start some good habits now that encourage quality sleep, like daily exercise and a sleep-friendly environment. Most sleep habits are free, and you might even save money immediately by skipping that late-night snack. (Goodbye, hot Cheetos!)
Get moving!
Speaking of exercise, man is it tough to make time for that! Did you know we're supposed to get 3-5 hours of that in, per week?!?2 Between laundry, paying bills, putting kids to bed, and catching up on Facebook, I hardly have time to shower, let alone sweat.
But enough with excuses. After a couple weeks of regular exercise, I actually do feel better—physically and mentally. A 30-minute mat Pilates workout is my jam lately, but there's a ton more at-home workouts out there on the web. Most of them are free, too, as long as you don't mind some advertisements (they make great water breaks).
Deal with (DUN DUN DUUUUN!!!) school
From kids and parents, to teachers and administrators, school this year has been tough on all of us. In fact, since the pandemic began nearly 20% of parents have quit their jobs or taken a leave of absence to deal with remote learning.3
As mandates ebb and flow, schools in some states are opening back up to in-person instruction. Whatever we face at the end of this year and into next, it's important to help kids by focusing on relationships, routines, and resilience.4 So take lots of breaks. Connect with other learners. And be okay with just…not forgetting what everyone learned last year. (At least not everything.)
Prep your home
Just like going on a trip, prepping our homes for whatever the year throws at us is gonna take a hot second. The CDC recommends regularly cleaning surfaces with soap and water AND disinfectant, as well as improving air quality with open windows and a good HVAC filter.5
Beyond stopping the spread of germs, studies have shown that a well-kept home could also relieve stress, help you sleep, and make you more productive.6 Consider stocking up on cleaning supplies or making your own. You might also feel more prepared if you create a little "just-in-case" sick-kit with all the essentials.
If you're feeling well enough, you could also take this opportunity to do some affordable home improvement projects. Because while this year (and last!) has brought on many things, staying home occasionally will for sure happen. Let's be ready for that.
Stay connected…safely
Among all the ways to deal with stress, keeping your relationships strong is one of the best. Connecting with good friends, family members and mentors could help you recover faster from a stressful event. Research also suggests that strong relationships cut your risk of catching a cold in HALF.7
To safely connect with others, get creative with your get-togethers by attending virtual parties and sending snail mail. And just in general, keep your sense of community alive—from a distance—by streaming a live concert, hosting a watch party, or doing a Pinterest challenge.
Budget, save $$$, repeat
One in three Americans have less income now than before COVID-19. And almost HALF of Americans would struggle to pay for a $250 emergency.8 Now more than ever, creating a budget and saving money is key to ride out this wave of chaos.
If you do shop this spring and summer, do it armed with coupons to score the best deals. And be sure to plan ahead and compare prices to save the most money on any vacation travel.
Find a job
Breath. Okay, now let's talk about one of the most stressful things: how to find a job during a pandemic and economic downturn. If you're looking for a job, believe it or not jobs are growing in several industries right now including leisure, hospitality, and construction.9
Still struggling to find a job with a decent paycheck? Maybe it's time to beef up on your skills to be a top candidate. Once you do land an interview (congrats!), make a great first impression by writing a great application and practicing some common interview questions. And in the meantime, you can work that side hustle to bring in some cash.
Level up your internet game
With everything happening online, it's super easy to assume we're safe. But living virtually can also leave us open to online scams. For example, every month scammers invent new fake Amazon sites to trick consumers into giving them credit card information.10 (As if we need Amazon shopping to take any more of our money…)
To defend against those online attacks, learn how to spot phishing emails, how to protect yourself on social media, and how to shop safely during Cyber Monday. Don't be intimidated. Internet safety is a work in progress for all of us.
Reduce stress
We talk a lot about stress—it's a biggie. But let's also talk about the ways we can lessen that stress. Turns out we can refill our happiness bucket with yummy smells, relaxing music, and other daily routines. It can be as simple as your morning coffee.
And of course, if you need to take your mind off of daily life, you can always tackle a few affordable home maintenance projects—even if you're renting. Improving our home environments can help us feel more peaceful,5:1 and if it's done affordably, even better! Hey, operating a power tool could be really cathartic right now.
You've got this
You're amazing. You're showing up every day, being your boss self despite all the crazy. And even though everything seems tough right now (like, really. Really tough.) just remember you're strong. And it won't last forever.
Sources:
Staff. (2016, February 16). 1 in 3 adults don't get enough sleep. Retrieved from: https://www.cdc.gov/media/releases/2016/p0215-enough-sleep.html.
ODPHP Staff. (2019, October 21). Top 10 Things to Know About the Second Edition of the Physical Activity Guidelines for Americans. Retrieved from: https://health.gov/our-work/physical-activity/current-guidelines/top-10-things-know.
Carino, M. (2020, October 23). 1in 5 parents quit job or took leave to deal with remote school. Retrieved from: https://www.marketplace.org/2020/10/23/remote-school-online-learning-parents-quit-jobs-take-leave-of-absence/.
Cantor, P. (2020, June 3). The Stress of This Moment Might Be Hurting Kids' Development. Retrieved from: https://www.educationnext.org/stress-of-coronavirus-might-be-hurting-kids-development-but-relationships-routines-resilience-can-help/.
Staff. (2020, September 8). Cleaning And Disinfecting Your Home. Retrieved from: https://www.cdc.gov/coronavirus/2019-ncov/prevent-getting-sick/disinfecting-your-home.html.
Ryback, R. (2015, July 11). The Powerful Psychology Behind Cleanliness. Retrieved from: https://www.psychologytoday.com/us/blog/the-truisms-wellness/201607/the-powerful-psychology-behind-cleanliness.
Kreitzer, M., RN, PhD., Hathaway, K. PhD. (2016). Why Personal Relationships Are Important. Retrieved from: https://www.takingcharge.csh.umn.edu/why-personal-relationships-are-important
Conlon, R. (2020, October 15). Nearly half of Americans would have trouble paying an unexpected $250 expense. Retrieved from: https://www.marketplace.org/2020/10/15/nearly-half-of-americans-would-have-trouble-paying-an-unexpected-250-expense/.
Cox, J. (2021, April 2). Jobs report blows past expectations as payrolls boom by 916,000 in March. Retrieved from: https://www.cnbc.com/2021/04/02/us-jobs-report-march-2021.html.
Song, Y. (2020, October 8). How to Avoid Amazon Prime Day Scams. Retrieved from: https://bolster.ai/blog/how-to-avoid-amazon-prime-day-scams/.
Related Articles