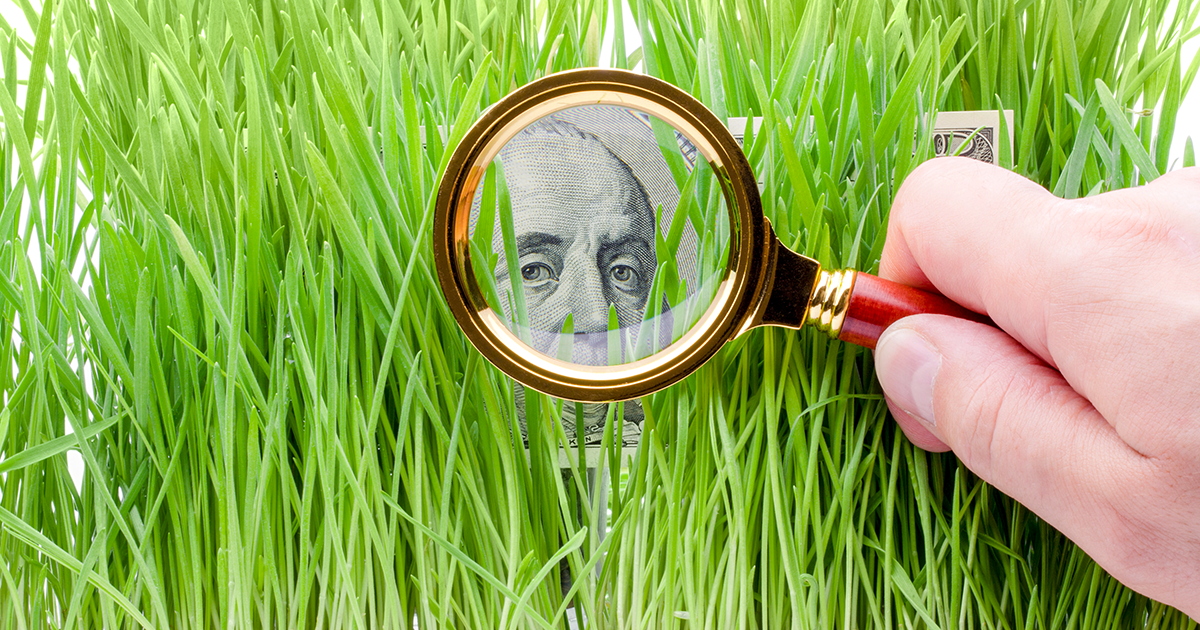 Financial Fitness
How to Find & Get Your Unclaimed Money: A Step-by-Step Guide
Gotta love that feeling of fishing your hand in a coat pocket and finding—surprise—a crumpled up five-dollar bill. Doesn't matter how big or small the amount, finding hidden money is always fun. And thanks (not-thanks!) to the complicated way that money is handled these days, some of YOUR money might be tied up in a government office somewhere.
The money could be from unpaid wages, death benefits, refunds from a medical bill, rental deposit, insurance policy payment, etc. It's called "Unclaimed Property," and 1 in 10 people in the U.S. have some waiting for them!1
Billion-dollar pie
You read that right. There are billions of dollars sitting in unclaimed property offices across the country. If companies aren't able to locate the rightful owner of a property (usually money but sometimes physical property), they basically put it in that state's collective lost and found bucket for unclaimed property.
All told, states take in a stunning $8 billion every year in unclaimed property, and two-thirds of that money is never claimed.2 If you've got 5 minutes to spare, you might be able to claim a piece of that pie, or help a loved one claim theirs.
💡 This process is FREE, so be wary of possible scammers trying to charge you to help find your money.
A long time ago in a galaxy far, far away…
Think about all the places you've ever received mail. Have you ever bummed off of a roommate's lease or lived in a parent's basement? Lived in another state for a month or two? What about your name. Have you ever changed your name, or is it commonly misspelled? Okay, now job time. Do you (like many of us!) have a job history full of stops and starts? Time to start gathering all these details about your past to begin your hunt for unclaimed property.
Start your FREE search online
Ready to find some cheddar? Visit the National Association of Unclaimed Property Administrators at Unclaimed.org. Then scroll down to the interactive map and select a state to search. Every state functions a little differently, so this may take a few minutes. You'll probably be directed to the specific state's department, and you'll need to enter some personal information. Generally, the last name is required, but you might also be able to search with a first name, middle name, zip code and/or organization name.
🛡️ To protect your personal info, before you search make sure your internet connection is private and you're landing only on "dot-gov" sites.
What the lost money search form looks like on the New York state website.
Find that goldmine
Okay, it probably won't be a goldmine. On average, each claim is about $200.3 Most of the claim amounts I saw were in the $25-100 range, but many are in the thousands! Once I ran across my own name, I was able to click on the claim and see more detail. My state listed the name and last known address of who it belonged to (me!), along with the approximate value, description, and who/what reported the amount. If you recognize something that should belong to you, congrats! Proceed to the next step.
💍 I found some of my unclaimed property under my maiden name in a state where I lived 10+ years ago!
Claim it, baby!
Now's the time to claim your property. Mine was a refund from a doctor's office where I had apparently overpaid for a bill (I guess insurance paid them after I did!). After selecting the claim, I just clicked on the "Pursue Claim" button, but you should know that different states will use different terminology. You might be prompted to sign in or create an account. In my case, creating an account meant I could access secure emails about my claim and check its status anytime.
📧 Make sure you check your spam folder regularly. Notifications about my claim went straight to junk (most likely because they contained a funky-looking link).
What the unclaimed property form looks like on the Texas state website.
Prove you're not a scammer
At some point, you'll probably be asked to prove that you are the rightful owner of that claim. After all, you wouldn't want a con artist to claim your property instead of you! So keep in mind that you might need to upload proof of address (paystub, utility bill, tax return, etc.), proof of identity (copy of driver's license, passport, etc.) and maybe even proof of name change (marriage license, etc.).
Wait for it…
Once your claim is submitted, now you just have to wait. And wait. My claim said it would be processed within 60 days. In the end, it only took about 45 days to receive my check. But some claims may take much longer. For example, if you have a stock, mutual fund, or dividend reinvestment claim, Washington State says that could take 120 days to process.
Cash that check!
This part is easy. Sign and deposit your check into your own bank account. As with any check deposit, it's a good practice to keep the paper check for at least 30 days to make sure the funds transfer to your account. If you can, consider depositing that extra cash directly into a savings account for a rainy day.
💰 Savings accounts with a high APY (0.50% or more) mean you can earn even more money every year via compound interest.
Find more hidden money
If that search was fun, try continuing your search for hidden money! Here are some additional sites that could help connect you with lost property:
Wishing you good joo joo
Everybody wants to be lucky in money. You could increase your odds of finding some extra money by looking into the unclaimed property offices in all the states you've ever lived. Worst case scenario? You might lose five minutes of time. Best case? You could get hundreds or even thousands of dollars sent to you compliments of the good ol' government.
Related Articles