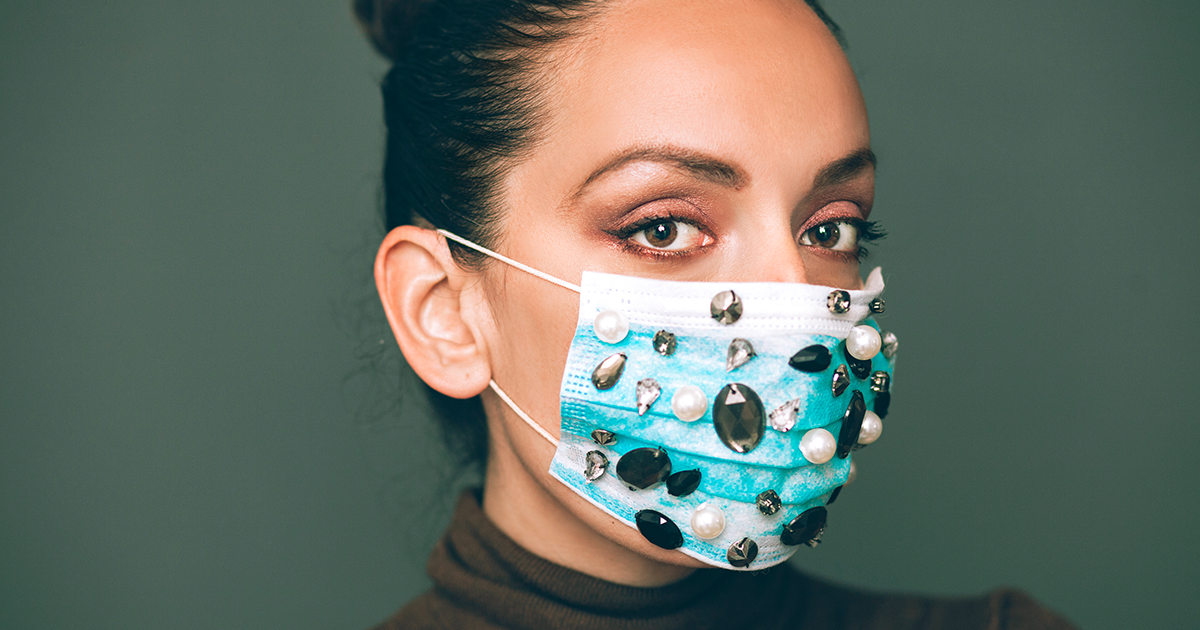 Saving Money Tips
With or without a Mask: Inexpensive Makeup Tips
Many of us are sporting a new accessory on our social outings – a face mask. According to the CDC, wearing face masks in public could help slow the spread of COVID-19.1 And we're ready for this virus to be history. But we've also learned how often we touch our faces and how dangerous that could be. A 2015 study of 26 Australian medical students found participants touched their faces 23 times an hour.2 Whether you choose to wear a mask or not, here are some makeup tips to help you feel like you've had a session with a Hollywood makeup artist without the major cost.
Primed and ready
Even celebs and reporters are struggling with makeup and our new normal. The Today Show's Savannah Guthrie got grilled on Twitter over her at-home hair and makeup routine, and she had a great response: "We are all doing our own hair and makeup during the pandemic. And yes it shows!"
Regardless of your profession, if you need some help with your own makeup routine to feel great, let's start off with primer. Primer could keep your makeup in place in the heat and humidity, smooth out fine lines and actually aid in application.
Building a foundation
Foundation creates an even color palate for makeup application. Wearing a mask? Consider just applying product where it will be seen and not under your mask. CNN reports masks can confine sweat, oil and dirt on the skin resulting in acne, eczema and rosacea flare ups.3 Try long-lasting formulas, oil-free foundations or waterproof formulas applied with a light-hand to help with potential smudging.
Give 'em the eye
Lately, I've been working my smize techniques ("smile with your eyes" à la Tyra Banks) while wearing my mask. You can easily accentuate your eyes with a few budget-friendly makeup items. Make your eyes "pop", look bigger, brighter and more awake with mascara. Eyes will be the main focus while flaunting a mask.
Brow power!
Eyes are the windows to the soul, and eyebrows are like the drapes. Okay maybe they're not that poetic, but they are fashionable and functional. According to New York Institute of Beauty, brows help shape the face, accentuate the eyes and play a role in nonverbal communication. Perfecting your eyebrows could help your makeup look more polished and complete.4
Are you blushing?
Blush adds color and definition to your face glow-up. While wearing a mask, you may not want to apply blush since it could be covered, smudged or cause irritation. Of course the choice is yours, so here are a few bashful blush options.
Lip service
Lips can get chapped and burned just like the rest of our faces. If you're wearing a mask or not, it's a good idea to keep your lips hydrated. A lipstick or gloss with a mask may not be necessary and possibly messy but hey, you do you!
Ready, setting spray, go!
Use a setting spray or finishing spray to complete your look and hold your makeup in place. Makeup sprays can also provide a matte or luminous look to your makeup, depending on the specific product. Here are a few that might be worth your while.
Makeup is your expression
Makeup can be a fun way to show our personalities and connect with others. But staying healthy is super important. Wash your hands, makeup brushes and sponges, and keep face touching to a minimum. Take good care of your skin and lips, and highlight eyes, eyebrows and cheeks, so you can rock ever-evolving styles sporting a face mask or not. And now you know you can do it on the cheap!
Related Articles