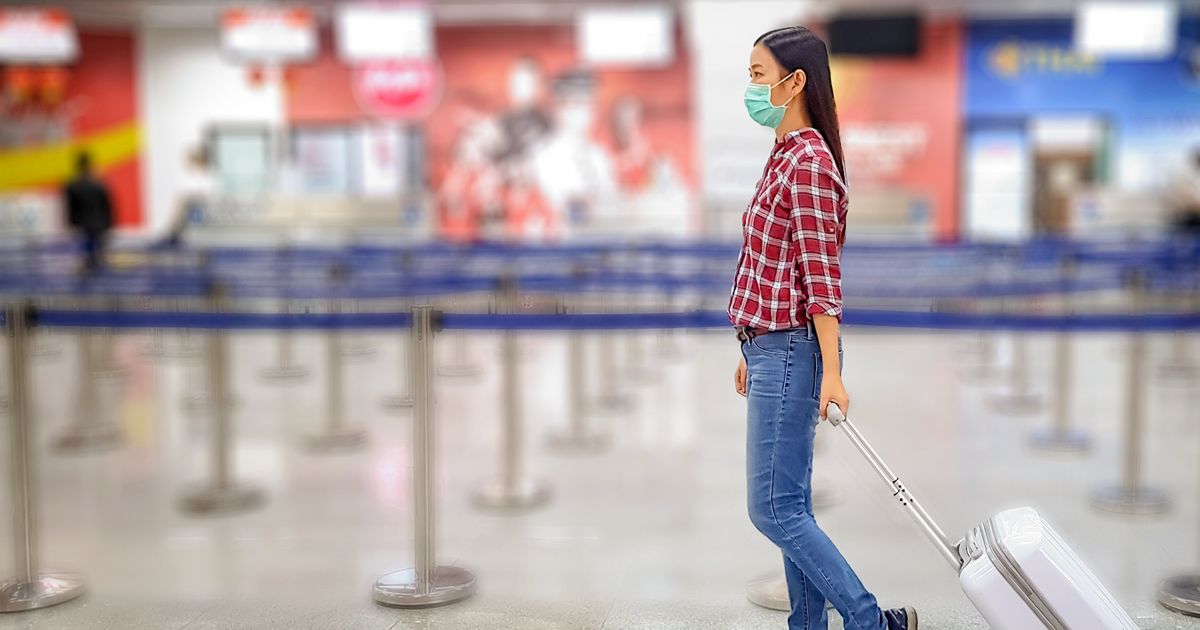 Saving Money Tips
How to Save on Holiday Travel Expenses
In 2019, 55 million travelers were planning to travel 50+ miles for Thanksgiving alone.[1] This year, a Travelocity® survey claims 60% of Americans WON'T be traveling to see friends and family for the holidays.[2]
If you're thinking "the 2020 rule is… just don't," go ahead and tuck this article away for future years when we are all (hopefully) back to normal. I sympathize, and I'll be thinking of you while I also embrace my inner introvert and have a socially distanced holiday with a box of wine, my husband and kiddo.
But if you're itching to see your family and plan to travel over the holidays, boy is it tough to navigate this year! Whether your holiday travels are by plane, train, or automobile, the price tag can keep climbing. And in any typical year, it would. But there's no way of knowing this year. Regardless, doing a little planning never hurts. And I'm here with tips on how to get the best flight deals and other ways to save money during your holiday travels.
Book early
Different sources all claim the same thing: book as early as possible. The best airfare booking time is 4 months to 3 weeks prior to travel, according to CheapAir.com's annual airfare study.[3] And the best days to travel are Tuesdays and Wednesdays, vs. the most expensive days (Sundays and Fridays).
So moral of the story: get as much of your holiday planning laid out as possible so you can start looking at and booking flights ASAP.
Choose your travel dates wisely
This year, 74% of Americans who DO plan to travel report they will travel during the December holidays.[4] The cheapest travel schedule, typically, is departing on a Tuesday and returning on Christmas Eve. Of course for many of us, this disrupts our holiday plans with family or friends.
If you don't want travel to affect the Christmas holiday, the next best return flight is on a Friday. Not traveling far or have evening plans for Christmas? Consider traveling early morning on the holiday.
Compare flight times and airlines
Perhaps due to time restraints you have to travel on the more expensive days. You could still save money by booking flights that are at unpopular times, like 5 am instead of 10 am. Late nights, early mornings, or lunchtime flights are usually great ways to save money.[5] You might also get through security lines faster!
With that said, this year there seem to be fewer flight times available. So your next best bet could be to look for different airlines. My personal budget faves are Southwest Airlines (especially for their low-fare calendar), Allegiant Air, and Spirit Airlines. My family tells me that Frontier and Alaska also offer good deals.
Look at other airports
Depending on where you're flying in or out of, you may be able to have your pick of airport. In many larger cities, there are multiple airports that offer the flights you need.
That said, McCarran International Airport (LAS) in Las Vegas, Orlando International Airport (MCO), and Fort Lauderdale-Hollywood International Airport (FLL) tend to be the least expensive.[6] Price check the different destinations to see if you're getting the best deal on flights, parking, baggage-cart rental, Uber transport, and even airport coffee.
Consider alternative forms of transportation
Depending on when and where you're traveling, it's sometimes not possible to consider any other option but flying. However, if you don't have to battle any barriers or boundaries for land travel, you might want to consider driving—like 14% of Americans[5:1]—or even finding a train.
If you want to avoid tolls, remember that most map apps give alternate, no-toll driving directions. Just make sure to allow extra travel time, since a no-toll route could be a two-lane highway packed with truck traffic (Hint: no passing for hours).
Pack snacks
I know it seems silly, but taking food from home vs. grabbing something at the airport can seriously save some bucks, especially with any long layovers or multiple stops. That's because airport vendors can charge 10% or more above the normal "street price." For example, a McDonald's Quarter Pounder meal cost $7.19 at LAX airport compared with the usual non-airport price of $5.69.[7]
To save money, pack something like a granola bar or trail mix that will offer lots of nutritional value, keeping you fuller longer without taking up a lot of room or requiring refrigeration.
Tip: Food you take on board a flight now needs to be taken out of your carry-on bag to go through security.
Pack light
One of the best travel secrets I've ever lived by is to only take a carry-on bag. That's because airlines in the U.S. have raised their checked baggage fees in the past few years. Last year in the first six months alone, checked bag fees totaled $2.8 billion.[8]
Tip: Pack in Ziploc bags to help save space, organize, and easily unpack and re-pack your bag if required by TSA.
Drink up
Sick of buying that $5 bottle of water in the terminal or at a rest stop? Same here! If you're driving, make sure all passengers have a water bottle that is full and ready for the trip.
If you're flying, there are no restrictions on taking empty reusable water bottles into the terminal. Plus, almost all airports have water fountains after you exit security. Simply pack an empty bottle in your carry on and fill it up once you're past security.
Tip: Liquids over 3.4 oz are only allowed in checked bags. However, reasonable quantities of breastmilk and baby food are allowed in carry-on bags.[9]
Don't overdo on overnight stays
Hotels can easily cost $200+ per night per room, but sometimes overnight stays are unavoidable. Consider all your options before booking a room during your travel. The cheapest overnight option, whether during your travels or while staying put for the holiday, is to stay with relatives, friends, or loved ones for free. (Maybe buy them a bottle of wine or two for their troubles.)
If free stays are not an option, try Airbnb, especially if you're traveling with kiddos or need more space. If you want to make a reservation directly with the establishment, try calling and booking over the phone. Sometimes a representative can give you a better deal, especially if they know you made the effort to call. Mention your price point and see what they say—worst thing they can do is say no.
Travel safely
The consensus seems to be 'stay home this year.' But sometimes holiday travel is necessary. Whether you're flying or driving, the CDC still recommends wearing a mask and using disinfectant wipes. And for even more germ-protection, the TSA is now allowing passengers to bring up to 12 ounces of liquid hand sanitizer in carry-on bags.[10]
The good news is, if you DO need to change plans for whatever reason, many airlines (and Amtrak) are offering some sort of discounted cancellation, free changes, and/or rebooking help through December or even into next year. And keep in mind, if the airline cancels or significantly delays your flight, the U.S. Department of Transportation says you are entitled to a refund.[10:1]
Happy (affordable) holiday travels!
No matter how you choose to spend your holidays, whether it's at home, on the road, or across the country, it can be done on a budget. With a little planning, you can avoid costly last minute prices, baggage fees, and over-priced food and drink. And yeah, sorry, it is cheapest to stay home. Best of luck to ya, stay healthy, and happy holidays!
Related Articles