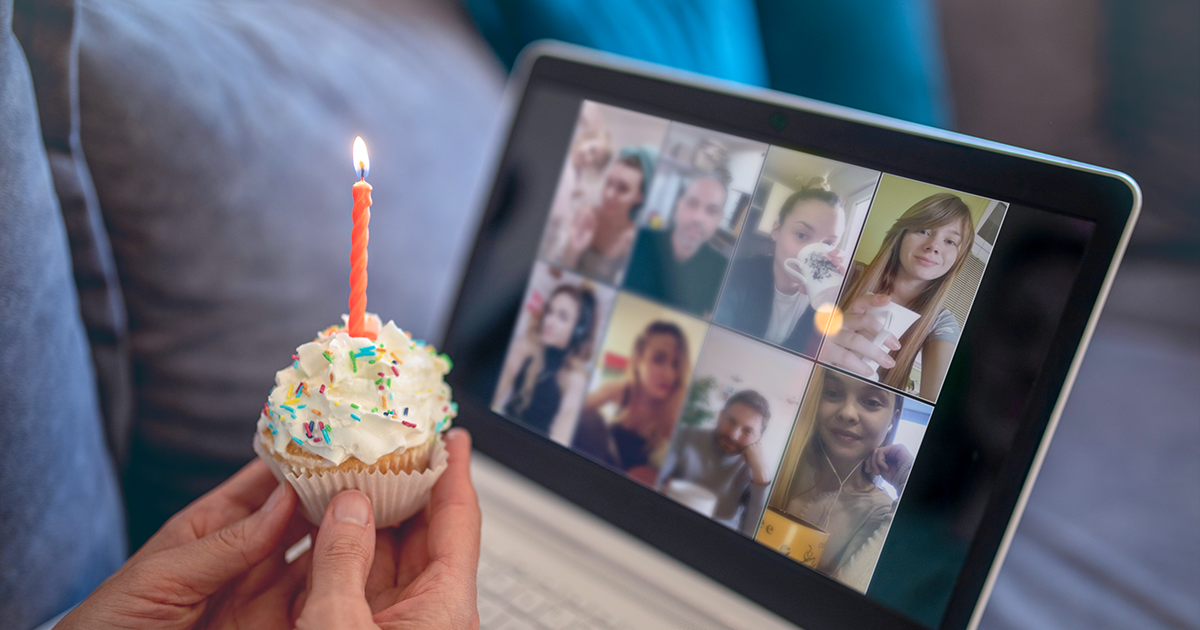 Saving Money Tips
How to Celebrate: 5 Creative Ways to Connect during COVID-19
People need people, but our common get-togethers and traditions don't quite look the same due to COVID-19. According to a July 2020 KFF Health Tracking poll, 53% of U.S. adults said coronavirus-related stress and worry has negatively impacted their mental health. This is a 14% increase just since May 2020.1 Though we're in physical distancing mode, we can still safely connect with each other emotionally and socially. Here are five ways we can create a new tradition of support with our upcoming birthdays, anniversaries, and holidays without breaking our piggy banks!
1. Virtual parties
As of late, you've probably become accustomed to video chats for work or school. But now's the time to make them social! A recent study found that people recovered from stressful events faster when reminded of good friends.2
So gather around your preferred screen and invite your favorite peeps. Whether you're talking, eating, or having a full-on dance party, start creating those quality connections that make us feel and BE healthier! Here are FREE video chat options and online games you can share with your loved ones to safely give out those virtual hugs!
2. Celebration parades
Pandemic or not, we continue to have birthdays, anniversaries and new babies to celebrate! Even though we're not dropping in on people, we can still drive by to let them know they're important. A social relationships and health study reported resilient social relationships strengthen the immune system, aid in disease recovery, support a 50% improvement of longevity and might even increase your life span.3
So chat with friends and family via texting, phone calls or video to coordinate the perfect time to drive past the person of honor's home. Make this connection a big deal with the following extras! Bonus, you can get out of your house.
Honk those horns (Free) – Make a scene by happily honking your car, truck and SUV horn so everyone within earshot is amped up for the parade! (If you're celebrating a baby, warn the new parents first!)
Go eco-friendly (Free) – You don't have to drive! Use your bikes, scooters or strollers to start the procession. If you really want to party, utilize noise makers, bells, musical instruments or your beautiful singing voices.
Record the memory (Free, if you have a cell phone) – Record this special moment and spread the love with friends and family or online with Facebook Live or Instagram Live. Yet another way to plant the sharing and caring seed.
3. Yard decorations
Grab ALL the attention with decorative yard signs. These larger-than-life celebration beacons have been popular for graduations, but can be used for birthdays, holidays or just fun, special days. Since an estimated 60 million Americans suffer from loneliness,4 this could be the mood boost opportunity we need.
You can DIY it …
Diva Styles YouTube tutorial – Use blank yard signs with stakes, printer paper, a laminator machine and laminating sheets. Then simply tape your printouts to the sign. If you don't have a printer or computer, ask a friend or go to your local library. Computer use is free, and printing papers is usually around ten cents per sheet.
Plaid Crafts YouTube tutorial – Get crafty! Use corrugated cardboard, a yard sign stake, Folk Art home décor chalk paint as a primer, and even Apple Barrel paint with a sea sponge. Decorate with what you have at home (think: stickers, stencils, printouts or scrap book paper). Seal with Mod Podge Ultra or Mod Podge Outdoor.
TheRealTiff YouTube tutorial – If you own a Cricut, use it to cut out your paper designs. If not, just use scissors to cut out your art. Decorate with sparkly glitter for extra pizzazz. Attach double letter paper cutouts and the hard backing of cardboard or foam board with hot glue or strong tape. Use a sturdy adhesive to attach skewers from Dollar Tree to your sign.
… or just buy it.
Card My Yard - You get to customize your message, and use for birthdays and graduations, marriage proposals and anniversaries, and almost everything in between. Card My Yard will deliver the signs, set up and take down after 24 hours! (You may keep your signs longer, but they do charge.)
Amazon – Of course Amazon can hook you up with some celebration signs. You need to do the set up, but you get to keep the signs to reuse or share with others!
Walmart – Check out the options at Walmart for festive signage you can keep and reuse for years to come.
4. Snail mail
Research indicates healthy friendships encourage mental health benefits, self-worth, feelings of belonging, drive, happiness, and less stress.5 We can help spread those good feelings by mailing hand-written cards and letters out to our neighbors, friends and family.
Handmade card – Learn five different ways to create lovely cards. Use what you have on the ready, look online for materials or safely visit Dollar Tree. Snag some construction paper, a pencil, scissors, glue, decorative tape, mounting tape, and sticker letters to begin your card-making journey. So many options to explore!
Dollar Tree cards – Good ol' Dollar Tree offers tons of cards from $0.50 to $1.00. But you could check out the less expensive options in-store at Walmart and Target starting at $0.97.
Amazon stationary set – Remember the pen pal correspondence from the days of yore? Bring back the tradition by handwriting letters to your loved ones. Get 32 adorable sheets and 16 envelopes to help you stay connected to your special peeps.
Amazon post cards – Do you have childhood memories of receiving a postcard addressed to you? Help create a fun memory for the kiddos in your life. Or heck, even the grown-ups could use a good memory, too! These "Thinking of You" post cards come in a 50 pack, so you can send warm fuzzies to loads of your fam and friends.
5. Make a phone call
Hearing a friend's voice means so much, especially in our email, IM and texting world. And research shows social support not only helps the person it's directed toward, but it also helps the giver.6 Per an East Tennessee State University study about texting vs. phone calling, 70% of the 485 students questioned stated hearing the other person's voice was important.7
So consider taking 15 minutes to check in on your friends, neighbors and especially the elderly, and reap some healthy benefits of your own. Here are some ideas on how to start that phone convo!
"Hey! We haven't talked in a while and I wanted to check in on you."
"Hi! We've been social distancing for a long time. Do you need anything from the store?"
"Hello! Is this a good time to chat?"
"Hi! I miss people! Let's vent about the black hole that is 2020!"
Let's invest in each other
Science tells us we are social creatures. We need each other to be healthier in mind, body and spirit. Sure, our roads to socializing are a bit different now, but they're still doable. So host that virtual party, participate in a parade, decorate a lawn, snail mail a letter or make a friendly call to boost morale and reap the health benefits for your friends and yourself.
Related Articles