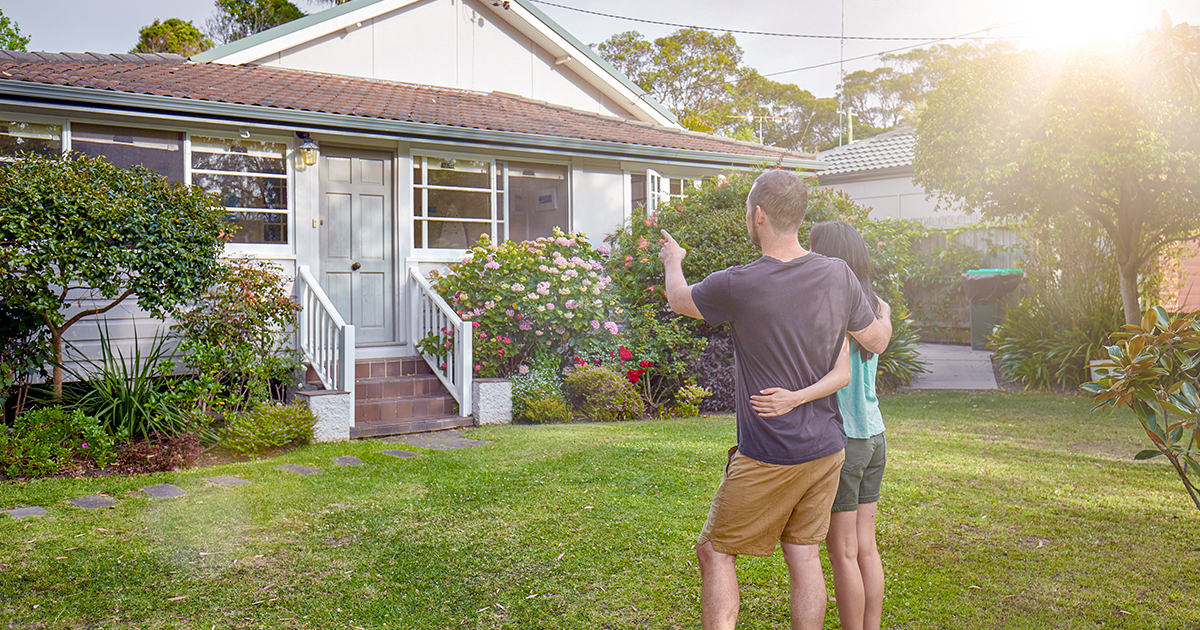 Saving Money Tips
How to be a Renter Rock Star in 4 Ways
If you are facing eviction, state programs may be able to assist you. Check out the community resources in your state.
Whether we rent a basement studio, one-bedroom apartment or dream house, we take pride in our homes. And with over 43 million renter households in the U.S.1, there are more renters today than any other time in the past 50 years!2 So renters' rights and responsibilities are pretty important. Check these by reading up on the Landlord Tenant Laws in your state. To help you live your best leasing life, here are four rock star renter maintenance ideas from pest prevention to lawn upkeep and cleaning to well-working appliances. And hey! If your landlord reports to the major credit reporting agencies, being a good tenant might even help your credit score.3
Pest free
Of course, you're super excited to find a place of your own! Once you've found the one … to rent of course, read the lease contract completely before you sign. There may be references to maintenance responsibilities or pest control. Also, make sure to have a thorough walk-through of the house or apartment. Take note and pictures of any damage or signs of pest infestations. Ensure in writing these things will be taken care of before you move in. You don't want germ-carrying roommates, especially if they're not going to pay rent.
But what if pests come after you've already moved in? Ants, spiders, mice and many other little creatures can find their way into your home due to weather changes and promises of insulation, cardboard or garbage. Windows, doors, vents, and openings as small as a quarter could welcome rats into your home.4 In fact, a census of 50 North Carolina homes reported finding 10,000 specimens of bugs, including flies and spiders to book lice and gall midges!5 Yay, science or … gross? If you're on the anti-bug side, here are some ideas to get rid of them.
DIY pest control
There are several indoor or outdoor do-it-yourself insect and pest remedies for purchase at your local big box store, grocery store or Amazon. Make sure to read directions for proper use and reapplications.
Ortho Home Defense Insect Killer with Wand – Use indoor or on nonporous surfaces. Terminates common pests such as ants, roaches, spiders and 130+ other bugs. Protects up to twelve months.
Hot Shot Ant, Roach & Spider Killer Canned Spray – Use indoor or outdoor. Kills common annoying insects like ants, cockroaches, spiders, fleas, crickets, and more. Protects up to three months.
Catchmaster 72MAX Pest Trap – Use indoor. Sticky traps capture mice, crickets, bugs and other pests.
Natural pest control
If natural remedies are more your style, here are a few product choices.
Hire a pest control professional
Consult with your landlord about professional help prior to hiring. They may have someone they already use or may not want tenants to hire companies for their property. Here are some ideas to keep in mind when consulting with pest control companies.
Licensed and qualified – Search for professionals who have experience and are certified.6
Pest management association(s) – Ask if the company is a member of any national, state or local pest control groups.
Insurance – Inquire about liability insurance to ensure the safety of the home and your belongings.
Guarantee – Question if the company guarantees their work, performs follow-up treatments, and promises pest protection time length.
Value – Look for value, not just the price tag.
Lawn and garden
Lawn and garden care can be a big responsibility. It's best to know what your landlord is expecting, so clarify if you're supposed to mow, weed, or even fertilize the yard. Here are some ways you could jump into lawn care.
DIY with a mower or trimmer
When mowing is on your checklist you'll need equipment. If you own a mower, great! Don't have a mower? Ask your landlord if he/she will supply one for you or ask to borrow one from a friend or family member. But if you feel like making a mower investment, here are a few suggestions.
American Lawn Mower Deluxe Hand Reel Push Mower – This push mower is powered by YOU. Eco-friendly and low maintenance; no electricity, oil changes or gas fill-ups.
Greenworks Corded Electric Lawn Mower – This mower is powered by a plug-in electrical cord (not included). Features rear bagging and mulching capability. Less-mess bagger. Less noise than a typically gas mower. Dependable power source. No batteries, charging, oil changes, or gas fill-ups.
Craftsman Gas Powered Push Mower – This mower is powered by gas fuel and oil. Features side discharge, rear discharge, and mulching capability. Handy grass bagger.
Black + Decker String Trimmer and Edger – This electric trimmer features a 5.0 amp motor and Powerdrive transmission. Automatic line feed. Use for those hard to reach lawn spot and for edging too!
Remington Curved Gas Trimmer – This gas trimmer has a 25CC gas engine with Quick Start technology. Dual line bump head, just tap head on the ground to feed your line. Curved shaft design for more comfort while landscaping.
Outsource
When lawn care is not your thing and your landlord is fine with it – hire out! According to a 2017 National Association of Landscape Professional report, 40% of yard owners in the U.S. hired professional lawn care services.7 So shop around to find someone you can trust and afford. Here are some suggestions to keep in mind.
Services – Find a lawn care professional who understands your concerns and can provide the services you need.
Pricing – Research quality services coupled with good value for your money.
Reputation – Look for good reviews and recommendations online and from trusted friends and family.
Interior clean-up
Obviously, you'll spend a lot of time living inside your house or apartment. Garbage removal is super important to maintain a comfortable, healthy home. But so are the little things. According to Harvard research, one of the best things you can do to be healthier is take off your shoes before you go inside your home. Tons of dirt and bacteria hang out on those kicks, so leave them outdoors.8 Remember, appliances and utilities should be in good working order prior to moving in.
Take out the trash
Just like Mom and Dad said, keep your room clean. Clean and disinfect your home frequently so as not to give pests and rodents an unofficial invitation and to stay as germ-free as possible. Regularly remove garbage from kitchen, bathrooms, bedrooms and high traffic areas. And make sure the trash makes it out to the garbage bin or curb for pick-up. It's FREE to tidy up your home, aside from paying for garbage pick-up and removal.
Disinfect
There are tons of ways to clean and disinfect your home. Whether you want to go green or go to the store, here are some tips!
Vinegar and water – Just recycle a spray bottle or snag one at the Dollar Tree to make your own multi-purpose cleaner. Combine three parts water to one part distilled vinegar. And if you feel like it, throw in some tea tree oil for extra antiseptic and antiviral properties.
Mrs. Meyer's Multi-Surface Everyday Cleaner – Freshen and clean non-porous surfaces including tile, countertops, floors and walls in your home. This product boasts essential oils and plant-derived multi-purpose cleaning ingredients.
Up & Up Disinfecting Wipes – Keep it simple with an all-in-one disinfecting wipe. Use on multiple surfaces. This product is bleach-free and still kills 99.9% of germs and the flu and cold virus.
Sweep or vacuum
Little messes can add up quickly, so sweep or vacuum up crumbs and clutter before they get out of hand.
Appliances
There are many appliances and machinery that keep a home running strong, and as a renter you're responsible for maintaining them. Here are a few ideas to help.
Plumbing tools
**it happens, and you need the right tool when it does.
Dehumidifiers
A dehumidifier removes extra humidity and moisture from the air which can help with easing asthma or allergy problems, stave off spiders, roaches and other moisture seeking pests, and decrease the growth of mold and mildew. Here are some options to choose from.
SEAVON Electric Upgraded Dehumidifier – This small dehumidifier work for up to 2000 cubic feet which is best for smaller areas. It features a high-efficiency design, auto shut-off function, energy-saving power and is super quiet. Portable design for easy movement and usage where you need it.
LONOVE Dehumidifier – This small size dehumidifier can work for up to 2200 cubic feet which is best for small rooms. It boasts high-efficiency design and auto shut-off function. Energy-saving and very quiet. Easy to move and use where you need it.
hOmeLabs Dehumidifier – This larger dehumidifier can work for up to 1500 square feet which is best for medium to large rooms. Energy Star certified. Easy to use with manual moisture setting, you can even use the Turbo setting for increased fan speed, moisture removal and odor reduction. Auto shut-off function. Wheels for portability.
Light bulbs
It's a no-brainer that you need light to do your best work at home. Take a look at these lighting options. They could save you some money on your utilities costs! Remember to check out the size, watts or lumens you need for your lighting fixture.
Sylvania Light Bulbs – Traditional looking LED bulb brightens as a 60 watt replacement, output of 800 lumens while using just 8.5 watts of power. Energy efficient with up to 11,000 hours of use and could save you up to 85% on energy bills compared to halogen or incandescent bulbs.
Great Eagle Light Bulbs – This LED bulb adds light as a 60 watt replacement, output of 750 lumens while using 9 watts of power. Energy efficient with up to 10,000 hours of use and could save you up to 85% on energy bills compared to halogen, CFL or incandescent bulbs.
Xtricity Light Bulbs – Compact fluorescent spiral bulb lightens as a 60 watt replacement, output of 900 lumens while using 13 watts of power. Energy efficient with up to 10,000 hours of use and consumes 75% less energy than halogen or incandescent bulbs.
Home sweet home
Your apartment or house is your sanctuary, especially when there is social distancing involved. So take care of your renting responsibilities by protecting it from pests, keeping a fresh looking lawn, and properly caring for the home. These ideas could help you keep a healthy, happy home and possibly increase your credit score. Welcome home, rock star!
Sources:
1Rudden, J. (2020, May 12). Number of renter occupied housing units in the United States from 1975-2019. Retrieved from Statista: https://www.statista.com/statistics/187577/housing-units-occupied-by-renter-in-the-us-since-1975/
2Staff. (2020, February). Homeowners vs Renters Statistics. Retrieved from iProperty Management: https://ipropertymanagement.com/research/renters-vs-homeowners-statistics
3DiGangi, C. (2020, March 18). How Renting Can Impact Your Credit. Retrieved from Credit.com: https://www.credit.com/credit-reports/how-renting-can-impact-your-credit/
4Staff. (n.d.). Common Attic Bugs, Insects, & Pests. Retrieved from Pest World: https://www.pestworld.org/pest-in-the-house/attic/
5Bertone, M. A., Leong, M., Bayless, K. M., Malow, T. L. F., Dunn, R. R., Trautwein, M. D. (2016, January 19). Arthropods of the great indoors: characterizing diversity inside urban and suburban homes. Retrieved from PeerJ: https://peerj.com/articles/1582/
6Staff. (n.d.). Pest Professionals FAQ. Retrieved from Pest World: https://www.pestworld.org/pest-control-help/pest-control-faqs/selecting-a-pest-control-professional/
7Staff. (2017, November 28). National Survey Finds 40% Of Americans With A Yard Hired Professionals For Lawn Or Landscape Work In The Last Year. Retrieved from National Association of Landscape Professionals: https://www.landscapeprofessionals.org/lp/media/2017-press-releases/harris-survey.aspx
8Walsh, C. (2019, June 20). Is your home making you sick? Retrieved from Harvard Gazette: https://news.harvard.edu/gazette/story/2019/06/harvard-researchers-outline-steps-to-a-healthy-home/
Related Articles