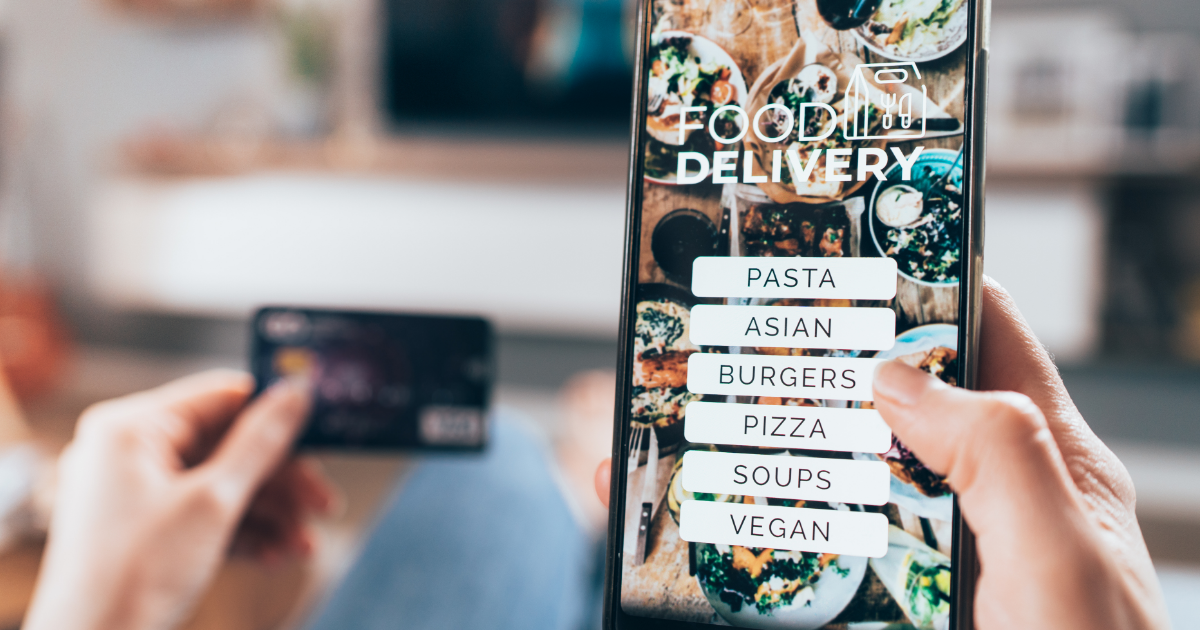 Saving Money Tips
Single Life: Breaking Up with Food Delivery Apps
I was recently looking at my transaction history on my debit card for the past month and one thing became clear: I use Door Dash, UberEats and Postmates allll too often. Come to find out, it's not just me - nearly 40 million Americans also used these apps in 2019.1 I mean, how can you say no to ease, convenience and not being stuck with a bunch of leftovers?? You hear me, I know. But it's not so easy on the bank account.
So I had a talk with myself and agreed to breakup - or at least create space with - food delivery apps. I'm only a few weeks in, but so far I can tell you that if you want to do the same, it's definitely doable. I went from an average of four deliveries each week (which, including tip, averaged $15 - $20 per delivery) down to one delivery each week. I grocery shopped one time for two weeks worth of food for under $100. You do the math.
If you're teasing with the idea of breaking up with food delivery apps, I can help! I've described a few key areas below that kept my heart from breaking during the breakup (although, we still have the occasional rendezvous).
Strategize
I'm a planner, so this is where I needed to start. There are two foods that I love and have with almost every meal: meat and fresh veggies. But there are a couple of tricky things about both of these food groups. But there are also solutions!
Single serving sizes are hard to come by. Any entrepreneurs out there?? This could be your niche. But since a lot of items don't come in sizes for one, I planned out different meals that use some of the same ingredients. Then I split up the ingredients into smaller sizes for each recipe. For example, my burrito recipe uses hot sausage and hamburger, and my spaghetti recipe use the same. I cut both recipes in half when I cook them, so when I purchased the meat, I split one pound in half and froze the half I didn't use. Then I used the other half when I made the other recipe.
Fresh veggies don't stay fresh forever. I can't even begin to tell you how many hundreds of dollars I have thrown away in spoiled veggies. Don't think about it, it will make you sick to your stomach. Seriously, don't think about it! Ok, so there is an obvi solution here: Buy frozen veggies. But personally, I'm not a fan of frozen veggies. My mom recently told me that she had been buying fresh veggies and then freezing them. I wrinkled my face at the thought of frozen veggies. But then I gave it a shot, and guess what?! They didn't taste like frozen veggies and I didn't have to throw anything out. Win, win!
Lots of meals have like ingredients. I LOVE Mexican food and crockpot meals. And the best part about that is a lot of the recipes in those two categories have a lot of like ingredients! So there are a few key, non-perishable items that I always make sure I have on-hand: black beans, corn, Ro-tel, cream of mushroom soup, cream of chicken soup and onion soup mix. The best part is that often times I can stock up when these items are on sale for buying multiples.
Do the shopping
You know that feeling when you step foot into a grocery store and anxiety instantly sets in? You almost get run into with a shopping cart, there are screaming kids everywhere, and there is always that one old (very sweet looking) lady who stands directly in the middle of an aisle so no one can get around her. Close your eyes, deep breath. You're not actually in a grocery store right now. I can feel that urge to run right back to your food apps, but don't do it! You can compromise the same way I did.
Goal: To support my mental health, I would like to avoid stepping foot in the grocery store.
Fact: It costs money to do grocery pick-up or have groceries delivered.
Compromise: If I eliminate one meal delivery per month, then I can afford one grocery pick-up per month (average of $5 each). If I eliminate two meal deliveries per month, then I can afford two grocery pick-ups or one grocery delivery.
Cook!
This is perhaps the biggest lift of all. And one I really have to pump myself up for. Actually, I really like to cook, but not after a long day of working.
Your crockpot is your best friend. Soooo much truth in this; and who doesn't love a good crockpot meal?! Throw all of your ingredients in the pot in the morning before you head to work, and by the time you get home your house smells delish and dinner is served! A lot of people only use their crockpot in the winter because they mainly use it for soups, roasts, etc. But I like to use my crockpot year-round. Check out these great summertime crockpot recipes.
Your Instant Pot is your best friend forever. So you were running late in the morning and didn't have time to prep your crockpot meal. Pull out the Instant Pot and you can have yourself a nice, delicious meal in 1/3 of the time!2 I fully admit that I was late to the Instant Pot scene. I had a really hard time understanding why I would need one when I already had a crockpot. One day Amazon was selling the white and red Instant Pots half price, so I bit. And I haven't regretted it a single day since.
Meal prep. This takes some serious discipline depending on what you're cooking. I like to combine this step with a crockpot; make one large crockpot meal on Sunday and eat on it throughout the week. But if leftovers aren't your thing (which I totally understand), you can still prepare all of the ingredients for your meals so all you have to do is put them together. You can simply get your chopping out of the way, or you can prep the entire meal and freeze it until you're ready for it. You may want to cut the portion sizes if you're just feeding yourself, but this is a list of yummy meals that you can prep and freeze ahead of time.
Related Articles