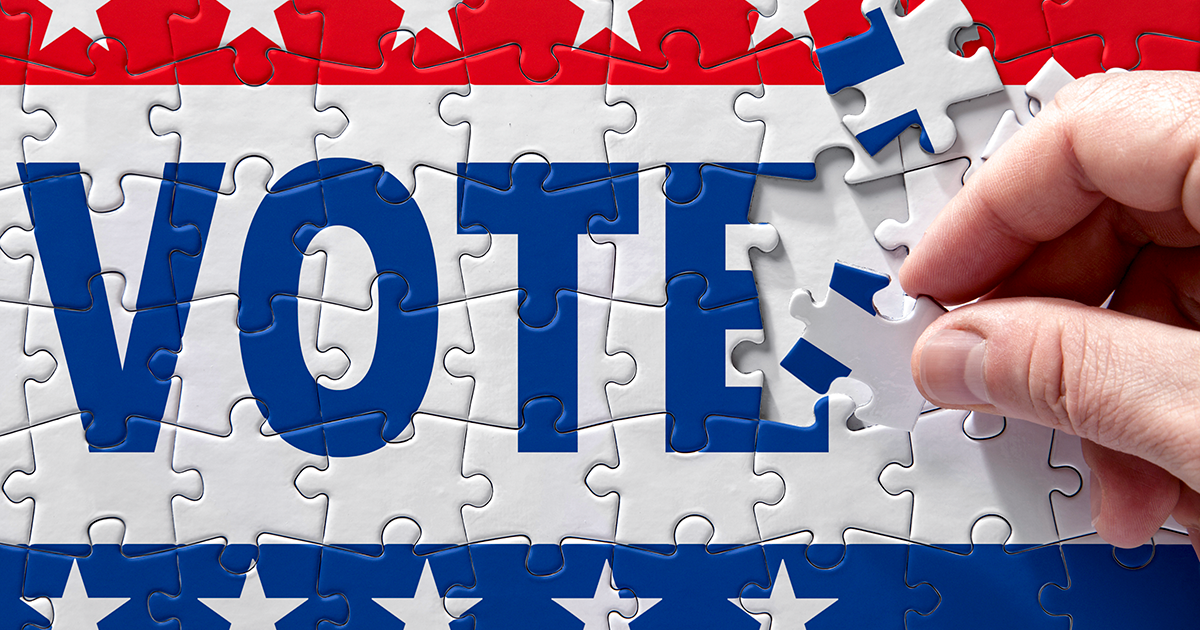 Financial Fitness
How to Vote during the Work Day
Get prepped for Election Day!
Listen, we all want to make a difference. One definite way you can let your voice be heard is to vote. In 2016, only 61% of U.S. citizens of voting age actually voted.1 The 2020 presidential election is quickly coming up on Tuesday, November 3rd. Have you registered to vote? If so, are you going to the voting polls or will you vote by mail? With either option, voting takes some planning. You may need to work around your schedule, ask for time off or check if your employer will allow you to vote on the clock. Here are some tips to prep for the election and exercise your vote without losing pay!
First things first: Register
2020 has been a year that almost everyone hopes they will awake from and just call a nightmare. Well, sorry folks, it's for realsies. But one thing we can control is who we vote for in the Presidential Election. Your first step in voting is to register! Brennan Center compared 2016 registration stats to 2020 and found voter registration has dropped by an average of 38% in 17 of the 21 examined states.2 Wow! But, it's easy to register. Here's some info to help you.
Make sure you're eligible
Each state has detailed state voter registration rules you should look into regarding things like state residency time, felony convictions and competence. But there is also general voter eligibility criteria in the United States that you must meet in order to register:
Citizenship: You must be a U.S. citizen.
Age: You must be at least 18 years old on or before the Election Day.
Residency: You must meet your state's requirements.
How to register
There are several ways to register to vote at home, in person or even in your car. Keep in mind, you do have to be registered to vote before the election. Each state has specific registration deadlines rules. Check out vote.org to select your state for precise advice, and read the below registration options.
Are you unsure if you're already registered? No prob! You can check your voting status and read up on your Voting 101 options like requesting a secure absentee ballot, vote early in-person dates and voting by mail deadlines.
Register online
Got a computer or device nearby? Just register to vote online! Online registration is offered in 40 states, so there's a strong chance you can register within minutes. Your paperless form is electronically sent to election officials for confirmation. If valid, you'll be added to your state's voter registration list.
Tip: Some states require a driver's license, state ID or social security number in order to register. So keep that info handy, JIC.
Register on paper
Don't feel comfortable sending your personal info into cyberspace? That's cool. You can download, fill out and print your voter registration application. This form is written in 15 languages! Upon completion, just stamp it with the appropriate amount of postage and mail it or drop off at your local election office!
Registration for overseas citizens and uniformed service members
If you're not in the U.S., you may still register and vote! You can register online, vote with an absentee ballot and mail it in to make your mark.
Election Day
There is more than one way to vote: in person, by mail or drop box. According to an NBC/SurveyMonkey tracking poll, 33% of voters plan to vote in person on Election Day, 33% say they'll vote by mail, 19% responded they'll vote early and in person, and 11% may not vote at all.3 Just remember, you have options!
How to vote in person
This one is pretty self-explanatory. On Election Day, go to your designated voting location and vote. Your voter registration card states your voting poll location or you can check your polling place by state online. Double check your state rules to see if you are required to bring a photo ID.
Alternative to voting in person
You can request an absentee ballot online. You must complete your ballot, and mail in, use a drop box (check your state to see if this is allowed) or deliver to your local election office. There are deadlines you must keep to make your vote valid. See your state Absentee Ballot Deadlines so your vote isn't wasted.
See if you can take time off
In general, voting hours are open from 6 or 7 a.m. until 7 or 8 p.m. on Election Day. But those hours may not jive with your work schedule. Although Federal law does not obligate employers to give workers time off to vote, the majority of states have designated an amount of time off for those who would like to vote during the work day.4 But remember, this is not offered in every state, so research the state regulations where you live.
Also, it wouldn't hurt to voice to your boss or company's Human Resources department that you'd like to get out and vote. Then ask about how they could support you. Or ask if you could use paid time off as an option.
Vote early
Did you know you don't have to wait until Election Day to vote in person? Take a gander at your state's early voting rules to avoid the hustle and still get counted in the election.
Vote by mail
The how-to's have been covered above, but think about requesting a mail-in ballot and return it before Election Day. This way, you don't have to worry about waiting in long lines or missing work hours.
Vote outside of work hours
Head to the polls before or after work, or even during lunchtime. This may prove tricky if lines are long, so give yourself plenty of time.
Cast your vote!
The opportunity to vote is a great privilege. You're encouraged to take the time to register, look into your voting options, plan your voting day schedule with your employer (if need be) and make your vote count … all while making that bread.
Related Articles