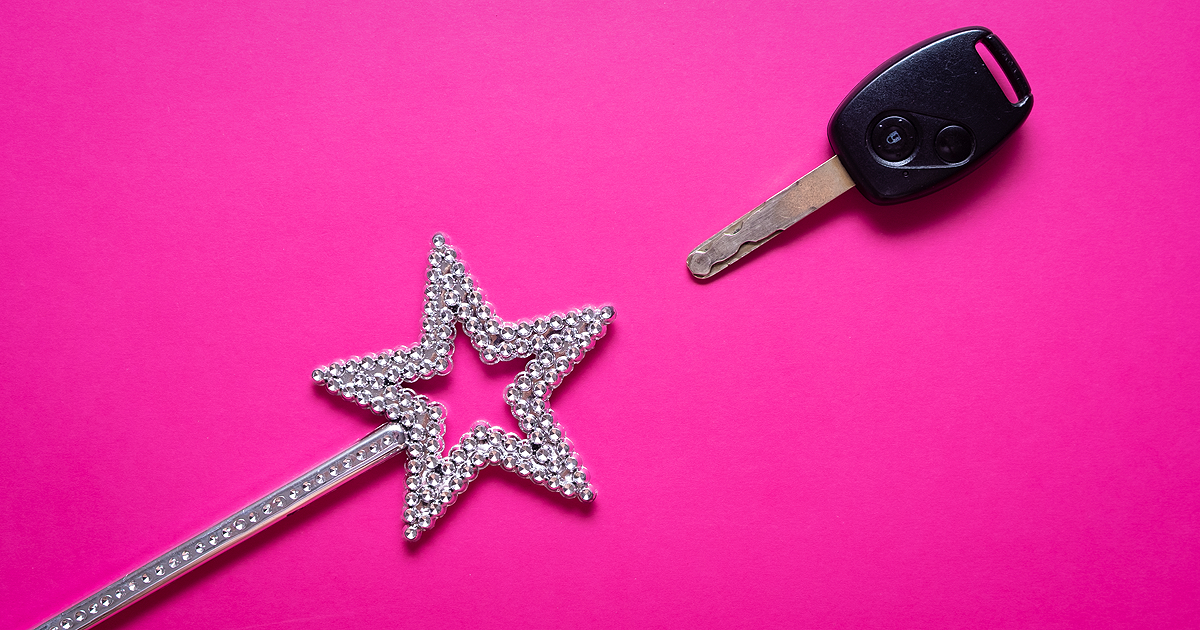 Financial Fitness
How to Save Money for a Car in 6 Magical Steps
Love the new car smell. Hate the new car price! That's why the standard financial advice is usually to buy a used car. But even the average used car price is more than $14,600.1 (Hang on while we gulp down that wave of panic.)
Okay. Luckily, there's a lot we can do to save up and stem the panic of buying a car. Whether you're in the market for a new or used car, from a dealer or an independent seller, you don't need pixie dust—YOU bring the magic. By following these six steps, you could walk away nearly debt-free on your vehicle purchase. Here's how.
Step 1: Buy some time
It's easy to get sucked into buying a car as an emergency. But that usually means emergency financing, higher interest rates, etc. So we need some time to save. In the meantime, what about biking to work? In 2017, there were almost 70% more bike commuters than in 2000.2 Plus biking is great for our health: it lowers our risk of cancer and cardiovascular disease, which also means bikers could save on healthcare costs later on.
And for all the other stuff we normally need cars for, like grocery shopping and picking up prescriptions, there are now tons of delivery options like Walmart, Instacart, Shipt, and even Rx delivery from CVS or Amazon. It could be worth the not-quite $100/year fee for some of these delivery services if we can save on financing fees. And for the once-in-a-while trip, maybe we can get by with Uber, Lyft, or a local ridesharing group…?
Step 2: Let's talk budget
Okay, if we really do NEED to buy a car, ouch! They're expensive. But there are many options out there. We could buy a 20-year old hatchback for $1,800. Or opt for an SUV that goes for about $14,000.3 And then there are the extras, like insurance. Sales tax (usually 2-8% depending on the state).4 Registration and title fees. Fuel economy. General maintenance stuff. The list goes on.
When drafting your budget, keep in mind that some cars cost more in the long run when it comes to maintenance. It just depends on the make and model. For example, a 2019 Honda Civic costs $1,937 to maintain for five years, compared with $2,340 for a Chevy Sonic.5 Research all the things beforehand and find a price point you're good with.
Step 3: What's the timeframe?
As with any goal, establishing a specific timeframe is crucial to success.6 So let's say you'd like to have your new(ish) $5,000 car in six months. If you factor in an extra $500 for insurance for the first year, plus $300 for taxes and registration, that's $5,800 total. Now calculate how much to add to your savings every month. In this case, that's around $967 per month.
Once you've done all the calculations, decide if that amount is reasonable for you to put into savings AND still have enough left over to cover rent, bills or any other necessary expenses like groceries or childcare. If the amount is too high, maybe extend your timeline or opt for a less expensive car. Keeping goals attainable upfront will help make saving less stressful.
Step 4: Time to SAVE!
Brick and mortar, online, or a trusty ol' piggy bank: no matter where we start saving, it's important to separate the funds we want to save from the funds we want to spend. Many people find an envelope system helps them to separate savings goals. And some online savings accounts like Ally Bank even offer a virtual envelope or bucket system that mimics that experience.
If you do choose to save at a bank, look for a high APY (annual percent yield) around 1-2%. Be sure there are no minimum balances or fees to open, close or withdraw funds from the account.7 You might also be able to link a checking account, send or receive money from friends or family, or sign up for monthly automatic contributions.
Step 5: I need extra money for this…
Now's a good time to dust off that side hustle! We're all strapped for time. But for a short-term goal like saving for a car, consider cultivating an extra income stream so you can save even more each month. Deliver goods, make and sell stuff online, help people move, or just take some surveys.
And, if you don't need it, you could sell your current vehicle. Gauge the value of your car by looking it up in the Kelley Blue Book. Then, list it for cash on Craiglist, CarGurus, the Facebook Marketplace, or a local Facebook Buy Sell Trade group. And for your current or future car, you could even rent it through Turo and earn over $6K in hot markets like LA.
Step 6: Expand your buying options
Now that you have the money (whew!) it's time to start shopping. And depending on where you shop, you might be able to save even more. If you're car-savvy and not afraid to explore beyond the car lot, you might try Facebook, public auctions, or even buying a certified pre-owned car from Enterprise.
Whichever car you choose, it's best to get it inspected by an independent mechanic before buying. Or at least read the maintenance record and research the VIN number so you know what you're getting. After Hurricane Harvey and Hurricane Irma, as many as 1 million flood-damaged cars were hauled away and resold to unsuspecting buyers.8 Um…no thanks. We definitely don't want to overpay for an unsafe car.
Don't stress
Learning how to save money for a car is a long process and can have its ups and downs. Be kind to yourself. Saving for anything takes time and patience. One month we might fall a bit short, so we'll plan ahead for the next month, if possible. Get creative and just keep moving forward. We may not always hit our goal and that's okay. If saving was easy, the steps wouldn't be magical. And we really like the sparkly pink wand image…
Sources:
1Colias, M. (2020, July 3). During Covid-19 Pandemic, the Used-Car Lot Is Hot. Retrieved from The Wall Street Journal: https://www.wsj.com/articles/during-covid-19-pandemic-the-used-car-lot-is-hot-11593774001.
2Loria, K. (2019, May 13). The Health Benefits of Biking to Work. Retrieved from Consumer Reports: https://www.consumerreports.org/exercise-fitness/the-health-benefits-of-biking-to-work/.
3Staff. (n.d.). Car Finder. Retrieved from Kelley Blue Book: https://www.kbb.com/car-finder/.
4Lal, J. (2020, March 25). The Hidden Costs of Buying a Car. Retrieved from U.S. New & World Report: https://cars.usnews.com/cars-trucks/hidden-dealer-costs-you-should-avoid.
5Staff. (n.d.). What Is 5-Year Cost to Own? Retrieved from Kelley Blue Book: https://www.kbb.com/new-cars/total-cost-of-ownership/.
6Traugott, J. (2014, August 26). Achieving your goals: An evidence-based approach. Retrieved from Michigan State University: https://www.canr.msu.edu/news/achieving_your_goals_an_evidence_based_approach.
7Rosenberg, E. (2020, May 15). I use high-yield savings accounts to earn 200 times more on my money, and I can tell you the best ones have 3 specific features. Retrieved from Business Insider: https://www.businessinsider.com/personal-finance/high-yield-savings-account-what-to-look-for.
8Larocca, J. (2017, September 14). Bureau of Justice Assistance Offers Resource on Damaged Vehicles. Retrieved from Department of Justice: https://vehiclehistory.bja.ojp.gov/sites/g/files/xyckuh261/files/media/document/nmvtis-press-release_final_9-14-17.pdf.
Related Articles