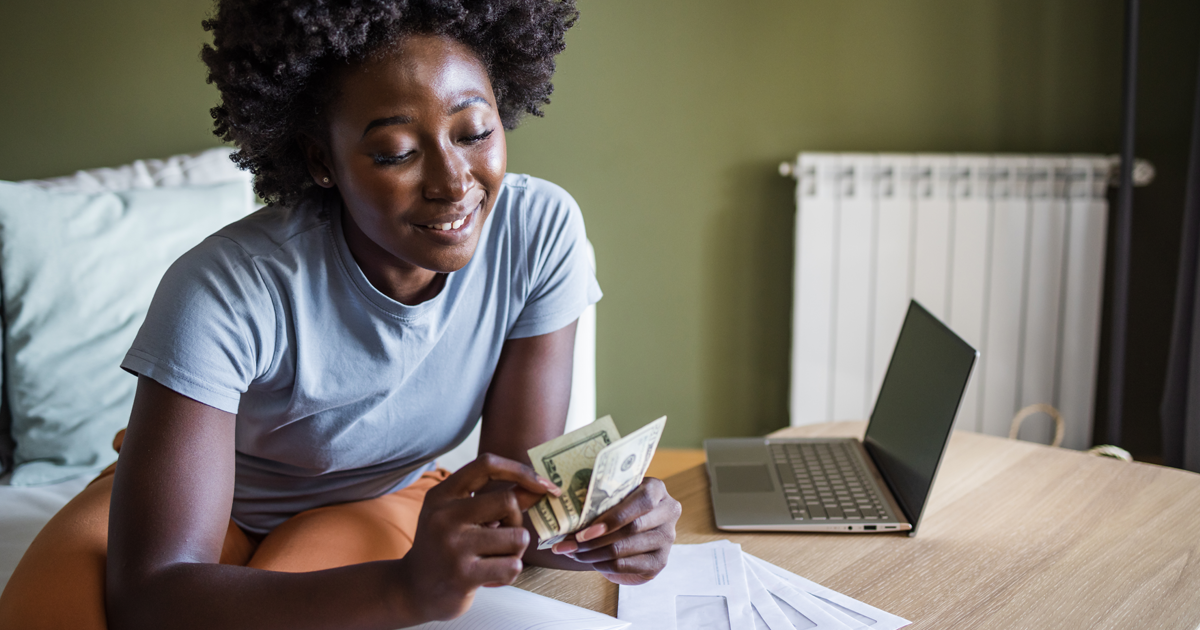 Financial Fitness
How to Cash a Check Without Having a Bank Account
Do you remember being a kid and receiving a birthday card in the mail? Let's be honest with ourselves for a minute: the first thing we did was carefully open the card and wait for a check or cash to fall out. We tried to act so surprised and read the card with gusto, but we're being honest here, remember? The check was the reason we were so excited. Receiving a check of any kind is less thrilling these days, but the last thing that should be associated with receiving a check is a hassle or a headache. If you don't have access to a bank account, you are not alone. In fact, in the United States, more than 7 million households1 do not have bank accounts according to estimates made in 2019. When you don't have a bank account, cashing a check can be a pain, but check cashing services at stores like Speedy Cash make it easier.
The Difference Between a Check Cashing Service and Traditional Banking
Millions of Americans are unbanked. This means none of the members of the household have a banking account or a savings account. Without a bank account, it can be difficult to conduct everyday business such as cashing checks and paying bills. Because there are so many American households without access to traditional banking, check cashing services like those offered at Speedy Cash Stores are an important, vital service for many customers. Whether there are financial, legal, or preferential reasons2 behind not having a bank account, check cashing is still necessary for everyone who receives a paycheck or assistance check. Working with a check cashing service does not require sign up or a long-term commitment. Unlike working with a bank, when you choose a check cashing service, you will be in and out of the store rather quickly with cash in hand or a money order that can be used to make a secure payment for bills like rent if you choose to purchase one. Traditional banking should be considered carefully prior to making a decision to use a check cashing service, but not everyone is qualified to open a bank account. Some consumers are uninterested because of the fees imposed by banks, holding periods, and inconvenient banking hours. Other consumers are not qualified to open a bank account because of legal reasons, financial history, or various other situations. For these consumers, cashing a check at a local Speedy Cash store may be the best option.
Check Cashing Basics
Cashing a check in a conveniently located Speedy Cash store is simple. You will want to compare fees3 as well as the pros and cons of cashing a check through a check cashing service. Choose the check cashing provider that is right for you and your needs as well as your budget. Speedy Cash fees start at just $2.00 and our rates are very competitive… Rates vary by location, so make sure you ask your local store to go over the rates with you when you visit the store.
How it works
When you arrive at your nearest Speedy Cash location, you'll need the check you wish to cash as well as valid photo identification. Your check will be assessed and verified, which may include verifying who wrote the check and the amount with the maker of the check. After your check and ID have been verified, your transaction will be processed, and you'll be on your way with cash in hand.
No holding period
When you cash a check, waiting on access to the funds is not fun. In some situations, it can mean additional issues will arise. When you utilize check cashing services, you are able to access cash instantly in most cases. There are some situations where a hold may still be necessary, but typically this is not the case. Speak with a Speedy Cash representative in store when you arrive to cash your check for more information. Banks require a holding period for many checks prior to allowing funds to become available for use in your account. Check cashing services at Speedy Cash allow you to cash your check and leave the store with funds in hand.
Convenient Hours
For many customers, the flexibility of cashing a check at the closest Speedy Cash location at a time that works with their schedule is the single most important benefit of this option. Depositing a check at a bank requires a trip to the location if you do not have access to mobile banking and check cashing services likewise require you to visit a local store. A big difference between the two check cashing methods, however, has to do with business hours. Banks maintain strict hours and are not open on all holidays. Check cashing stores are open later and, on more days, typically, than banks. That means when you receive your check, chances are you can make your way to a Speedy Cash location quickly and have access to your funds immediately in most cases.
One Stop Money Shop
Utilizing check cashing services at a store like Speedy Cash can help you save time, your most precious resource. When you need a check cashed in order to pay a bill or send money to someone through money transfer, you can complete all of the steps in one place. Fast-paced living is the norm these days, so convenience matters when you're handling the logistics of your life. Your time is valuable, so saving a few hours or even just a few minutes can make a big difference in your schedule, making room for more important things like family and time for yourself. After cashing a check, you may need to purchase a money order4 which can be used to securely pay a bill that will not accept cash. If you do not have a bank account, money orders can be a great alternative to a check as it is secure. Utilizing the financial services offered by Speedy Cash in your nearest, convenient location can save you time and make things easier when you do not have a bank account.
Related Articles