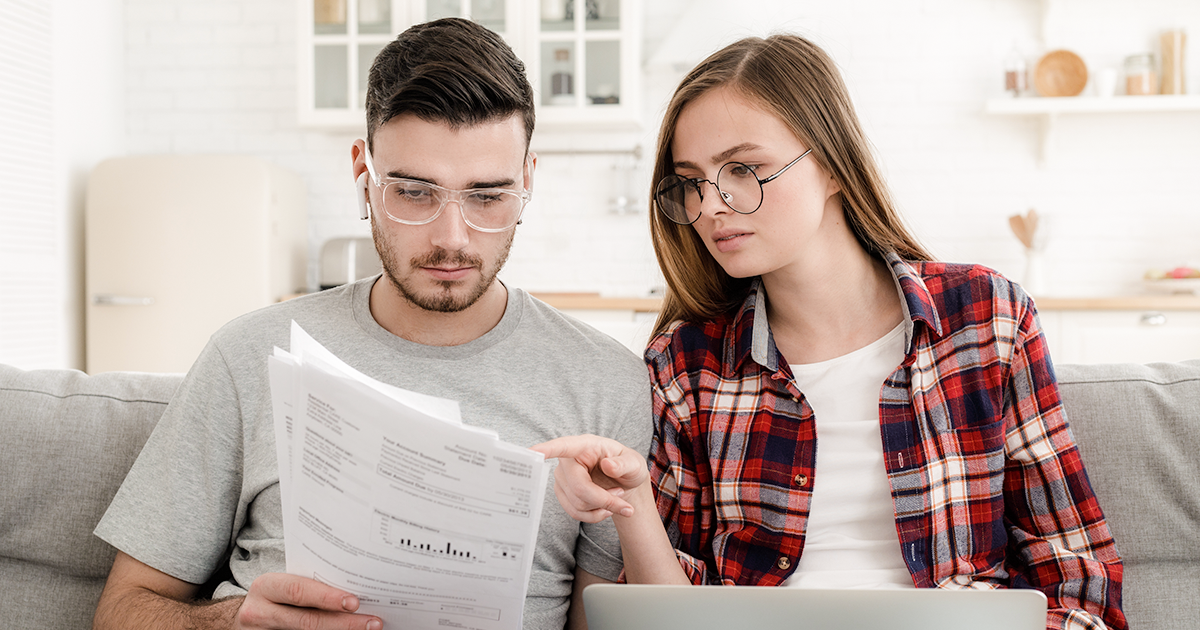 Financial Fitness
Complete Guide to Financial Help during Coronavirus
If COVID-19, our healthcare system, and unemployment is causing you concern, you're not alone. In fact, the unemployment rate grew from 1.4 million to 7.1 million people in the month of March, according to the U. S. Bureau of Labor Statistics.1 It's hard to believe this isn't a bad dream or a horrible movie. Now, financial resources for help paying bills and buying food are more necessary than ever. But take heart: there are helpful resources out there! The list below will assist you during this bizarre time.
Government-issued relief checks
The first round of stimulus checks (also known as relief checks or economic impact payments) will be automatically distributed to qualifying taxpayers no later than April 15, 2020. Those who are eligible will receive up to $1,200 per person, $2,400 per married couple, and up to $500 per child.2 To get your check as quickly as possible, your 2018 or 2019 taxes need to be filed electronically with your direct deposit info. If you paper filed your taxes or do not have a bank account, it will take much longer to receive a physical check. Unfortunately, you'll be in for a longer wait.3
Extended tax filing and payment deadline
The new deadline to file taxes and pay federal taxes is deferred until July 15, 2020. No penalties or interest will be charged until then no matter how much you owe. If you need an extension past July 15th, you can file a Form 4868. Businesses may file a Form 7004.4
Unemployment support
The Families First Coronavirus Response Act provides nearly $1 billion to help in unemployment benefits and paid sick leave programs at the state level.5 Trying to navigate the process of filing for Unemployment? Check out our tips for filing for unemployment. If you have questions, go online or call your local unemployment office.
The added relief will helps in several ways:
An additional 13 weeks of unemployment benefits after regular unemployment assistance has been maxed out. Some states are providing an extra seven weeks (max of 20 weeks) of aid. Look at how your specific state is handling unemployment benefits.
An extra $600 per week payment to qualifying unemployment recipients. This benefit will cease after payments for the final week of unemployment before July 31, 2020.6
Emergency paid-leave benefits. This could include three months of leave with at least two-thirds pay, or two weeks of paid sick leave due to coronavirus effects on self or family. Keep in mind these benefits are intended for employees of companies with less than 500 employees.5
If you're a performer or in the arts field, Billboard.com reported several funds created to help those in artistic fields, such as: ASCAP Music Unites Us, Convertkit Creator Fund, and Freelance Coop Emergency Fund.
Healthcare Insurance
The Families First Coronavirus Response Act did not just affect unemployment benefits. The Act requires free diagnostic testing, including cost of provider, urgent care clinic or ER visits where COVID-19 testing takes place. This coverage is ordered to be provided at no cost to the patient. If you have questions about coverage or testing, contact your insurance provider or your state health department.
Who is covered?
Private healthcare plans
Medicare Part B (covering beneficiary cost-sharing for provider visits)
Medicare Advantage (covering the associate cost of the visit to get testing)
Uninsured persons can be reimbursed of the costs of COVID-19 diagnostic testing by the National Disaster Medical System
TRICARE, covered veterans and federal workers can receive COVID-19 diagnostic testing without cost-sharing
Food assistance
As schools, daycares and many businesses close their doors, we hardly need to be reminded of the necessity of food. Several food programs are working hard to supply nutrition to those in need.
Check with your child's school to find out if they're continuing student breakfasts and lunches. Many schools have created a drive-up and pick-up plan.
U.S.D.A. features a list of nutritional programs to help provide meals and food items, such as: WIC and SNAP.
How to apply for WIC:

Visit your state's WIC website or call your state's toll free number to set up an appointment.
A representative will inform you of where you need to go and what to bring to your appointment.

WIC eligibility requirements include:

Women who are pregnant, postpartum or breastfeeding.
Children up until their 5th birthday.
You must live in the state where you apply.
You must be at or below poverty level, or at your state's standard for help. Or automatically income-eligible because of participation in other particular relief programs.
You must be deemed at nutrition risk by a health care professional.

How to apply for SNAP:
SNAP eligibility requirements include:

You or your household must meet certain income limits and work requirements.
Visit with your state SNAP representative to learn the specific requirements that apply to your situation.
Find out about special rules for the Elderly or Disabled

Look to local food banks, churches and charities such as Catholic Charities.
Housing foreclosure and eviction suspensions
The CARES Act offers support and peace of mind to renters and homeowners. Yale reports a thorough breakdown of the Act which is helping to keep Americans in their homes. If you're in need, contact your personal mortgage lender or landlord ASAP to see if/how they're deferring payments.
The Department of Housing and Urban Development (HUD) suspended evictions and foreclosures of single-family FHA-insured mortgages until the end of April.
Fannie Mae and Freddie Mac were ordered to postpone evictions and foreclosures for any of their single-family mortgages at least 60 days. They're offering payment forbearance to mortgage borrowers, suspending payments for up to one year.
Some banks are offering even longer suspensions. Forbes reported a list of financial institutions' enactments.
Help with student loan payments
We all know what a headache student loan payments can be. In response to the coronavirus, the U.S. federal government has provided some relief. Contact your loan provider if you have detailed questions, visit StudentAid.gov/login or call 1-800-4-FED-AID.
Student loan payment forbearance means your payments are automatically stopped from March 13, 2020 through September 30, 2020.
You can choose to make the manual payments, but you're not required to do so.
Federal student loan interest rate is set at 0%. This would apply to loans owned by the Department of Education.
Insurance grace periods & refunds
Many auto insurance companies are recognizing that with less of us on the roads, there's less risk for accidents, less actual accidents and less insurance pay-outs. And they're sharing the savings with their customers.7 Contact your auto insurance, motorcycle insurance and even home or renter's insurance companies to see if they're waiving fees, offering discounts, providing payment forbearance, or giving refunds.
Allstate reported that it is cutting premiums by 15% for April and May.
Geico has promised no coverage cancellations because of nonpayment or policy expiration through April 30, 2020.
Liberty Mutual is waiving fees and extending payment due dates for customers affected by coronavirus.
Forbes reported an extensive list of companies and states' insurance relief efforts.
Credit card assistance
Many credit card companies are offering assistance or deferments on payments. Make contact with your credit card provider if you know you won't be able to make payments on your credit card bills or will be cutting it close; reach out to get exact answers for your payment questions.
Citi is waving the minimum payment due requirements and late fees for two statement cycles. For more info, visit Citi's website or text "App" to 692-484 to receive a link to message them in the Citi app for Android; Citi app for iPhone.
U.S. Bank is making temporary adjustments to particular products. Contact U.S. Bank about your particular situation through their website or call their designated phone line 888-287-7817.
Discover is offering eligible customers assistance pertaining to payment due dates, late payments and fees. Make direct contact to a customer service agent via Discover app for Android; Discover app for iPhone.
Wi-Fi and smartphone data hand-ups
If you're working from home, your house has become a school, or you're just trying to manage life, you know the importance of Wi-Fi and cell data. Several cable companies and cell phone carriers are offering free internet, discounts, or stopping termination for a limited time. Make sure to verify your eligibility with your provider.
Comcast is offering their Xfinity Wi-Fi hot spots for free.
AT&T is waiving late fees, suspending shut-offs of home phone, wireless and broadband services due to coronavirus, and offering free Wi-Fi hotspots to anyone.
Verizon is suspending late fees and service shut-off.
T-Mobile is giving unlimited data to existing customers who currently have data plans for a limited time and extra data to mobile hotspot users.
Charter Communications is providing free Spectrum broadband and Wi-Fi for a limited time to households with students, and free Wi-Fi hotspots to the public.
Cox is offering higher download speeds, waiving late fees, terminations and date usage overages.
Sprint is providing unlimited data for 60 days (beginning 3/18/2020) and 20GB of free mobile hotspots to those with capable devices.
Help with utilities
Electricity, gas, and water are essential for everyday life. If you're unable to make payments, go to your utility companies' websites or give them a call. Ask about any help they're offering to customers due to the coronavirus pandemic such as waiving late fees or suspending service disconnections. These companies have already stated how they'll be assisting their customers.
Let's sum up
From stimulus checks to deferred student loan payments to food assistance, and everything in between, you can get the financial help you need. Continue to check for new opportunities and resources for help at both the state and federal levels. We're all in this together.
Sources:
1Staff. (2020, April 3). The Employment Situation – March 2020. Retrieved from U.S. Bureau of Labor Statistics: https://www.bls.gov/news.release/pdf/empsit.pdf
2Staff. (2020, April 2). Economic Impact Payments: What You Need to Know. Retrieved from IRS: https://www.irs.gov/newsroom/economic-impact-payments-what-you-need-to-know
3Wang, J. (2020, April 10). How to Get Your Stimulus Check as Quickly as Possible. Retrieved from Forbes: https://www.forbes.com/sites/jimwang/2020/04/10/how-to-get-your-stimulus-check-as-quickly-as-possible/#13fda17a2643
4Staff. (2020, March 23). Tax Day now July 15: Treasury, IRS extend filing deadline and federal tax payments regardless of amount owed. Retrieved from IRS: https://www.irs.gov/newsroom/tax-day-now-july-15-treasury-irs-extend-filing-deadline-and-federal-tax-payments-regardless-of-amount-owed
5Sprunt, B. (2020, March 19). Here's What is in the 'Family First' Coronavirus Aid Package Trump Approved. Retrieved from NPR: https://www.npr.org/2020/03/19/818322136/heres-what-is-in-the-families-first-coronavirus-aid-package-trump-approved
6Staff. (2020, April 4). U.S. Department of Labor Publishes Guidance on Federal Pandemic Unemployment Compensation. Retrieved from U.S. Department of Labor: https://www.dol.gov/newsroom/releases/eta/eta20200404
7Nova, A. (2020, April 8). Auto Insurers are Offering Discounts amid the Pandemic. What You Need to Know. Retrieved from CNBC: https://www.cnbc.com/2020/04/08/drivers-have-nowhere-to-go-what-insurers-are-and-arent-offering.html
Related Articles