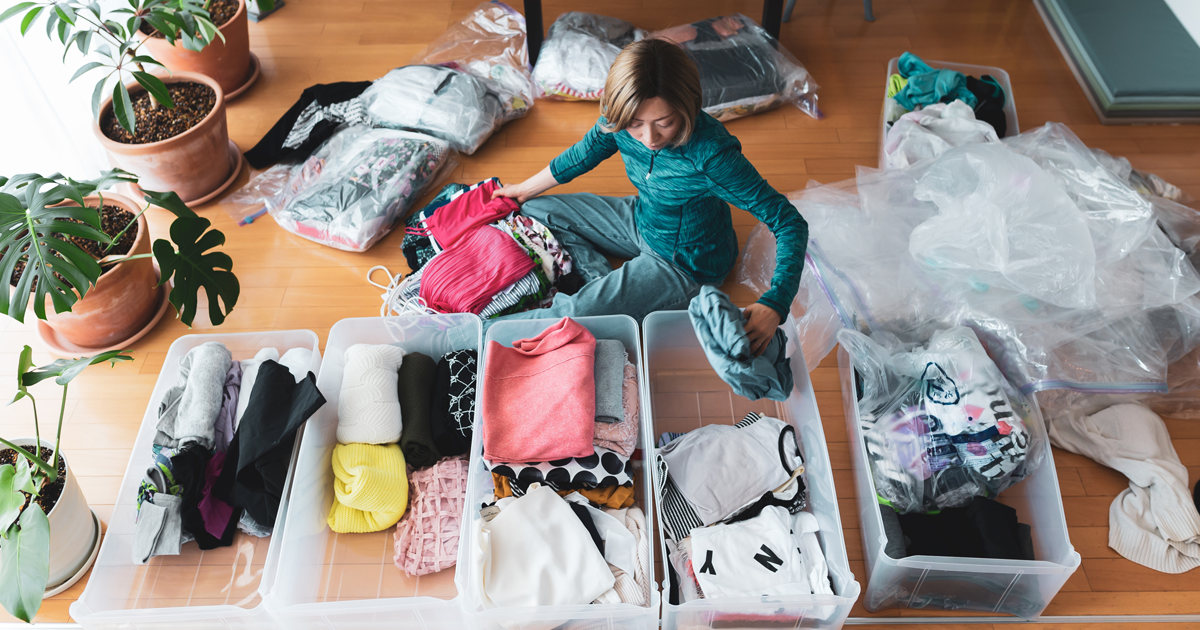 Financial Fitness
Spring Cleaning Can Equal Cash: Tips for Sorting and Selling Stuff You Don't Need
Spring cleaning season is upon us, and the dust bunnies hiding under your bed are shaking in their boots. You will, no doubt, leave no corner unattended as you work through your checklist and tidy up your space. Something about the sun shining after a long, cold winter makes it impossible to ignore the little tasks that have been left for "later" through the bleaker seasons. No matter how many items are on your list for this year's marathon cleaning, there are items that will take no time at all and others that will require a bit of patience and planning. You can deep clean your baseboards and shine your switch covers in under ten minutes1 along with an assortment of easy to complete, quick tasks. You've got the smaller things, the items that require little more than elbow grease, covered. What about organization? For many of us, the thought of cleaning out the spare closet or the attic is a little overwhelming. What's even up there at this point anyway? Never fear, there's a silver lining to the labor required when spring cleaning meets organization: you can make money while spring cleaning by selling unwanted items online or at a yard sale! Let's break down how simple organizing a sale can be with a little bit of planning and information about best practices.
Plan. Set a GOAL.
Accomplishing great ideas starts with a good plan, and no plan is complete without a goal. Your goal for clearing unused items out2 of your house for either donation or a sale may be centered around organization. However, perhaps you have a financial spring cleaning goal in mind. Selling unused items is a great way to earn needed cash for an upcoming event, trip, or larger purchase that may not be in the budget. Another admirable aim is to sell items and use the funds to pay off—or at least significantly reduce—debt. Whatever the goal, make your intentions clear because it will help you keep the ball rolling. You have a reason to work harder when you are working towards something!
Now that you know why you want to make money, you need to determine how you plan to sell your items. Do you prefer a good old-fashioned yard or garage sale? Or perhaps online sales are calling your name. You'll want to take into consideration your timeline as well as your ability to facilitate a sale.
The Classic Yard Sale
There are quite a few perks to hosting a yard sale or garage sale—or better yet a spring cleaning sale. You'll meet neighbors and members of your community, you can haggle (which some people—like my husband—enjoy), and after quite a bit of prep work, the sales will all be complete in just a day or two.
If you choose to host a live, in person spring cleaning sale make sure you start preparations at least a month beforehand to avoid the stress of staying up until 3am the night before your 7am sale begins! You'll need to organize items, price things, organize a plan for unsold items, and likely enlist the help of a friend or two. Price everything because pricing something when it's in a potential buyers' hands can lead to underpricing and regret or overpricing and losing the sale. Arrange items in a visually pleasing manner verses just piling things up on a table. The better things look, the more likely you are to sell items for a price that will make you feel good about the sale.
You can promote your spring cleaning sale online using the Nextdoor app, Facebook, Craigslist, and sites like GarageSaleFinder.com several days prior to the sale. Don't forget to make yard signs that are easily legible. You can post the signs around your neighborhood and on busy streets near your home. Always make sure to follow local guidelines pertaining to the posting of signs.
The downside to hosting an in-person sale is the amount of work it takes to pull off a successful sale. If you don't have the energy to properly organize a spring cleaning sale, it might be best to skip the experience all together. If you know that a yard sale isn't the best option for you right now, consider selling items from the comfort of your couch.
Selling Unwanted Items Online
If a yard sale isn't your jam, perhaps selling your unwanted items online will be a better option for you. You can sell old items online as well as new items that you are unable to return; the process isn't complicated and can yield great results!
Like yard sale preparation, you'll need to spend time sorting the items you would like to sell, figuring out prices, and determining your avenue for selling them. Unlike yard sale preparation, you can take your time and move through one piece of the work at a time. I'm a big fan of creating a game out of daunting tasks and making things more fun by setting the vibe for the task. Throw on your favorite pair of sweats or workout outfit. Yes, it's totally ok if you never actually work out in the outfit—although if you're looking for free workouts you can do from home, we have you covered.6 Once you're dressed for organizing success, put on some fun music, grab your favorite beverage, and start sorting!
One room at a time is a great way to sort, but if you're anything like me it may be more like one section of one room. I may or may not have a lot of stuff, but I'm working on it. Designate a spot for your sale items. Plastic totes or large boxes work well when sorting for a sale because you can store them away until the day of the sale or if selling online you can work through the boxes one at a time.
Once you've decided what you want to sell, you need to do a little research prior to pricing. I usually look at the retail value of an item—what the item would sell for if it was new at the store—and the prices of similar items on my platform of choice. After determining a price, also consider how low you're willing to go. Giving yourself a little bit of wiggle room on the price is a great strategy which allows buyers to feel that they "got a deal" while still earning the cash needed to make the sale worth it to you. Once you've priced your items, it's time to choose your online sales platform and earn a little cash!
Online Sales Platforms
I suggest selling items on a platform you're already comfortable with. Facebook Marketplace and buy and sell groups on Facebook are my go-to in my current neighborhood, but I always consider the item and which platform will be most likely to generate the sales price I'm after. If you're already spending a lot of time on a particular app that offers a sales platform, stick with that and test the waters. However, as you get more comfortable with the online sales process, there are multiple platforms that are laser focused on specific types of sales that may help you get the most out of your sales. For example, if you're clearing out your closet and have clothing that is high quality, very gently used, or a luxury brand, selling on a site that is dedicated to fashion sales may be your best bet.
Facebook Marketplace: This simple to navigate platform is straightforward and easy to use when you want to sell items locally online. Post your item, wait for messages from interested parties, do a little negotiation dance, and boom! You can mail items to the buyer or organize an in person hand off including the very popular "porch pickup" for contactless purchases. I typically opt for meeting in public places,4 personally, and I always tell someone where I'm going. I also usually take a buddy with me. Home décor, furniture, and kitchen wares seem to do very well every time I post, and when I'm in the market for new items in these categories, I always look on Facebook. You may need to do a little local research to determine the best items to sell on Facebook marketplace in your area.
Nextdoor App: If you're not aware of any drama going on in your neighborhood, download Nextdoor and prepare to be amazed. The app is organized so that you are chatting with people who live within a small radius of your home, and people use the app to air out complaints about neighbors, discuss issues that need to be addressed with the city like garbage pickup snafus, and sometimes people sell things. It's a great place to offload things that you just want gone, in my opinion. You likely won't make any big-ticket sales, but it's worth posting things particularly if an item isn't moving quickly on another site.
Poshmark: This is a very popular site used to sell clothing, particularly luxury items. If you have decided to let go of clothing that was pricey at the time of purchase, chances are you can earn a reasonable return by utilizing Poshmark. The platform is simple to use and includes an easy to navigate shipping process; keep in mind you do pay a fee to sell your items.5
eBay: For many moons, eBay has been a leader in the online sales world. I remember the early days of eBay were very exciting! An online space to buy and sell—and better yet to create an auction—was exciting! The site has a built-in option for researching which items are selling like hotcakes5 which is helpful if you're unsure whether or not your items will do well on the site. If you hit a gold mine in your attic and find a lot of collectibles or antiques, eBay is probably a great option for finding a buyer who will pay top dollar for a niche or hard/impossible to find item. eBay does charge sellers a fee, so keep that in mind when pricing.
Once you've determined to sell old items online and chosen the site that best fits your preferences and the items you're selling, it's time to put on your sales hat and earn cash!
Welcome to the world of sales
I've worked my fair share of sales jobs, and I know just how intimidating the sales process can feel on various scales. Selling items, particularly items that you once loved enough to purchase, can be a little trickier than selling things you have zero attachment to. My first piece of advice is to remove all emotions. If you've decided to sell something that has emotional significance to you, perhaps reconsider selling the item on your own. Enlist the help of your partner, a friend, or a family member by giving them the price you want, the lowest price you can reasonably accept, and offer them a small commission if possible. Otherwise, buckle in and expect people to point out all of the reasons your item should be sold for much less than you'd like. Haggling is uncomfortable for many people, but if you make it into a game, it's not as bad. Remember, when you're buying something yourself on a resale site, you expect a discount. In addition to pricing your item with a little wiggle room for negotiation, I also suggest keeping the back and forth to a minimum.
The best way to keep buyer questions at bay is to properly post your item:
Take clear pictures of the item including a shot of the whole item and shots of any imperfections.
Use keyword driven descriptions including the name of the item, the brand if it is a selling feature, the color of the item, and suggestions for use that include niche specific keywords.
Include the dimensions of the item if they will be helpful.
Keep descriptions short and concise.
When handling negotiations and questions:
Offer clear, direct responses to any questions and point out that you have other potential buyers3 to help push the sale forward more quickly.
Keep it professional and don't react if someone is rude.
If someone is wasting your time, let it go and move on.
Keep haggling to a minimum to signal to your buyer that you're serious. It's perfectly fine to say, "this is my bottom line, I won't go lower" and it's also ok to just refuse an offer altogether.
Stay motivated and keep your goals in mind! You will most likely find the process fun after the first few items are sold and cash is in hand.
Count Your Cash!
When accepting payments, cash is king. However, not everyone has cash on hand when making purchases, particularly if you choose to do an in-person yard sale. Online sales that include shipping will always need to be paid online, and in person sales often involve cash. However, if someone offers a check and you accept, Speedy Cash can help you cash a check quickly and easily at a very competitive rate. Once you've cashed all of your checks, reviewed your online transactions, and counted all of your cash, you'll be able to see that your hard work paid off quite literally! If you hit your goal, congratulations! If you were a little short, the beauty of selling items online is that you may be able to find more items that you can part with that will help you reach that goal. If you're really lucky, you'll exceed your goal and have cash for an extra splurge that you can enjoy. No matter the amount you earn, extra cash makes you feel great!
Sources:
1Holdefehr, Katie (2022, July 22). Our 10 Best Spring Cleaning Tips of All Time Retrieved from: https://www.realsimple.com/home-organizing/cleaning/spring-cleaning-tips
2Thorpe, Samantha S. (2022, August 22). How to Have a Successful Yard Sale and Earn All the Cash Retrieved from: https://www.bhgs.com/decorating/storage/organization-basics/garage-sale-tips/
3Julie Vadnal and Katie Holdefehr (2022, October 27). How to Sell Your Stuff Online and Make Bank Retrieved from: https://www.realsimple.com/home-organizing/organizing/how-to-sell-everywhere
4Stephen Layton and Laura McMullen (2022, September 23). 8 Places to Sell Stuff Online Retrieved from: https://www.nerdwallet.com/article/finance/where-to-sell-stuff-online
5Spector, Nicole (2019, January 6). How to sell your unwanted stuff Retrieved from: https://www.nbcnews.com/better/lifestyle/how-sell-your-unwanted-stuff-ncna954546
6Wren, Brittany (2020, April 10). Ditch the Couch: 8 Free Workouts to do at Home Retrieved from: https://www.speedycash.com/resources/337/saving-money-tips/ditch-the-couch-8-free-workouts-to-do-at-home/
Related Articles