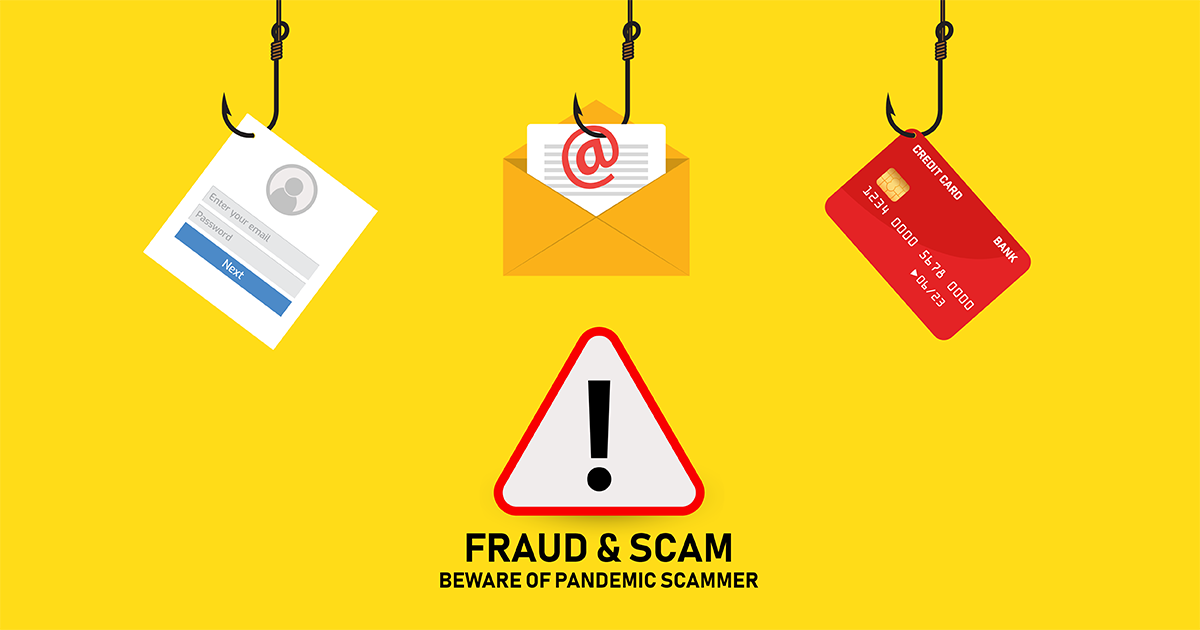 Financial Fitness
How to Avoid Stimulus Check Fraud and COVID Vaccine Scams
What is happening with the world, anyway? On top of the historic pandemic, recession, and government spending, now we've also got a huge amount of fraud to deal with. In fact, COVID-related fraud has cost Americans $382 million since January 2020.1 Below we'll cover some basic info about the 3rd stimulus check, new child tax credits, and COVID vaccine so you can arm yourself against potential con artists and avoid fraud.
What's in the American Rescue Plan?
All these things have something in common: the American Rescue Plan, which was signed into law on March 11, 2021.2 Among other things, the American Rescue Plan included:
More stimulus checks
Up to $1,400 per person for those who meet income qualifications.
Raised child tax credits
$3,000-3,600 per child depending on age.
Expanded jobless benefits
$300 weekly supplement through September 6.
Help with COVID
Vaccine distribution, contact tracing, and testing.
How to avoid stimulus check fraud.
The stimulus check seems complicated with all the news and constant changes, and let's be honest, the fact that there are now THREE DIFFERENT ones isn't helping matters. But the good news is when it comes to your stimulus check, most people don't have to do anything to get it.
Here's how to protect your 3rd stimulus check from fraud:
Know if you're eligible
Most individuals are eligible if their adjusted gross income is $75,000 or less ($150,000 for married couple filing jointly).3
Wait to get a direct deposit from the IRS
If you filed your 2020 or 2019 tax return, most likely your payment was or will be sent to you automatically via direct deposit or a mailed check.
Check the status of your payment online
If you haven't gotten your stim $$$ yet, or you got less than you expected, go to www.irs.gov/coronavirus/get-my-payment and select the "Get My Payment" button.
Claim your first or second stimulus payment
If you still haven't received your first or second stimulus payment, you could claim the 2020 Recovery Rebate Credit on your 2020 tax return (due May 17, 2021).
Request a payment trace
So you checked the IRS website and it shows your payment was issued, but you still haven't received it? First, wait 5 days and then check with your bank. Think it was lost or stolen? Request a payment trace.
Be wary of calls, texts, emails, or messages on social media
If someone asks for your info in order to send you stimulus money, it's probably a phishing scam. The IRS already has that info, so they won't call, text, email or message you on social media.
Don't pay $$$
You won't need to pay to get your check. And if someone tells you to deposit your stimulus check and then asks you to send them money back because they supposedly overpaid, that's probably a fake check scam.4
Fraudulent unemployment claims.
If you received a 1099-G tax form but never filed for unemployment, look it over closely. Unemployment fraud is happening nationwide in stunning numbers. In fact, experts believe that unemployment fraud could be a $30-40 billion problem.5
In some cases, unemployment fraud can happen due to outdated security on state websites.6 But on a personal level, there are some things you can do to prevent and recover from unemployment fraud. These strategies include not opening links or attachments from senders you don't know and ignoring phone calls, text messages or emails asking you to provide personal info.
What about the new child tax credit?
If you have children, this part of the plan could have you really excited. To make sure your credit doesn't fall into the wrong hands, it's important to first understand a few facts.
Who benefits from the new child tax credit?
Roughly 80% of U.S. families with kids will benefit from the new rules. The full credit is available to individuals if their adjusted gross income is $75,000 or less ($150,000 for married couples filing jointly).7
I'm eligible. How much will I get?
The new rules raise the child tax credit from $2,000 to $3,600 for kids under age 6 ($3,000 for older kids).
When will I receive $$$?
If you filed a 2020 tax return, you'll most likely receive half of the credit in monthly payments starting in July.7:1 You'll get the 2nd half—or opt to get the full amount—at tax time next year.
How can I stay up-to-date on the child tax credit?
This is a work in progress, but at this point the IRS is on schedule to launch a portal by July 1 where you can update your info if it changes throughout the year.8 (Think: address, bank account, income, or # of dependents.)
How to get the REAL vaccine.
Yes, fraudulent vaccines are a thing. Apparently in Mexico and Poland, some scammers were trying to give people fake Pfizer vaccines.9 To make sure you get the REAL jab and not a fraudulent one, the FTC recommends the following strategies:10
Don't pay $$$
No one legit will ask for money to put your name on a list or get early vaccine access.
Be cautious with your private info
This is a common theme throughout all these anti-fraud strategies: don't give out your SSN, bank account, or credit card info via phone, text, email, or social media.
Go straight to the official source
Get your 'when, where, and how' vaccine info only from the state or local health departments.
Beat the fraudsters!
With each passing year, the risk of fraud seems to keep going up. And wherever the money is, con artists will follow. That's why it's so important to protect ourselves from fraud by following the same tried-and-true strategies that we've all been told to combat identity theft. Stay careful, friends!
Sources:
Iacurci, G. (2021, March 24). Covid-related fraud has cost Americans $382 million. Retrieved from: https://www.cnbc.com/2021/03/24/covid-fraud-costs-americans-382-million-dollars.html
Stamm, S. and M. Linke. (2021, March 11). What Is in the Third Covid-19 Stimulus Package? Retrieved from: https://www.wsj.com/articles/whats-new-in-the-third-covid-19-stimulus-bill-11615285802.
IRS. (2021, April 22). Third Economic Impact Payment. Retrieved from: https://www.irs.gov/coronavirus/third-economic-impact-payment.
Federal Trade Commission. (2020, April 20). Coronavirus stimulus payment scams: What you need to know. Retrieved from: https://www.consumer.ftc.gov/blog/2020/04/coronavirus-stimulus-payment-scams-what-you-need-know.
Nelson, P. (2021, January 11). Colorado's unemployment fraud issues believed to be widespread and costly. Retrieved from: https://www.koaa.com/news/news5-investigates/colorados-unemployment-fraud-issues-believed-to-be-widespread-and-costly.
Flener, M. (2021, February 23). KDOL says fraud claim payments have cost state unemployment insurance program $140M. Retrieved from: https://www.kmbc.com/article/kansas-department-of-labor-says-fraudulent-claim-payments-have-cost-state-unemployment-insurance-program-dollar140-million/35604797#
Iacurci, G. (2021, April 3). What to know about tax credits in the American Rescue Plan. Retrieved from: https://www.cnbc.com/2021/04/03/tax-credits-in-american-rescue-plan.html.
Iacurci, G. (2021, April 21). You may have to pay back some of the new $3,000 child tax credit. Retrieved from: https://www.cnbc.com/2021/04/21/you-may-have-to-pay-back-some-of-the-new-3000-child-tax-credit.html.
Hopkins, J. and J. de Córdoba. (2021, April 21). Pfizer Identifies Fake Covid-19 Shots Abroad as Criminals Exploit Vaccine Demand. Retrieved from: https://www.wsj.com/articles/pfizer-identifies-fake-covid-19-shots-abroad-as-criminals-exploit-vaccine-demand-11619006403.
Federal Trade Commission. (n.d.). Three Ways to Avoid COVID-19 Vaccine Scams. Retrieved from: https://www.ftc.gov/system/files/attachments/coronavirus-advice-consumers/three_ways_to_avoid_covid-19_vaccine_scams_508_2.pdf
Related Articles