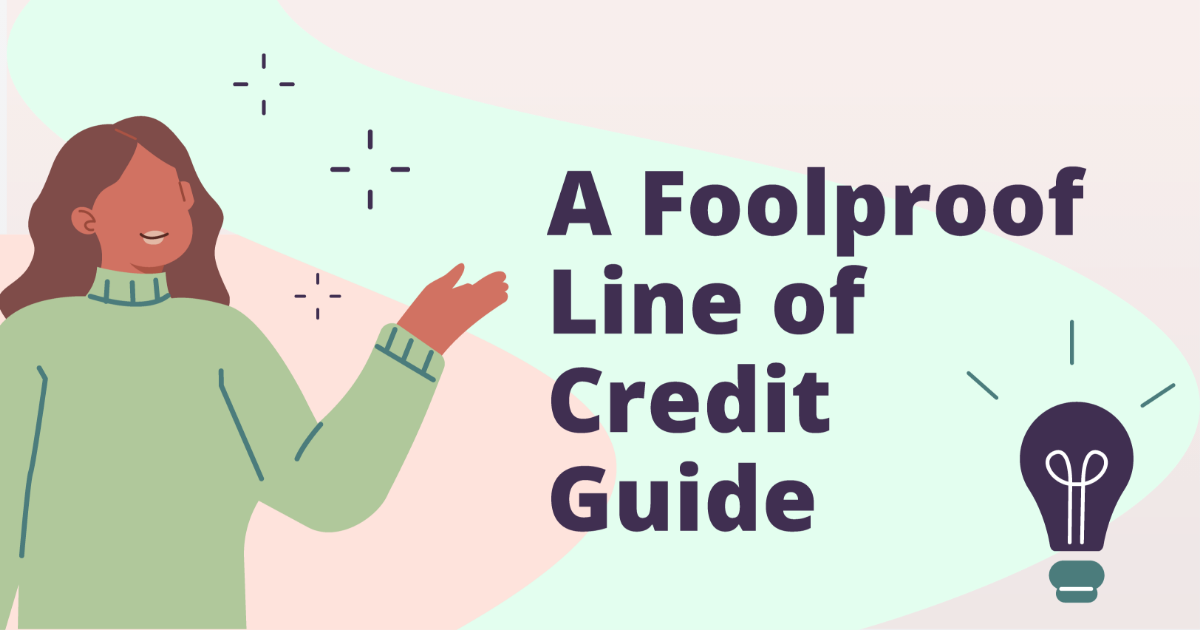 Loans
A Foolproof Line of Credit Guide (Infographic)
What is a Line of Credit?
A line of credit is money that is made available to you through a lender. It can be paid back immediately or over time. There are several types of lines of credit; Personal, Home Equity, Business, and Securities-backed. But for our purposes, we'll focus on the more commonly used Personal lines of credit.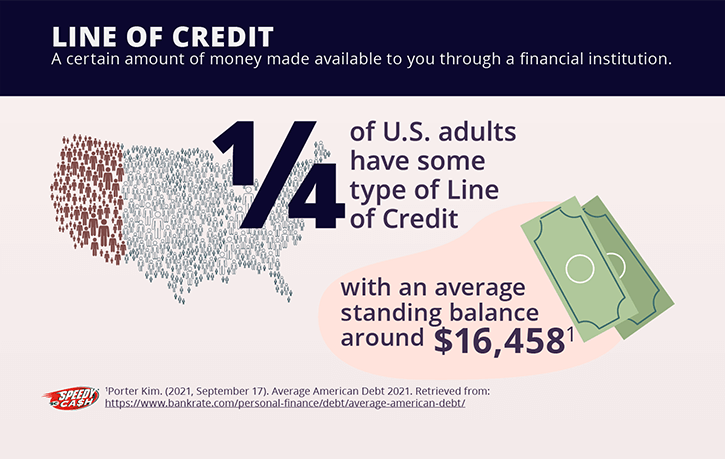 Personal Line of Credit
Did you know that from 2015 to 2018 the number of credit card payments increased 9.8% year over year, with no sign of slowing down?1 What is stopping you from being one of the many who benefit from a line of credit? For starters, we need to know that a Personal line of credit is a certain amount of funds that are provided by a lender. The lender provides the money, with a predetermined limit the borrower can spend. The borrower can then use those funds as they please, up to the approved limit. Cash advances can also be used to obtain funds at any time, up to the credit limit. The borrower then pays back the used funds, and the interest that was accumulated, otherwise known as a Revolving line of credit.
Revolving vs Non-Revolving Lines of Credit
Revolving
Revolving lines of credit are funds that are available to you indefinitely, so long as you make your regularly scheduled payments. Revolving lines of credit stay open until either the borrower or lender choose to close it. The lender may close it because it's an inactive account or other specific reason. As long as the borrower remains in good standing and has available credit, they may continue borrowing and paying back the funds. Think of a credit card. You have a set limit, borrow, pay back, and borrow again.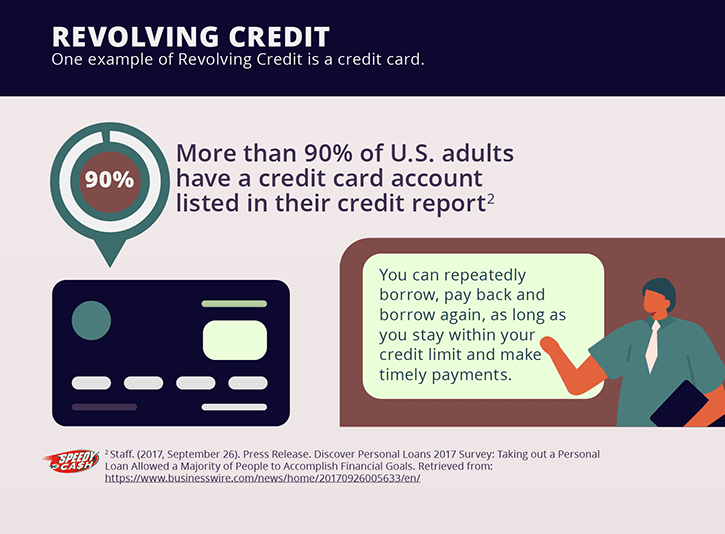 Non-Revolving
Non-Revolving lines of credit are another form of a Personal Line of Credit. An example of a Non-Revolving line of credit is an installment loan. Less flexible than a Revolving line of credit, the rates and payments remain fixed throughout the agreement of a Non-Revolving line of credit. Typically, Non-Revolving lines of credit are useful for larger purchases, as they are paid back periodically. There are many other forms of lines of credit, however, and it's important to know them to better decide which is right for your situation before applying.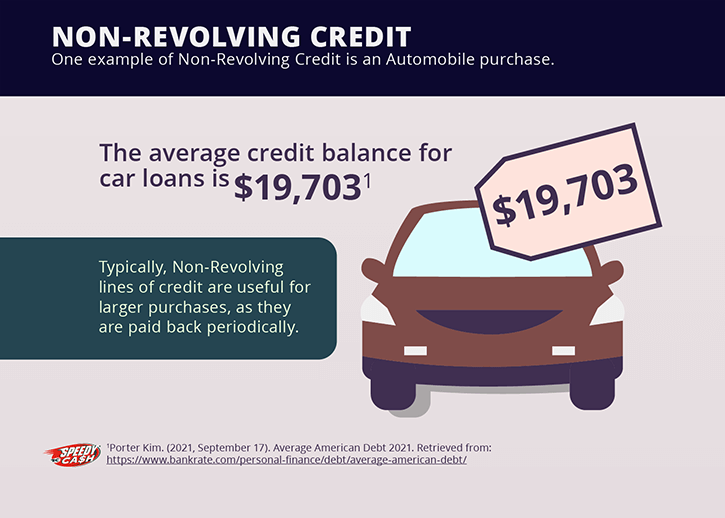 Different Types of Lines of Credit
A line of credit is simply an agreed upon borrowing limit that can be used as the borrower sees fit. Depending on the type of agreement, the borrower then pays back those funds. Here are some other examples of a line of credit and how you can make them work for you.
Personal Line of Credit
As discussed, Personal lines of credit are up to you on how they are spent. You can open a Revolving line of credit, such as a credit card. Or, you can open a Non-Revolving line of credit, like a car loan, depending on what makes sense for you. This is the most popular form of credit, as almost 1/4 of U.S. adults have this type of debt, with the average standing around $16,458.2
Home Equity Line of Credit (HELOC)
Home Equity lines of credit (HELOCs) allow homeowners to borrow funds by using their houses as collateral. The average American debt for HELOCs is $41,954, and 12 percent of adults in the U.S. have a HELOC account. HELOCs are another form of a Revolving line of credit, by acting like a credit card, but aren't as common. They are useful if you have some equity that comes from home ownership.
Business Line of Credit
Businesses utilize lines of credit, too. These lines of credit vary based on the financial institution's evaluation of risk in relation to your business. Profitability, market value and business model are all considered when evaluating the risk/reward associated with a Business line of credit. If you're a business owner, perhaps a Business line of credit is the right choice for you to increase your business revenue overall.
Securities-Backed Line of Credit (SBLOC)
This line of credit most closely resembles a Home Equity line of credit. Except in this case, instead of leveraging Home Equity, the borrower leverages their Securities, like stocks. However, it's common for a firm or lender to require that the Securities be worth at least $100,000 to qualify for an SBLOC.3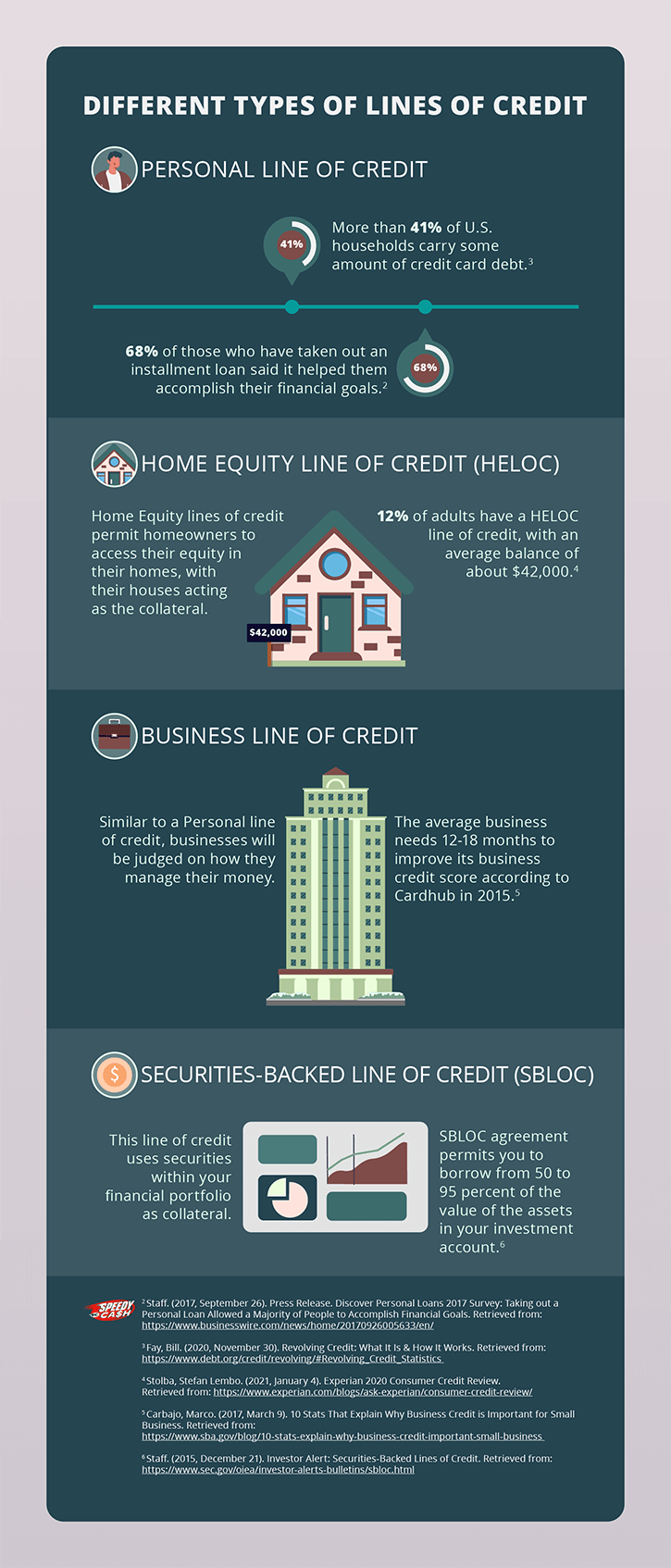 Benefits of a Line of Credit
Opening a line of credit and making on time payments are a vital component of financial growth. To qualify for loans, purchase a vehicle, or own a home, having a good credit score is fundamental. The more payments you make toward paying down your line of credit, the more viable you will be in the eyes of lenders based on that credit score. That means less interest for every line of credit you pay off, saving you money while you build credit. In this way, you can solve two problems at once; you can build-up credit in the long term, while having accessible funds in the short term.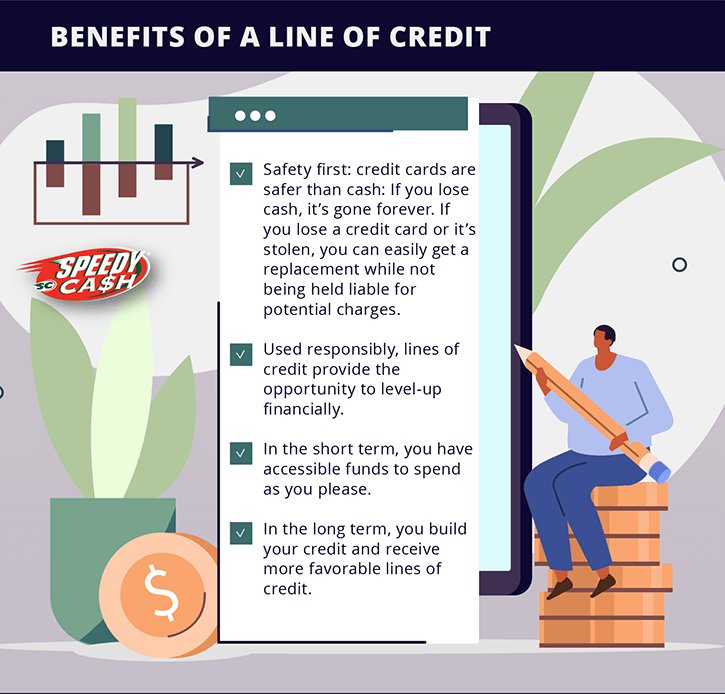 How to Take the Next Steps
If you're ready to begin researching a line of credit that works best for you, consider what repayment plan makes the most sense for your financial situation. It is important not to overextend yourself with too many lines of credit at one time. Plus, your credit can build quickly once you get started! Once you've found a good match based on your needs, you can apply for a Line of Credit online through that given financial institution.
Speedy Cash has Lines of Credit!
When deciding what line of credit is important to you, consider applying for a loan through our website. Whatever your credit situation, Speedy Cash offers flexible options to help meet your financial needs. You can easily apply online today and get your finances working for you!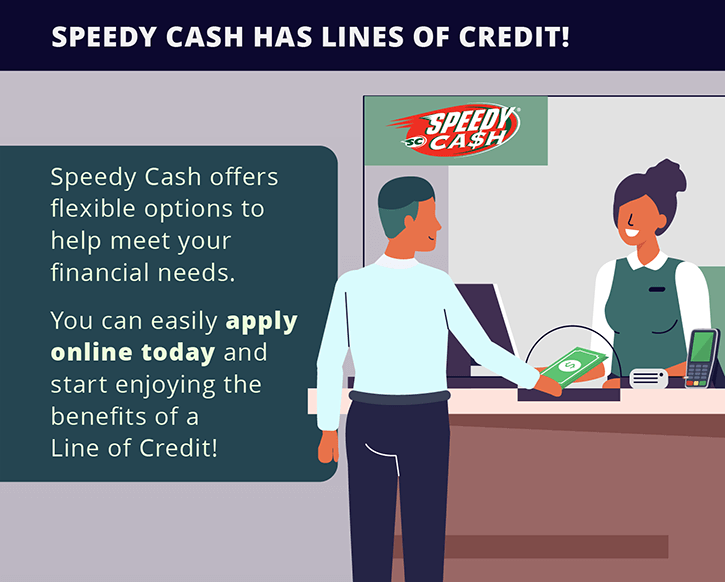 Related Articles