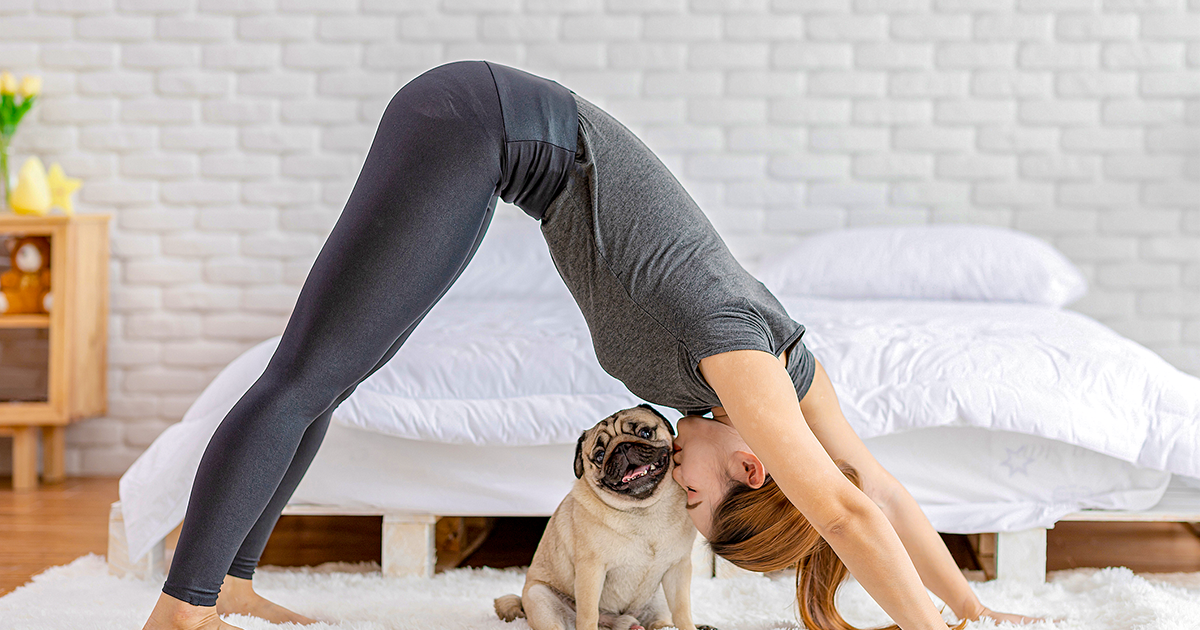 Saving Money Tips
Ditch the Couch: 8 Free Workouts to do at Home
Hey internet friends, let's not use coronavirus quarantining as an excuse to sit around eating Cheetos from the couch (at least not all day). Adults need about three to five hours per week of moderate exercise like fast walking or dancing at MINIMUM, according to the U.S. Department of Health and Human Services, PLUS two days of strength training per week.1 Luckily, you can stay active without stepping foot inside a gym by doing these free workout routines at home.
Choreographed dance
For those who need a little mood lift, The Fitness Marshall's dance workout videos are really fun and a surprisingly aggressive workout. The music, dance and lighting are all choreographed together for the ultimate five-minute-or-less sweat session. Here are a few to get you started:
Livestream on social media
We get it. You miss sweating it out in your fitness center class. To replicate the in-person workout experience at home, follow your favorite influencers on Facebook or Instagram to catch their live workout streams or saved videos. The following are worth checking out:2
@erinoprea (Tip: She's credited for Carrie Underwood?s hot bod by US Magazine.)
Exergames
What do you get when you combine exercise with video gaming? Exergaming! For those of us who like to win, turning exercise into a game is genius. Dust off any of the following exergames to get your fit freak on:
Dance Dance Revolution with dance pad
Xbox Fitness
Nintendo Wii Fit U
Just Dance 2015
Shape Up
Dance Central Spotlight
Ring Fit Adventure (Tip: If you find one in your closet, keep it! These are in high demand right now.3)
Yoga videos
A perennial fav for people who work out at home, yoga is also a perfect way to relax and destress while building muscle and increasing flexibility. Below are some video suggestions to get you started. Namaste.
Cosmic Kids Yoga (Parent Tip: This will make your kids' current digital life feel less screen-timey, healthier, and way more magical.)
Walking
If you?re tired of looking at a screen as your portal into EVERYTHING, try exercise the old fashioned way: walking. Walking strengthens bones and muscles, burns calories, and boosts your mood.4 Here are some ways to start walking:
Hikes in a nearby park or countryside
Walks around the neighborhood (Parent Tip: Bring along some sidewalk chalk to upgrade this walk into kid-friendly art AND a neighborhood beautification project.)
Household chores
Okay, this one is for all the real people out there trying to chase down fur babies, homeschool the kids, hold down a job, keep everyone fed, and maintain some sanity all at the same time. The good news? You don't have to carve out a bunch of extra time because household chores actually DO count as exercise! Calculate your calories burned per minute by visiting the CDC.gov.5
Clean out your gutters
Plant a garden
Deep clean your space
Wrestle and/or tickle your kids (Parent Tip: If your day job now includes entertaining your new, smaller, very opinionated co-workers, this is a great tension tamer.)
Strength training
Building muscle does not mean bulking up! In fact, strength training is a necessary component of any fitness regime. You should plan to do 12-15 reps in two or three 20-30 minute sessions per week.6 Don?t have any weights at home? Here's how to hack it with common household supplies:
Workout Apps
If you think you're going to get bored exercising at home, think again. There are apps galore to help you stay active while social distancing. Check out the following deals:
Staying fit from home is possible
No matter how swank or scary your home gym is, you can stay active while staying at home. Try dance workout videos, Instagram Live, yoga, video games, walking, chores, soup can weights, and more. So get up. Put your scrunchie and sweatpants to good use. And get moving!
Sources:
1ODPHP Staff. (2019, October 21). Top 10 Things to Know About the Second Edition of the Physical Activity Guidelines for Americans. Retrieved from: https://health.gov/our-work/physical-activity/current-guidelines/top-10-things-know
2Mallenbaum, C. (2020, March 25). Quarantined at home and need to move? Here are 10 Instagram Live workouts you can join, for free. Retrieved from: https://www.usatoday.com/story/life/health-wellness/2020/03/25/coronavirus-10-free-instagram-live-workouts-you-can-join/2910274001/
3Phelan, D. (2020, March 11). Coronavirus Means Nintendo Ring Fit Adventure Is Suddenly Super-Scarce. Retrieved from: https://www.forbes.com/sites/davidphelan/2020/03/11/coronavirus-causes-nintendo-ring-fit-adventure-to-be-suddenly-super-scarce/#3ce403a02db3
4NIDDK Staff. (2017, April). Walking: A Step in the Right Direction. Retrieved from: https://www.niddk.nih.gov/health-information/weight-management/walking-step-right-direction
5CDC. (n.d.). General Physical Activities Defined by Level of Intensity. Retrieved from: https://www.cdc.gov/nccdphp/dnpa/physical/pdf/PA_Intensity_table_2_1.pdf
6Mayo Clinic Staff. (2019, February 23). Strength training: Get stronger, leaner, healthier. Retrieved from: https://www.mayoclinic.org/healthy-lifestyle/fitness/in-depth/strength-training/art-20046670
Related Articles