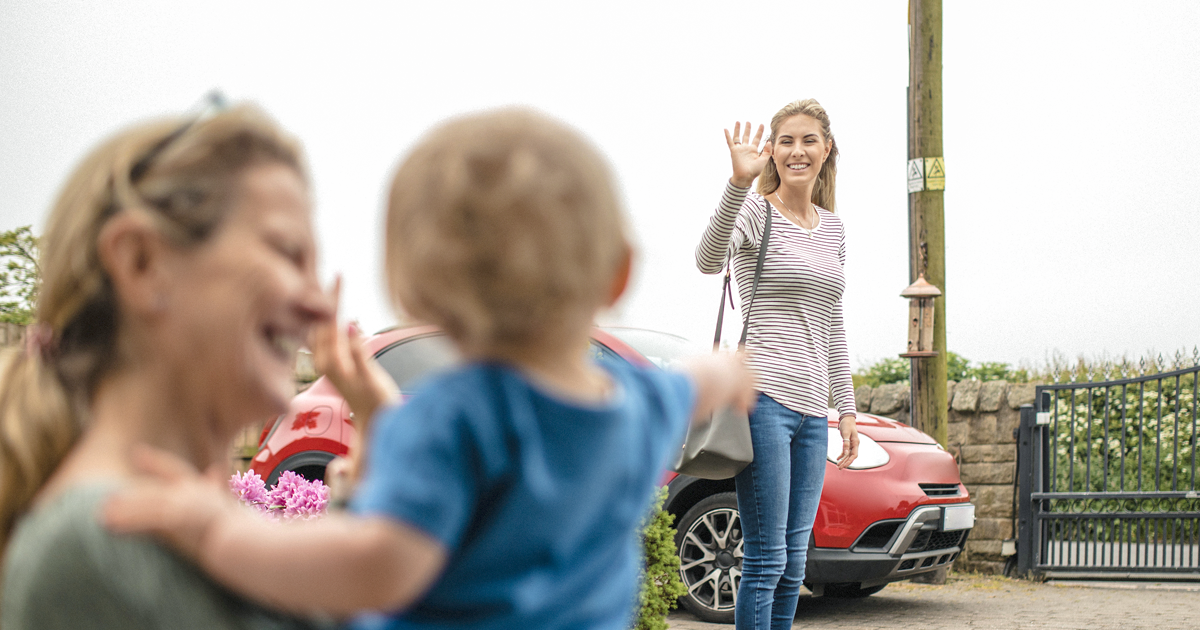 Saving Money Tips
Affordable Daycare... The Struggle is Real
Have you been yanking out your hair over how you're going to afford daycare for your kiddo? When you parent hard, you know finding help to ease the stress can be, well? stressful! Child care can be a HUGE expense for families. In some situations, it can eat up 40-45% of household income or be as expensive as in-state college tuition; and the kid could still be in diapers!1 According to Child Care Aware of America's 2018 report, the U.S. average cost of child care comes in around $9,000 to $9,600 per year.2 So where is affordable daycare hiding? Peek-a-boo? I have some options for you!
Daycare options
Childcare center scholarships
Daycares vary in size, style and pricing (trust my experience, daycare costs can be pretty dang pricey). It depends on the center, but did you know that some of them offer scholarships? As you're doing your research on centers, ask the administration if they have any financial assistance or scholarships. Have more than one child at the same daycare? Ask if there is a sibling discount (might as well take advantage of those buying in bulk deals!)
In-home daycares
These tend to be less expensive than centers and typically have a smaller number of kids. This means your child could get more TLC. While the price tag may be appealing, it's important to make sure the provider:
Has a state license or registration (if required in your state)
Meets health and safety requirements
Has proper supervision and child safety precautions
Has employees and children who look happy and engaged
Has age appropriate toys and activities
And, remember to review the provider's inspection reports
Tip: You can go the extra mile and see if the home daycare is accredited by the National Association for Family Child Care.3 Can't be too safe when it comes to your offspring!
On-site/at-work childcare
Does your employer offer on-site daycare at your work? Consider yourself lucky and take full advantage of that! Just sitting here I'm thinking about how much time that would save me in the mornings and after work if I didn't have to make a special trip to drop off and pick up my kiddos. Plus, you get the added bonus of spending more quality time together (awwww). When weighing this option, think about any potential cost-savings with gas money/transportation and of course, your valuable time.
Church programs
Church-based programs could possibly offer a better economic deal while giving you and your little ones a chance to get involved within your neighborhood church. Of course, this is completely dependent on the program. According to Care Lu Lu, Christian pre-school programs can often be, but not in every situation, less pricey than non-Christian programs. Depending on the program, there may be tuition that is based on your income or what you're able to afford. Never hurts to ask about financial assistance.
Latchkey programs
If your child is school-age, latchkey programs can be affordable and convenient. Even though latchkey is at school, my kids? program is through our YMCA (psst! The YMCA offers financial assistance). If you're asking about financial assistance or have questions about the program in general, it may vary on who you need to speak to ? the school or the organization (i.e. like the YMCA). I had to bounce my questions off of both the YMCA and my kids? school to get them sufficiently answered. So ask around until you get all of your questions answered.
Tip: If school is out, then there's no after school care. The school year is full of holidays, teacher in-service days, and bad weather days. Make sure you have a back-up plan in place so you're not scurrying to find someone to watch your kiddo at the last minute.
Babysitting options
Family and friends
Did that old adage "it takes a village"? just pop into your head? Same! Check in with trusted family and friends that live nearby to see if or when they can help out. You might want to consider offering them some money to cover things like transportation and food, but what kid doesn't love a sleepover at nana's or a night in with Uncle Jesse? Not only will your kiddo be happy (and probably spoiled), but it's likely this will be one of your cheaper (if not free) options.
Hire a trusted high school student to babysit
Do you have a co-worker, friend or neighbor with a responsible teenager? In my experience, teenagers will jump at the opportunity to make a little extra cash, but you typically have to get on their calendar well in advance. After all, they are teenagers and probably lead more eventful lives than you and me. Depending on the babysitter, this can be a cheaper option. And bonus! Your child can hang out at home. I recently moved and lost my neighborhood teenage babysitter (sigh). No worries, though, there are other ways to find a sitter. My personal fave is Care.com. It allows you to set your preferences and review babysitter profiles so you can select the best sitter for you and your kid(s).
Babysitting cooperative
This is a group of parents/guardians who watch each other's children. Usually by point system, the more you babysit the more points you earn that you can exchange for another member to watch your kids.
Pro tips to save more money
Share a babysitter
If you and your kids get along with another family and you have similar schedules, consider sharing a babysitter. The babysitter can sit for all the kids, both families, and you can split the cost!
Bundle responsibilities
If your delegated responsibilities are being spread out to several people, try consolidating them. Hire a person who can care for the kiddos AND clean or cook. Check out what can work best for your fam.
Take advantage of tax deductions
Did you know that parents and those caring for dependents may be eligible for tax credits?
Child and dependent care tax credit: If you paid for the care of qualifying persons and you were able to be employed because of it, the ole U.S. government might give you up to $2,100.4 By checking out the link to the IRS child and dependent care credit page, you can find if this benefit might work for you.
DFSA: Find out if your employer offers a dependent care flexible spending account (DFSA). A DFSA is an account that you put money into that you can use to cover child care costs. The best part is that you don't pay taxes on this money. Not all FSAs can be used for child care, so be sure to ask your HR department if your company offers a dependent care FSA.
Human Resources: Give a shout to your job's HR department to find out if they provide child care benefits or reimbursements.5
Leverage online resources
There are a ton of helpful, free resources online. Turn to these to get a knowledge boost on child care options and how you could save money:
Once you're in-the-know about the exact type of child care you need, you can make a more informed decision about your budget. You can browse our How to Create a Budget blog for extra help! And if you find you?re not quite there in the child care funds department ? don't stress. Peep our 11 Ways to Save Money blog for cash saving tips.
Looking for affordable daycare can totally be an energy zapper and stress creator, but options and assistance are out there. Do the research, find what works for you and keep your head up.
Sources:
1Pao, M. (2016, October 22). U.S. Parents are Sweating and Hustling to Pay for Child Care. Retrieved from NPR: https://www.npr.org/2016/10/22/498590650/u-s-parents-are-sweating-and-hustling-to-pay-for-child-care
2Snider, S. (2019, September 6). What Child Care Costs and How to Save. Retrieved from U.S. News & World Report: https://money.usnews.com/money/personal-finance/family-finance/articles/what-child-care-costs-and-how-to-save
3Staff. (2019, January, 27). What to Look for in a Family-Home Daycare. Retrieved from What to Expect: https://www.whattoexpect.com/first-year/childcare-options/family-home-daycare.aspx
4Orem, T. & Paden, R. (2019, December 2). Child Tax Credit 2019-2020: How to Qualify & How Much It Is. Retrieved from NerdWallet: https://www.nerdwallet.com/blog/taxes/qualify-child-child-care-tax-credit/
5Murphy, R. (2018, June 13). 20 Way to Save Money on Child Care. Retrieved from Care.com: https://www.care.com/c/stories/2416/affordable-child-care/
Related Articles