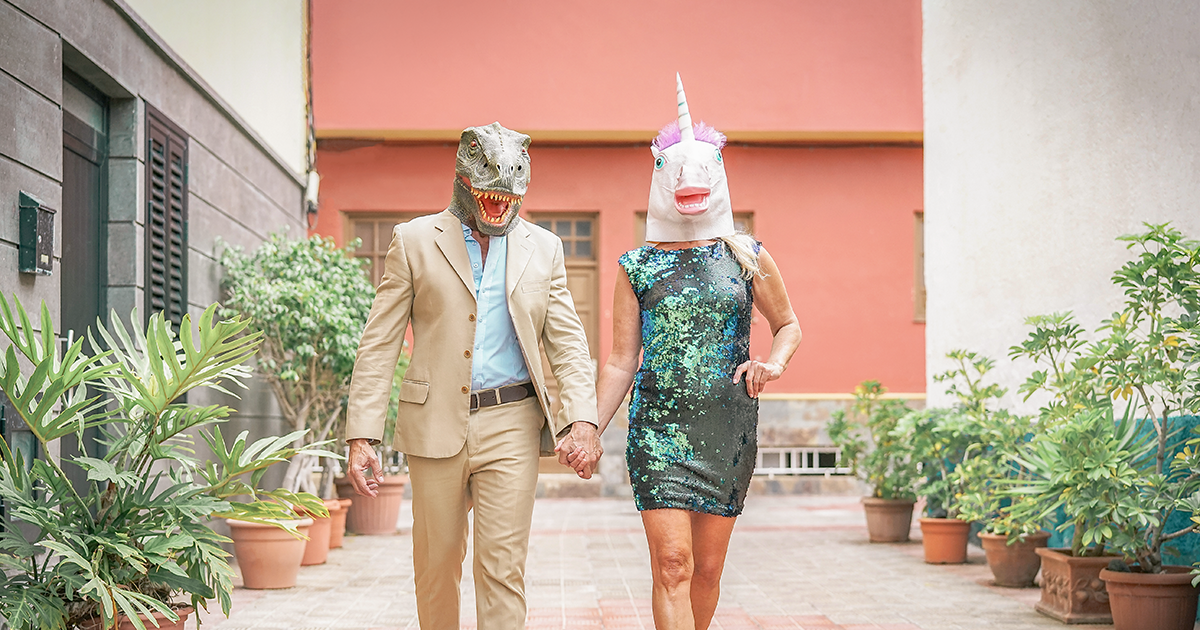 Saving Money Tips
Safe (Not Strange): 9 Affordable Date Ideas during COVID
Love don't cost a thing (thanks, J. Lo), but dates do. Continuing to date your significant other is key to a happy relationship. Dates help build intimacy, resilience, and strengthen your connection.1 No doubt, dating has been difficult due to COVID-19, social distancing, and restaurant shut-downs. And if you've been in quarantine with your S.O, and/or kids, you may have seen more than enough of them. But, a special time for just the two of you could really change that shut-in, seen-your-face-too-much perspective.
Now, we still need to be careful while romancing. But there are cheap dates you can safely engage in! Here's a list of entertaining options for you and your BAE.
Homebodies, party of two
Ahhh…the art of staying at home. If done correctly, a day date or evening rendezvous could be as fun as getting glammed up for Grown-up Prom (yes, it's a thing). By staying home we aren't putting ourselves out in public to get sick or spread germs.
Binge night
Remember the days when you'd wake up on Saturday morning just to watch cartoons or Saved by the Bell 'til noon, and it was totally cool with your parents? Now that you're an adult, you can do that anytime. And I'm sure with quarantine, you already have. But there are new shows and movies coming out all the time thanks to video streaming.
HBO Max – Hot new shows, original exclusives or beloved classics, they have it all. Plan your date night with some of these hits.
Disney+ Bundle – Get the fun of Disney, variety of Hulu, and the sports of ESPN+ all together. No one will be bored in your house with all these choices.
Discovery+ – I got this one and I AM LOVING IT! It includes content from 14 networks which range from lifestyle, DIY, science, and history to food, investigations, and more.
Get crafty
Crafts, painting and art projects can be an expression of your creative talents, or just plain fun. Design gifts for each other, decorations for your home or create a work of art together!
Candle-making – Gather beeswax beads, unrefined coconut oil, candle wicks and containers to create your one-of-a-kind, home-made candles. Add in essential oils or flower petals to make them even more unique.
Knitting – If you're a knitting beginner it's helpful to use medium or bulky yarn and bigger needles, and if you're a seasoned knitter then you do you! There are tons of knitting tutorials on YouTube, but if you already know how to get started, take a look at some fun and easy patterns. DID YOU KNOW that you don't even need needles for some projects? You can just knit with your fingers!
Coloring - For real, coloring is fun for all ages. But it's scientifically shown to decrease anxiety, improve motor skills, vision, and focus, and increase quality of sleep.2 All wins in my book! You can snag some colored pencils and a coloring book, spend valuable time with your loved one, and feel better!
Two-person book club
Love to discuss interesting topics? Find a book that you'll both enjoy and make your own book club. Read separately and then set a date and time to discuss. A hard-cover book, paperback, or e-book all make good options. Check out these websites for ideas!
Goodreads – See what everybody's reading, browse your fave subject, and find your next book to read! You can even make book lists and review stories you've read.
What should I read next? – Have a book you really liked and want to find something similar? This site can help! Look at popular reading subjects or just go exploring to find your next reading adventure.
Whichbook – Ever tried finding a book based on your feels? Want a funny and happy story or an unpredictable and thrilling tale? So be it. Whichbook features a Mood & Emotion book selector to provide just the right reading #mood. It's pretty neat!
Fun, food & relaxation
I think these are my top three goals in life. But they'll also do for a date. See what kind of amusing mischief you can get into.
Rec room and game time
Start off a date playing at your pool table or foosball table. Dive into a game of checkers or cards. You could even bring the gaming fun outside. If you're in search of new games, here are a few:
Cornhole – Odd name, super-fun game. This indoor/outdoor good-time bonanza could last for hours. Make it a double date with your COVID-free friends.
Beat That! Game – Enjoy some healthy competition? Good. This game lays out entertaining challenges for each player to attempt. See who gets bested in the end!
Deck of cards You don't need to spend lots of money on a new game if you have a deck of card around. The options are limitless! A round of Poker, Gin Rummy, Hearts, or even Slapjack can spark up the giggles and good vibes.
Cooking together at home
Whether you want to plan a meal and cook it together, divvy-up prep and cooking responsibilities or have a fun cook-off competition ala MasterChef, baking or cooking at home with your partner can be an enjoyable cheap date! Here's a three-course meal idea.
Appetizer – This olive oil dip could be even less expensive depending on what you add in. But garlic, capers, fresh herbs, and cheese make quite an impression. Don't forget the bread!
Main dish – Beef Stroganoff is an easy and delish meal to share. Jazz up this pasta dish with your favorite frozen or canned veggies.
Dessert – Yummy mango sorbet could be just the right treat to finish your date. But you'll want to start creating this dessert before jumping into making your appetizer so it'll have time to freeze.
Home spa
Men may not want to jump on the spa-wagon at first, but hear me out. Pampering each other with a spa day can be truly rejuvenating. (Plus George Clooney does it, so…it can't be all bad.) And you don't need to use super pricey products. Walmart, Target and Marshalls offer inexpensive goodies for unwinding. Indulge in moisturizing gels, give each other foot massages, or try out refreshing face masks. Oh! Don't forget the face mask selfies!
Mask kit – And for once we're not talking about the fabric we've been wearing on our faces. This revitalizing kit has five mask choices for pure pampering.
Massage oil – Help ease the stress of the day…or the years 2020 and 2021…with a calming massage. With lavender and chamomile essential oils, you'll be relaxed in no time.
Hydrating hand mask – No doubt your hands are aching from all the hand-washing. Give them some love with this moisturizing mask.
Totally chill dates
We've worked hard enough through the pandemic, so when it comes to dates we should be able to take it easy. See if these cheap date ideas speak to you.
Open houses
I don't know about you, but I'm constantly watching HGTV and tweaking my "dream home" Pinterest board. Check out the local real estate scene by attending open houses. It can be straight up entertainment or may even give you some ideas for your home and decorating. Take a look at open houses near you on Zillow. With safety as your first priority, here are some health-focused ideas:
Wear your face masks
Slip on some disposal gloves
Bring and use hand sanitizer
Enjoy the website real estate pictures or online visual tour
If you're feeling ill, postpone your date
Front porch sittin'
Let's put this in the book of "favorite past times". Sit on your front porch or back deck with a favorite beer, glass of wine, or tasty adult beverage. Heck, it could be water or iced tea. Just enjoy some sips and good ole fashion conversation.
Arnold Palmer drink – Kick back sipping on this Arnold Palmer mocktail recipe. Add a generous splash of lemonade to your iced tea and…chill.
Non-alcoholic cocktail – Like the drink look, but not the alcohol? Seedlip distilled non-alcoholic spirits blend quality botanical ingredients for a refined taste.
Moscow Mule – This simple Moscow Mule alcoholic drink is sure to refresh. You could even go the extra step and buy the signature copper mugs!
Summer Shandy – Mix your favorite beer with a delicious lemonade to create a light and refreshing drink to enjoy.
Drive-in movies
Drive-in movies are super cool with a vintage atmosphere. Hang out in the car as you get your cuddles on! Sometimes, you can view three movies for one price - Winner! USA Today boasts a list of drive-in theaters in the US. Don't forget some essentials.
Cooler – Chances are if you have drinks, you'll want to keep them cold. This hard sided cooler can fit up to six beverages.
Yummy treats – Homemade or store-bought, just don't forget the snacks! Popcorn to pretzels, candies or cookies, make sure you come prepared.
Blanket (free) – Watching a movie is just better with a cozy blanket.
Caring is sharing time together
It's been proven that strong relationships guard and stimulate health and well-being.3 If we can create enjoyable interactions with our loved one, we are truly doing a service to them and ourselves. So take the time to watch a good show, read a great book, de-stress with spa time, or play a game together. In the end, it could make you happier and healthier.
Related Articles